Boehner: House Will Vote to Avoid Shutdown in September
The speaker promises a short-term CR that would kick big spending decisions to the lame-duck.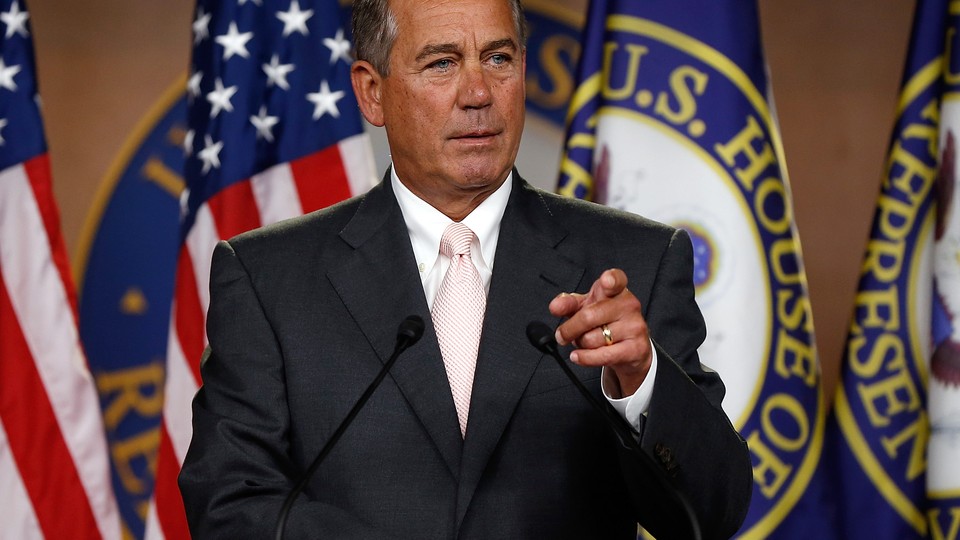 House Speaker John Boehner said Thursday that the House will not deal with funding the government before the August recess, but said that the House will tackle the issue when it returns in September.
Boehner told reporters that the House will pass a short-term continuing resolution to keep the government open sometime in September, avoiding a government shutdown that would otherwise occur on the last day of the month. The legislation would likely expire in early December, he said, punting decisions about the nation's spending to a lame-duck Congress just after the midterm election.
House Appropriations Committee Chairman Harold Rogers and others had signaled that the House would attempt to pass a continuing resolution before members leave for recess next week, but Boehner said Thursday that the legislation will have to wait.
The speaker's plan to tackle a continuing resolution in September doesn't leave lawmakers with much time to pass a new funding bill.
Lawmakers will return from their August recess on Sept. 8 and the House will have just 10 legislative days to pass the continuing resolution. Any legislation to keep the government funded at its current levels could rankle members on the far right who would like to see deep spending cuts. But the 10-day deadline coupled with lingering memories of the fallout from last year's government shutdown has given leverage to Republican leadership in the discussions.
It appears that House Republicans are leveraging their few remaining legislative days to get the Senate to agree to whatever continuing resolution they pass in September. The Senate is scheduled to be in session for 17 days that month (though that number could decrease, as the chamber typically takes Fridays off), giving them more time to deal with any House-passed continuing resolution, but little time to return it to the lower chamber should they seek changes.
No one on Capitol Hill is advocating for a government shutdown, given the damaging repercussions members' faced last fall.
In passing a short-term continuing resolution and putting off the issue to December, House Republicans are handing control over future spending to a lame-duck Congress. Many had expected that they would pass a continuing resolution that would carry the government into the early months of 2015. By then, Republicans hoped, they would have control of the Senate and more control of the process and potentially a greater chance of cutting spending.