Battling the Big Name Hot Sauces
Uncle Brutha's complex and layered hot sauces have won countless awards, but the Washington, D.C. man who created them still has to pound the pavement to sell them.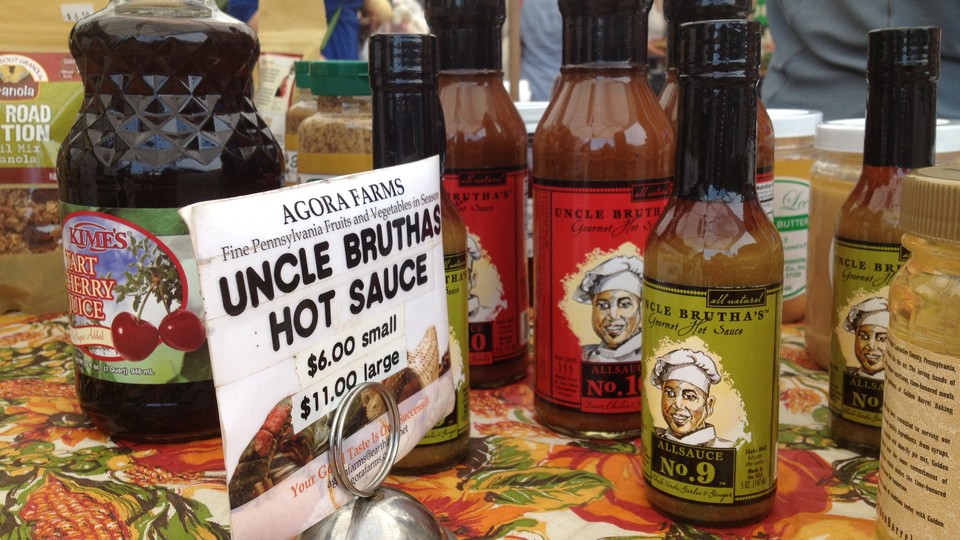 This profile is part of a weeklong Next America series on the experiences of minority small-business owners in the United States.
Call it a "hot sauce bias." Brennan Proctor, the creator of Uncle Brutha's gourmet hot sauces can tell you all about it. His product is too richly complex to be a basic condiment. Yet it is precisely the delicate balance of heat and flavor that can challenge the egos of restaurant chefs. Will putting this local, relatively unknown hot sauce on the table detract from the food that comes out of the kitchen?
"I've approached celebrity chefs," Proctor says. "They say, 'We don't need any sauce like that. We make our own.' Then I look over and I see Tabasco or Texas Pete on the tables."
It's this bias toward the known, big-name brands that Proctor must hurdle every time he walks into a restaurant or store and asks the managers to stock his product. It's not that his hot sauce isn't good. (It's amazing.) But it's also not something that customers demand, and that makes it too easy for an overworked vendor to say no.
Proctor's experience trying to turn Uncle Brutha's into a profitable enterprise offers a stark view of the barriers faced by small businesses everywhere. They operate on the fringes of the market. No matter how good their product or service is, they have so little margin for error that a wrong decision or an unexpected turn of events can be ruinous. Bigger and more established companies don't have those same vulnerabilities, which means their managers are allowed to be human--say, by making a bad sales call.
Proctor doesn't have those luxuries. He is a one-man operation in Washington D.C. He manages the bottling, distribution, marketing, and accounting of his company. He makes his deliveries in person. Every time a vendor says no, he loses money.
Ten years after Proctor started marketing his award-winning hot sauces, he's barely hanging on. "I'm almost on the verge of calling it quits, but then I say to myself, 'I haven't exhausted all of my options,'" he says. "I can sell it to anyone who gives me a chance to sell it. I just have to get past, 'It's just a hot sauce.'"
I met for lunch recently Proctor at the Argonaut, one of the first Washington restaurants to stock his sauces. Five years into the restaurant's relationship with Uncle Brutha's, Argonaut regulars now complain if they don't get the sauce. Uncle Brutha's green sauce is the perfect complement for the restaurant's popular fish tacos.
The Argonaut makes sure to stock Tabasco and other better known hot sauces, but those bottles are there only if customers specifically ask for them. Few do. Uncle Brutha's is the default sauce for all dishes and is a favorite at the mix-your-own Bloody Mary bar, even though Tabasco is right there. The kitchen staff even has their own private recipe for wing sauce using Uncle Brutha's.
Proctor and I have scheduled our lunch during a United States v. Germany World Cup soccer game, and the Argonaut is packed. Yet in the three hours of our conversation (pausing to watch the U.S. muff a goal in the final five minutes), only one customer asked for a different hot sauce--he wanted Cholula. "It's something about the wooden cap," Chandler Christian, one of the restaurant's managers, speculates.
Proctor and I are eating "naked" chicken wings to sample his two sauces, a red and a green. Proctor expertly pairs the wings with a full-bodied Chardonnay on the sweet side. "Sweet wine is best with spice," he says.
The red sauce, "No. 10," bites. And I mean that in a good way. "It's got a good bit of heat. It's noticeable," Proctor says understatedly. "A lot of people complain about hot sauce that it doesn't have as much heat. I want to make sure there is equally as much flavor."
There is a lot of both in No. 10. The chili flavor is multi-faceted. It is the spice equivalent of unfurling a set of red color samples. It lingers and stings my lips pleasantly. It demands my attention. The green sauce, "No. 9," has a lower temperature than No. 10, but it widens the palette to include ginger, lime, salt, and even honey. It's spicy in a different way. The restaurant manager describes it matter-of-factly: "It has a little extra going on in it." I can't decide which one I like more. Both please.
Proctor created the No. 10 recipe from red jalapeño peppers and an array of vegetable juices that balance out the heat. At first, the sauce was just a part of his personal hot wing recipe. But then the wings became so popular among his friends that he decided to bottle the hot sauce to give away as gifts. At the time, he worked in Los Angeles producing music videos. The hot sauce was just a lark.
"I had clients say, "If you keep bringing the sauce, I'll give you all my jobs," Proctor says. He quickly realized he was on to something. Brennan Proctor, creater of Uncle Brutha's hot sauce. (Courtesy photo)
When he moved back to Washington, Proctor began selling his hot sauces at Eastern Market on Capitol Hill, which hosts a popular outdoor bazaar of local vendors on weekends. His Saturday booth became so popular that Eastern Market managers almost immediately gave him a Sunday slot. Soon after that, Proctor opened a small store front on the same block. The first year in the brick and mortar space, business was looking good. Customers were steady. There were lines out the door on weekends. He was on track to make a profit the next year, which would have been his first.
But then two bad things happened. First, Eastern Market caught fire in April 2007, one of the biggest city fires of the decade. The market and outdoor bazaar shut down for two years. Walk-in business at Uncle Brutha's slowed to a crawl. Proctor found himself in arrears with his landlord and eventually had to vacate. It was only with the pro-bono help of a law firm that he was able to settle the rental dispute.
The next year, the global economy tanked, which made wholesale deals with new restaurants all the more difficult. The retail side of Uncle Brutha's business was dead. The wholesale side hung by a thread.
Proctor still hasn't recovered from a double blow of those dreaded unexpected events that can doom the budding small business. But he has picked up enough major sales to keep him afloat. Whole Foods Market agreed to stock his sauces at all its mid-Atlantic stores. Two Maryland markets — Dawson's in Rockville and The Fish Market in Clinton — recently started stocking his goods. He has been in the gift shop at Ben's Chili Bowl, a Washington mainstay, for years.
Proctor is dealing with one of the hardest barriers that small businesses face when climbing their way into solvency. It takes money to make money, and he doesn't have any extra. He has to pick and choose where he invests. The answers aren't always obvious. For example, he declined to have Uncle Brutha's sold and advertised at the ballpark for the Washington Nationals Major League Baseball team, a placement that would have significantly upped his visibility. But he said the team wanted $25,000 up front. Proctor didn't think that was a good deal. Besides, he didn't have the money.
But then he spent more than a year switching to a slower pour 5-ounce bottle at the request of a manager from Busboys and Poets, a local chain that proudly advertises its use of locally-sourced ingredients. In theory, Busboys and Poets and Uncle Brutha's make a perfect match. The restaurant used Uncle Brutha's for a few months, but the bottles were disappearing so fast (some people were stealing them) that the purchasing managers stopped ordering Uncle Brutha's until Proctor could change the bottle.
There is now a new, less spillable Uncle Brutha's bottle, but Proctor still hasn't closed a deal with Busboys and Poets. Proctor is convinced the big companies in his field aren't faced with these kinds of demands. (I e-mailed and called the executives of Busboys and Poets to ask how such decisions were made, but received no response.) It hardly matters. The larger problem is that persnickety purchasers may mean headaches for middle managers at the bigger companies, but for a small business owner like Proctor, they could make or break his enterprise.
Proctor acknowledges that the stakes he faces make it hard to keep things in perspective. Should he give up on Busboys and Poets after trying so hard to please them? If he spent $5,000 for a better mixer, would that make a difference? Should he try to make a deal with the Washington Nationals? Should he expand his portfolio to include another sauce? Whatever direction he goes means that another possibility — maybe the one that will catapult him into profitability — will be neglected. It's overwhelming.
His friends ask him why he keeps it up. "It's really good stuff--that's why," he says.