Agent Orange Ingredient Could Soon Be Used to Kill Superweeds
Dow Chemical is pushing a product that contains a component used as an herbicidal weapon in the Vietnam War.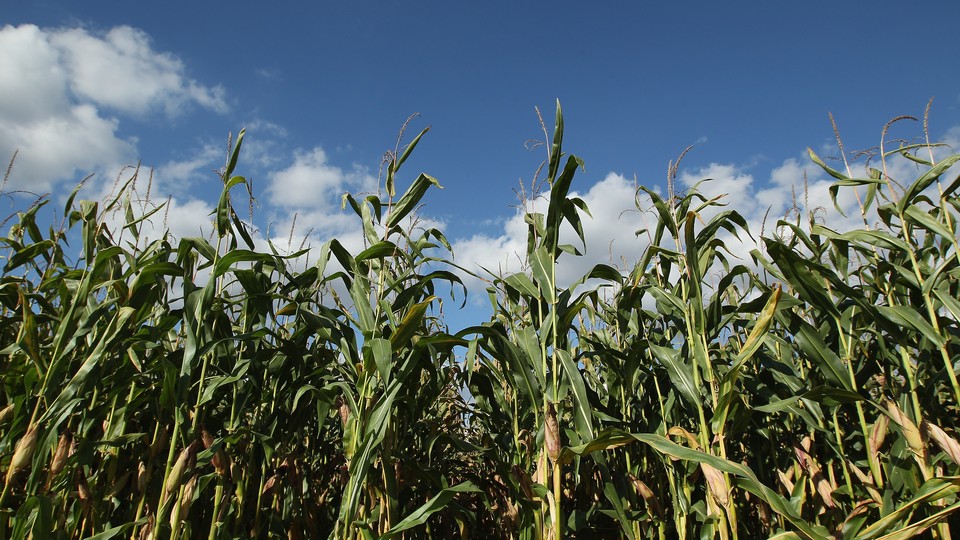 Dow Chemical is seeking federal approval for an herbicide containing one of the main ingredients in Agent Orange.
The company is billing the compound as farmers' best bet in the battle against a new strain of "superweeds" — invasive plants that can't be killed by traditional herbicides and choke crops.
The Environmental Protection Agency, which is tasked with reviewing Dow's application, says that if the chemical, known as 2,4-D, is used in fields, trace amounts could end up in food and drinking water.
Agency officials insist, however, that any amount of the weed-crushing chemical that shows up in food or water would be so small that it would not pose a threat to public health. And Dow says its product bears little resemblance to the Vietnam War-era weapon, which caused a host of medical problems for the troops exposed to it.
But pesticide watchdogs are up in arms, asking EPA to keep the proposed pesticide off the market. Green groups say widespread use of the weed zapper could cause lasting environmental damage, while chemical-safety advocates warn of its potentially devastating public health impact.
"If this gets onto the market, it could create a highly dangerous situation," said Linda Wells, the associate organizing director at the Pesticide Action Network.
Thus far, however, EPA appears more likely to side with the chemical firm. The agency has already unveiled a proposal to greenlight the chemical compound, and is expected to make a final decision as early as this summer.
The debate hinges on two questions: Does Dow's weed whacker carry any of the health risks of the wartime weapon? And, long term, would the pesticide create a bigger problem: a new generation of stronger, even harder-to-kill superweeds?
U.S. soldiers sprayed Agent Orange — a mix of two herbicides — over South Vietnam as part of a plan to decimate the jungle and reduce ground cover for North Vietnamese guerrillas. But Agent Orange proved toxic largely because it contained a cancer-causing contaminant that formed when it was manufactured.
Dow says its newly minted product won't be similarly tainted. The company also points out that the Agent Orange ingredient it plans to use has been approved by federal regulators for agricultural use for years.
"The idea that this product is anything like Agent Orange just doesn't hold up," Garry Hamlin, a spokesman for Dow said. "That had a unique contaminant, and it was phased out of use in the U.S. in the 1980s because of those concerns."
Testing conducted by an Agriculture Department researcher using samples collected in the mid-1990s showed that the chemical that plays a starring role in Dow's product can still contain contaminants similar to those found in Agent Orange. The study concluded that there was a "need for more investigation into possible human health effects."
In 2005, EPA concluded a multi-year review of studies into the health and environmental impacts of 2,4-D. The agency determined that, when applied properly, the herbecide met required safety thresholds. In 2014, EPA also stated that contamination concerns were no longer a factor in the manufacture of the chemical.
But the Agent Orange ingredient in question has been linked to thyroid problems. And in April, the International Research Agency on Cancer published a review of epidemiological studies showing that exposure to the chemical was associated with a significant risk of developing non-Hodgkin lymphoma, a form of cancer that affects the lymphatic system.
EPA, meanwhile, has not done a cancer risk assessment of the weed killer because the chemical is not classified as a carcinogen.
"We need to be very cautious when we're registering chemicals, and at this point we really don't have all the data," Ted Schettler, the science director for the Science and Environmental Health Network said.
Green groups also warn that use of the product could spur the creation of the next-generation of superweeds.
Extensive use of a Monsanto-manufactured weed killer called Roundup has given rise to herbicide-resistant superweeds that are ravaging farmland across the country.
Dow markets its product as the antidote. The company says the release of new herbicides like its own will decrease chemical resistance in plants by multiplying the options farmers have to attack monster weeds.
But environmentalists and some farmers say that all of this won't stop superweeds, it will create even more of them.
"Weeds evolve to tolerate the chemicals you use to get rid of them, and then they become much harder to deal with," said Lisa Griffith, the outreach director for the National Family Farm Coalition. "This has already happened, and if we increase the use of these products, the problem is going to get much worse."
Story has been updated with additional EPA data.