A One-Step Guide to Infuriating an EPA Official
The agency chief touts her staff's work after a Republican accused her committee of kowtowing to a green group.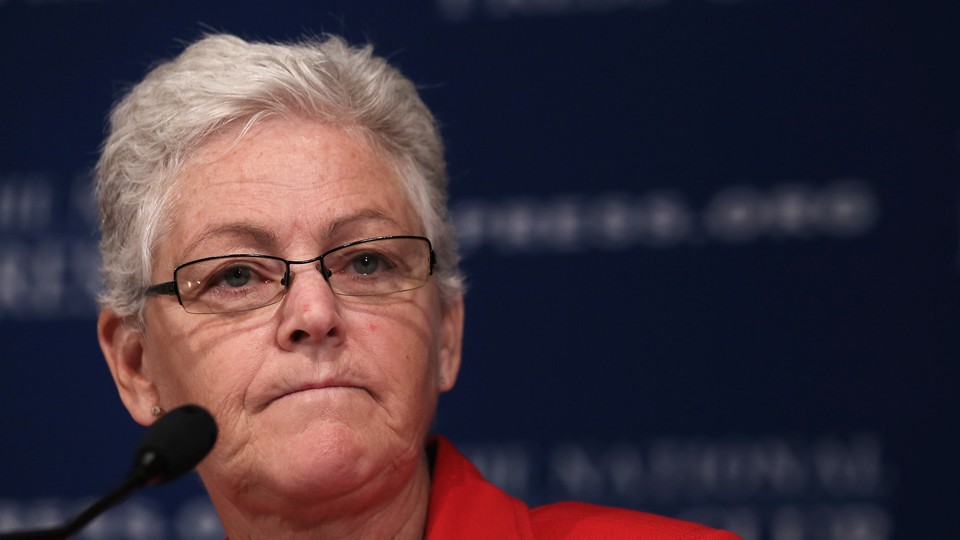 Republicans are accusing the Environmental Protection Agency of letting a green group write its landmark climate rules, and EPA isn't happy about it.
Republican Sen. John Barrasso of Wyoming accused EPA Administrator Gina McCarthy Wednesday of letting the Natural Resources Defense Council dictate its rules, saying the agency had deferred to the group's "powerful, wealthy, Washington lawyers and lobbyists" while writing the agency's carbon-pollution rules for existing power plants.
"They [the NRDC] have millions, which gives them access. The EPA has turned a deaf ear on those who don't," Barrasso said at an Environment and Public Works Committee hearing.
McCarthy wasn't having it, and when it came time for questions and answers, when Barrasso asked why EPA had let NRDC write the rule, McCarthy curtly replied, "We did not."
Later in the hearing, McCarthy said the allegations were a "discredit" to EPA staff who had worked around the clock to meet with stakeholders from all sides to design the climate rule.
And McCarthy's Senate allies were swift to fire back, with independent Sen. Bernie Sanders of Vermont saying it was "remarkable that my Republican colleagues would dare to raise the issue of campaign finance" before ticking down a list of figures on the spending done by the oil and gas industry.
"Is there money coming into the political process from wealthy liberals? The answer is yes," Sanders said. "But that money is clearly dwarfed by the amount of money coming in from the fossil-fuel industry."
The GOP charges come in response to a New York Times story this month that said a policy outline drafted by the NRDC had served as the "blueprint" for EPA's Clean Power Plan, which would require emission cuts of 30 percent from power plants by 2030. NRDC in 2012 released a proposal on how to regulate emissions from power plants that would have set different limits for states and allowed regional flexibility, a strategy EPA embraced in its own rule.
EPA has denied that NRDC exercised clout in writing the rule — a blog post days after the story by Janet McCabe, acting chief of the agency's air office, described meeting with "literally thousands" of stakeholders during the drafting process.
But that hasn't stopped critics from seizing on the supposed influence as a sign of what they say is a crooked drafting process. Barrasso on Wednesday promised to follow up with a document request on NRDC's role, with a jab at the recent disclosure that EPA had lost some emails due to a hard-drive crash.
"If the answer is no, that you will not comply, or that there are more record-keeping mishaps, broken hard drives, lost files, then we'll know the truth about this agency as well," Barrasso said.