Whiteness Is Still a Proxy for Being American
Florida Representative Curt Clawson mistook two Indian-American officials for Indians, a silly gaffe that's revealing of today's society.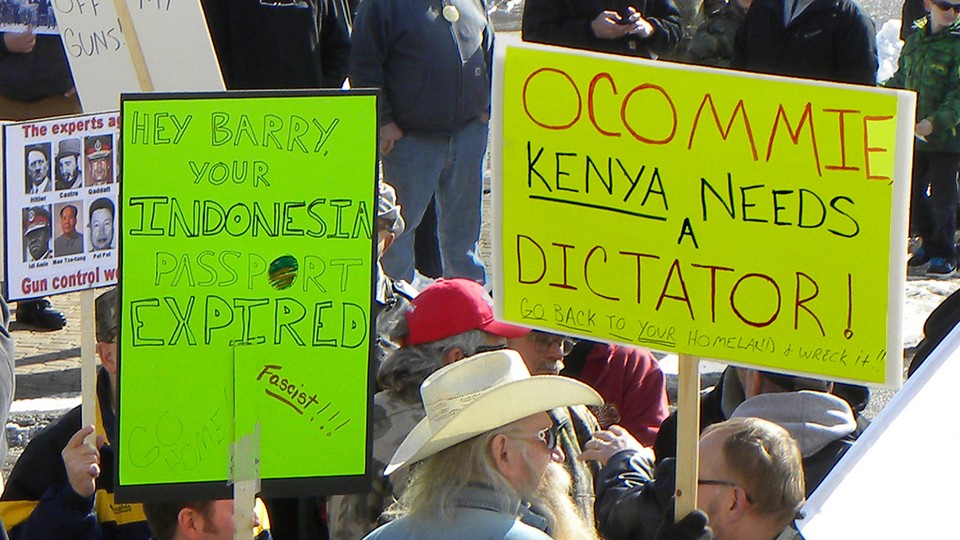 Anyone can make a fool of himself. So it's tempting to dismiss last Thursday's mega-gaffe by Florida Representative Curt Clawson as indicative of nothing more than the fallibility of the human brain.
But think about the nature of Clawson's goof. Sitting across a congressional hearing room from Nisha Biswal, an official at the State Department, and Arun Kumar, who works at the Department of Commerce, Clawson addressed the two Indian-Americans as if they were representatives of the government of India. Which is to say: He had trouble recognizing that two Americans who trace their ancestry to the developing world are really American.
In today's Republican Party, and beyond, a lot of people are having the same trouble. How else to explain the fact that, according to a 2011 New York Times/CBS poll, 45 percent of Republicans think President Obama was born outside the United States? Is it because they're well versed in the details of which kind of birth certificate he released and when? Of course not. It's because they see someone with his color skin and his kind of name and think: Doesn't seem American to me.
In fact, Obama's opponents, including Democrats, have been raising questions about his Americanness since he began seeking the presidency. In a March 2007 memo, Mark Penn, Hillary Clinton's chief campaign strategist, argued that she should attack Obama for "not [being] at his center fundamentally American in his thinking and his values." Had Obama been white and named Joe Smith, Penn's line of attack would have been inconceivable, since Obama's thinking and values were typical of a liberal Democrat's, and similar to Clinton's own. Penn's effort to question Obama's Americanness was entirely a function of the fact that he traced his ancestry to the third world and had spent some of his childhood abroad.
Since Obama defeated Hillary Clinton, it has been the Republicans' turn. Newt Gingrich has claimed Obama possesses a "Kenyan, anti-colonial worldview." Dick Cheney has said, "I don't think that Barack Obama believes in the U.S. as an exceptional nation." Indeed, a major thrust of the GOP's attack on Obama is that he doesn't understand America, doesn't believe in America and wants to turn it into something fundamentally different from what it has always been. Bill Clinton, by contrast, was attacked relentlessly for his supposed lack of personal integrity and failure to serve in Vietnam. But conservatives rarely questioned his connection to the United States.
It's not just Obama. In various ways in recent years, conservatives have questioned the Americanness of American Muslims. Michele Bachmann suggested that Huma Abedin and other Muslim-Americans serving in the national-security bureaucracy might be more loyal to foreign Islamist movements than to the United States. Another former Republican presidential candidate, Herman Cain, in 2011 said he would not appoint a Muslim to his cabinet because "Muslims in this country, some of them, try to force their Sharia law onto the rest of us." A Public Religion Research Institute poll that same year found that 63 percent of Republicans believed Islam contradicts American values.
The link between the GOP's tendency to question the Americanness of Muslim- Americans and Clawson's assumption that the Indian-Americans sitting across from him were not American becomes clearer when you realize that in contemporary American discourse, "Muslim" is often seen as a race. Several of the most high-profile hate crimes committed in "retaliation" for 9/11 occurred not against Muslims but against South Asian Hindus or Sikhs. Representative Peter King has called for profiling suspected terrorists based upon their "religious background or ethnicity," even though Islam is no more an ethnicity than is Christianity. The implication, of course, is that Muslims are brown.
One even sees traces of this tendency to un-Americanize immigrants from the developing world in the way some Americans see Hispanics. When Arizona in 2010 passed a law empowering law enforcement to detain anyone who presented a "reasonable suspicion" of being in the country illegally, critics rightly wondered what criteria the police could possibly use to suspect someone of being undocumented other than the fact that they looked or sounded Hispanic. A 2012 poll by the National Hispanic Media Coalition found that one-third of Americans believed most Hispanics in the United States were undocumented. In other words, many Americans associate being Hispanic with not being legally American. That's pretty similar to the assumption Congressman Clawson made about Biswal and Kumar.
There's no point in continuing to ridicule Clawson. Everyone's entitled to a dumb mistake. But it's worth noting how unlikely it is that he would have mistaken an Irish-American for a representative of the government of Ireland or a German-American for a representative of the government of Germany. Throughout our nation's history, whiteness (itself a shifting category) has been used as a proxy for Americanness. And as Clawson reminded us last Thursday, it still is.