Will Anthony Brown Become the Third Elected Black Governor in U.S. History?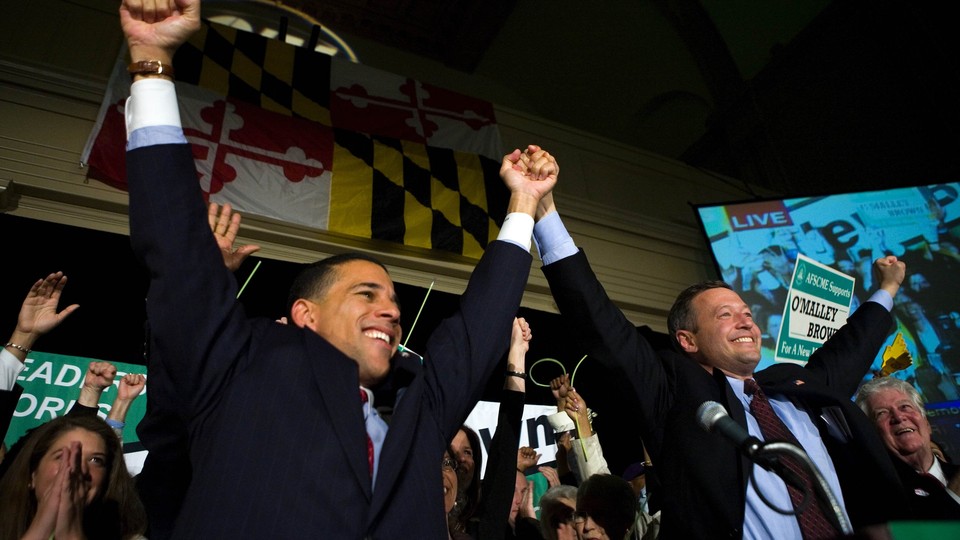 Maryland will likely do more than elect a new governor this year as Martin O'Malley steps aside.
Unless something changes dramatically in the state, Democratic Lt. Gov. Anthony Brown is likely to win his primary Tuesday and go on to victory in the general election in the fall, which would make him just the fifth African-American governor — and the third ever elected — in United States history, as well as the first in Maryland.
The potential milestone has garnered little national attention, even as African-American winners of major statewide offices still come at a painfully slow pace. Democratic Gov. Deval Patrick of Massachusetts, currently the nation's only black governor, is retiring after two terms at the end of the year.
On the campaign trail, Brown downplays the historic nature of his bid, focusing instead on his education agenda and the economy, while also defending his role in the creation of the state's health-insurance exchange. As Gov. O'Malley's former running mate, Brown has been more likely to joke that he would make history by becoming the first lieutenant governor to make it to Annapolis's top job.
The list of the nation's African-American governors over time is very short. There's Patrick, plus former Govs. Douglas Wilder of Virginia and David Paterson of New York, and P.B.S. Pinchback of Louisiana, who briefly served as acting governor of his state during Reconstruction. Wilder and Patrick were both elected to their posts, while Paterson was appointed to take the place of former Gov. Eliot Spitzer and chose not to seek election to a full term.
Together, the quartet comprises only a tiny fraction of the nearly 2,400 governors who have served in U.S. history, according to records from the National Governors Association.
The gap between electing African-Americans to Congress and taking their campaigns to the state level has been a big one. The 1965 Voting Rights Act helped usher more minorities into office by mandating the creation of majority-minority legislative districts, and African-Americans currently make up 10 percent of Congress, close to their 13 percent share of the country's overall population. But some argue that such districts isolate black politicians from the broader coalitions they would need to make the jump to statewide office.
John Walsh, a Patrick adviser who currently runs the Massachusetts governor's Together PAC, said "I've met Brown. He's a very talented person, and I think one of the things that's so important about him and candidates like Deval Patrick is that they don't run in a historic context. They're not asking voters, 'Elect me as the first African-American governor,' but putting forward a set of values and ideas that appeal to all voters."
Brown's campaign manager, Justin Schall, echoed Walsh's sentiment. "I think anybody's background plays a large role in their story," he said. But he added: "We want people to vote for him because he has the best ideas."
The scant attention paid to Brown's chance to become his state's first black governor may be in part due to the fact that Maryland has a better track record of electing African-Americans to federal office than any other state. This is partly because Maryland's population is 30 percent black, a greater share than any state outside the Deep South, where racial politics can be more polarizing.
That's not to say Brown's unique position is entirely absent from his campaign. The Iraq War veteran and former state delegate has woven two issues into his campaign that disproportionately affect African-American communities — domestic-violence prevention, and adoption and foster parenthood.
For Brown, these issues are personal. His cousin Catherine was killed by an estranged boyfriend in 2008, and he adopted his son Jonathan with his first wife in 2000. Despite a busy campaign schedule, Brown still makes time to attend Sunday church services across the state to promote adoption.
Virginia's Wilder, who became the nation's first elected black governor in 1989, believes that, overall, "attention has been somewhat diverted" from building a pipeline of black leaders by President Obama's successes. Obama's presidency distracted many people from the dearth of rising African-Americans elsewhere and the significant roadblocks they still face, he said.
Wilder's choice piece of wisdom has long been this: "Being first isn't worth a dime if there isn't a second." It's a line Walsh, Patrick's former campaign manager, recalls the then-Richmond mayor delivering when he traveled north to stump for Patrick in 2006. And this year, Wilder is committed to ensuring there's a third. Recalling a conversation with O'Malley at Terry McAuliffe's inauguration in January, Wilder said: "We had a pretty long talk about Anthony."
"I think it's great. I think he's a good candidate. I intend to do all I can to help him," Wilder said.
In the Senate landscape, Sens. Cory Booker and Tim Scott both face election to their first full terms in November. When Scott, a Republican, was first appointed by South Carolina Gov. Nikki Haley in 2013, around the same time Patrick appointed former Sen. Mo Cowan, it marked the first time two African-Americans served in the Senate simultaneously. Now Scott and the Democratic Booker are the only two black senators, after Cowan was replaced in a special election last year.
Looking ahead to 2016, Wilder expressed interest and optimism about the possibility of electing the country's first female president. "I support Hillary Clinton," Wilder said. But the former governor is concerned that the country will have a shallow bench of African-American White House contenders down the road if progress in statewide races continues at such a slow pace, noting that governors often make some of the strongest presidential recruits. Wilder also cited the unique power of the nation's governors to make appointments, particularly of those who have traditionally been left out.
"There are very few names that you hear mentioned for governor, who potentially could be considered as candidates for the presidency one day," Wilder said. "You've got to start at some time."