Why the GOP Still Struggles With Polling
Cantor's shocking defeat proves there's still plenty of room for improvement.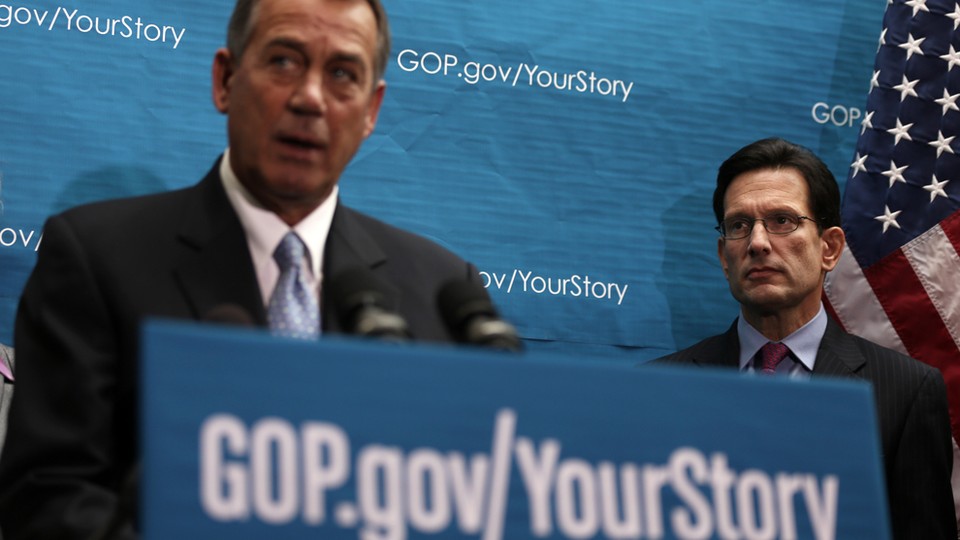 Republicans vowed to fix the polling problems that plagued their 2012 campaigns.
It looks as though they still have some work to do.
Eric's Cantor's shocking defeat Tuesday is being blamed on any number of factors. But among the seasoned Republican campaign operatives, the biggest internal culprit is seen as the majority leader's longtime pollster, John McLaughlin, whose survey of the Virginia race showed Cantor leading his opponent by 34 points. Cantor went on to lose by 11 points — an unfathomable 45-point swing.
The error was reminiscent of the litany of polling mistakes made by Republican campaigns in the 2012 election, when the party's internal data predicted everything from victory for Mitt Romney to marked gains in the House and Senate. But while those problems were rooted in difficulty surveying young and minority voters, the missteps in Cantor's race underscore another dilemma for Republicans: The continued reliance, by at least some of their candidates, on pollsters with poor track records.
It's not as if McLaughlin's surveys were held in high esteem before Tuesday. His polls were routinely off the mark in 2012, missing wildly in a host of presidential states such as Colorado and Virginia. His reputation wasn't good in official Republican circles: One GOP campaign aide confirmed that McLaughlin was not on the National Republican Congressional Committee's list of preferred pollsters. Among GOP operatives, his poor track record was well-known.
Except, apparently, with Cantor, who had used McLaughlin for years.
"Cantor has used him for the start," said one Republican pollster, who requested anonymity to speak candidly. "He did [former Virginia Sen. George] Allen's campaign, did [former Virginia Gov. Jim] Gilmore's campaign. He's had a long track record and done a lot of other things in this business; if candidates work with somebody and have a good working relationship with them, they tend to stay with them."
"Probably up until this point, there's no reason to make a change," the source added. "Now that there is, it's a moot point."
Explanations for the error vary. McLaughlin himself told National Journal that he thought Democratic interference had played a role, and he blamed higher-than-expected turnout. Turnout was, in fact, about a third higher than in Cantor's last primary, but most analysts have mocked the suggestion that Democrats tipped the election in Dave Brat's favor. (For one, the majority leader actually earned fewer votes in 2014 than in 2012, despite the increase in turnout.)
McLaughlin was also not the only pollster whose polls missed the mark. In an early June survey, Vox Populi, a GOP polling firm that formed just this year, found Cantor winning by 12 points, 52 percent to 40 percent.
Brent Seaborn, a pollster with Vox Populi, suggested that Brat's late momentum helped skew the race in his favo — but he also believed, like McLaughlin, that meddling from the other party helped contribute to the errant poll.
"We believe that Brat significantly closed the gap in the days leading up to Election Day," Seaborn said. "Additionally, we believe many more independent and Democrat voters we had favoring Brat turned out."
The inaccuracies have been seized on by politicos within and outside the Republican Party as proof that their polls can't be taken seriously. McLaughlin also polls for Rep. Jack Kingston, who is in a runoff race against former business executive David Perdue in a fight for the GOP Senate nomination in Georgia. A spokesman for Perdue's campaign mocked internal polls taken by McLaughlin and released by the Kingston campaign that showed the House member leading the race.
The Democratic Senatorial Campaign Committee, in an email sent a day after Cantor's defeat, suggested that neither McLaughlin nor Vox Populi should be taken seriously.
"Vox Populi was off by a whopping 33 points. For too long, DC media and election 'forecasters' have taken Vox Populi and McLaughlin seriously, incorporating them into their Senate forecasts despite McLaughlin's terrible 2012 record and Vox Populi's laughable bias. Will last night's unbelievably wrong prediction change anything?"
Those concerns could spread to other Republican pollsters.
"You're going to have a lot of people taking stock of who their pollsters are, and whether their data is accurate," said one GOP strategist.