Why Obamacare's Second Year Won't Necessarily Be Easier
Changes in the landscape could eliminate some problems while creating others.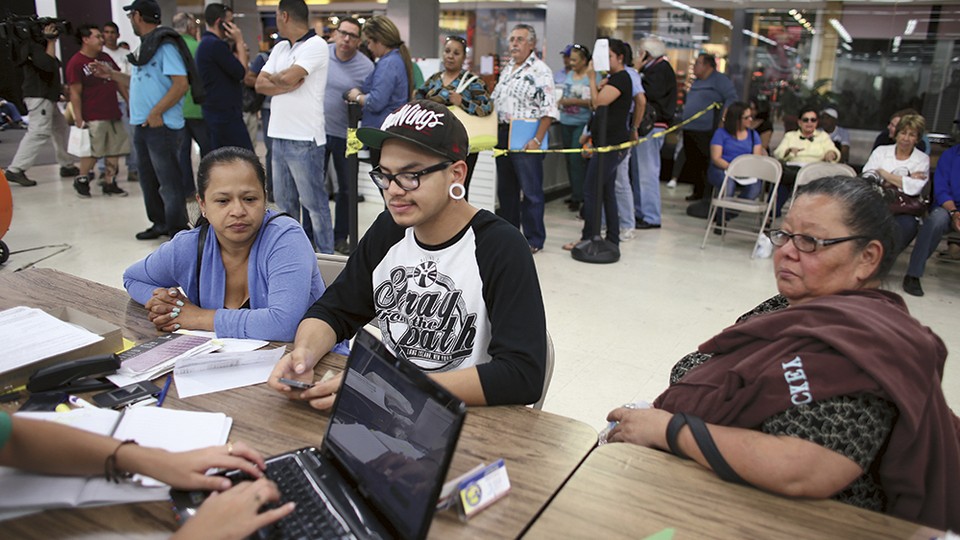 The White House hasn't hit the far side of the Obamacare learning curve yet.
After meeting its first-year enrollment targets practically in spite of itself, the administration is looking at a year two in which success won't simply be a matter of replicating year one. The Obamacare landscape is already changing in big and sometimes unexpected ways, making the law's next open-enrollment period — the second of three intended to collectively expand health care coverage to some 26 million uninsured Americans — a different kind of challenge, but not necessarily a lesser one.
For starters, the administration will have half as much time to meet its second-year targets. The 2015 open-enrollment period, which has been delayed until after the November midterms, is just three months long. This year's was six months, and the administration needed every minute of it (plus a short extension).
To be sure, the first two months of the 2014 open-enrollment period were lost to the disaster that was HealthCare.gov, and, theoretically, that won't happen again — which should help. (Although, theoretically, it shouldn't have happened the first time.)
"Hopefully, one big difference the second time around will be a working website from day one," says Larry Levitt, senior vice president for special initiatives at the Kaiser Family Foundation. "Long term, one would like to see improvements in the shopping process as well, though I'm not optimistic they have time to make many changes and test them for this next year."
A couple of big changes to HealthCare.gov are already underway, however, and those might boost enrollment — or they might hinder it. The administration is in the process of replacing many of the site's contractors, a move that offers a chance to ditch the deeply flawed system and its myriad temporary patches but also requires repeating the same process of construction, integration, and testing that went so poorly last time.
In addition, the site's workload is growing. Thirty-six states relied on HealthCare.gov this year rather than on their own exchanges, and that number will increase for 2015. Oregon has already defaulted to the federal website. So has Nevada, although it says the move is only temporary. Massachusetts is trying to fix its broken exchange but has laid the groundwork to join HealthCare.gov if that doesn't work. Other states with faulty exchanges, such as Hawaii, could follow. Bringing those states into the federal system could boost 2015 enrollment slightly, because many of their eligible residents who weren't able to sign up this year will likely still want insurance. But that presumes that the site, and the humans behind it, will be able to keep up with the demand.
That will be the acid test, because if there's one clear lesson from the 2014 experience, it's that there's plenty of demand for health insurance. More than 8 million people selected a private plan through the exchanges during the six-month open-enrollment window, almost half of them in the final six weeks.
The biggest potential threat to strong enrollment in 2015 — big premium increases — doesn't seem to be materializing, at least so far. Some insurers and analysts warned of massive cost spikes for 2015, which would not only make the exchanges less attractive to new customers, but could also cause existing customers to drop out.
Only a handful of states have released their 2015 rates, but the increases so far are not nearly as big as critics predicted. And some insurers even plan to cut their prices next year.
One factor keeping premium hikes in check: More insurance companies are jumping into the exchanges. "It's clear from early reports that there will be more insurers participating in the marketplaces, including in some areas where only one choice was available this year. I haven't yet heard of any insurers dropping out," Levitt said.
In particular, major insurers with big marketing budgets are entering the marketplaces or expanding their presence, often coming in with low rates — which attract the healthiest customers, which, in turn, forces competing insurers to keep their own premiums down. With a pool of potential enrollees that's presumed to be somewhat healthier than this year's, more insurers are beginning to see the exchanges as a good business opportunity.
That's one of the biggest changes in the Obamacare landscape, and surely the one the White House is happiest about as it heads toward 2015.