Why Nevada's Top Politicians Got Involved in the Lieutenant Governor's Race
Harry Reid and Brian Sandoval may be eyeing short-term ramifications in 2016, but they're also trying to build their parties for the long run.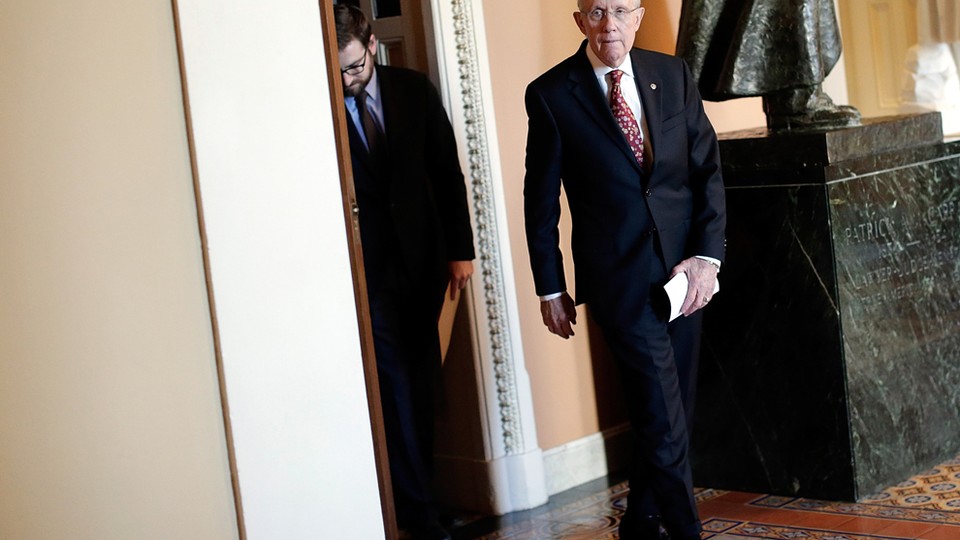 Rarely does a second-tier statewide race, however hotly contested it might be, capture national attention. But Nevada's lieutenant governor's race has drawn in some first-tier political personalities. Not only has it become a proxy battle between the chosen candidates of Democratic Senate Majority Leader Harry Reid and Republican Gov. Brian Sandoval, the campaign is also a symbol of how the two leaders are trying to shape and change their parties in the critical Western swing state.
The LG campaign gained clarity Tuesday, when state Sen. Mark Hutchison defeated one-time Senate candidate Sue Lowden in the Republican primary for the post. Sandoval openly favored Hutchison in the primary, endorsing the state senator minutes after he entered the race. Hutchison will face state Assemblywoman Lucy Flores, the Democratic nominee, in the fall.
The race for Nevada's No. 2 spot has long been considered part of a long-running chess match between Reid and Sandoval. Some expect the governor to challenge Reid for his Senate seat in 2016, which would potentially make the next lieutenant governor more of a governor-in-waiting — meaning a Democrat in the spot would become a roadblock to any federal ambitions Sandoval might have.
Sandoval's team played a central role in Hutchison's operation, and Reid hasn't shied away from his support for Flores. Reid held a fundraiser for Flores in D.C. in May, and his 2010 campaign manager, Brandon Hall, is serving as her media strategist.
"Senator Reid supports her in any way he can, just as he supports Nevada Democrats in any way he can," said Kristen Orthman, Reid's national press secretary. "He always supported Lucy when she ran for assembly, just as he does now. She's a pretty inspiring leader."
Apart from any near-term Senate intrigue, though, the lieutenant governor race is emblematic of broader efforts by Sandoval and Reid to reshape their state parties — and their status relative to each other. Reid and longtime political aide Rebecca Lambe are known for the Democratic victories they've engineered in Nevada over the past decade, and this contest will offer a test of whether Sandoval's newer political operation can prove its mettle despite a state Republican Party once cited as one of the nation's most dysfunctional.
Hutchison is one of several establishment candidates who got Sandoval's backing before Tuesday's legislative and House primaries, part of the governor's continuing effort to reclaim leadership of the state party from conservative activists and Ron Paul acolytes who won control during the 2012 presidential race. Sandoval announced back in February he wouldn't participate in the official GOP endorsement process and instead backed his own picks in the lieutenant governor's race, Nevada's 4th Congressional District primary, and at least three state Senate primaries.
While Sandoval backed Hutchison, the state party threw its endorsement to Lowden, who got less than 40 percent of the Republican primary vote Tuesday.
The governor also hopes to parlay high favorability among the state's growing Hispanic population into support for the entire GOP ticket. So the dynamic between Sandoval and Flores, the other highest-profile Hispanic candidate on Nevada's ballot this year, will be as prominent as that between the Democrat and Hutchison.
"As the leader of our party, Brian Sandoval is focused on raising the resources, supporting strong candidates, and winning elections in the fall. His ability to attract Hispanic voters is a very powerful tool for the entire GOP ticket," said GOP strategist Mike Slanker, who advises both Sandoval and Hutchison.
Sandoval campaign manager Jeremy Hughes said the governor has worked diligently to reach out to the state's Hispanic population, which accounts for one in four Nevada residents and roughly 15 percent of eligible voters. He hired former Univision producer Arlene Rivera in 2013 to serve as director of Hispanic media and has worked to introduce various Republican candidates to Spanish-speaking voters across the state. "We're showing up, which people hadn't done before," said Hughes.
Reid, a white Mormon who will turn 75 this year, may not strike many as an agent of change. But he has also taken strides to support Hispanic candidates who could help buoy turnout and benefit the entire ticket. In 2012, Reid quietly supported state Sen. Ruben Kihuen when he was considering a congressional bid in the 1st Congressional District, though Rep. Dina Titus eventually made a successful comeback bid there.
Flores is considered a rising star by many besides Reid, while Hutchison's candidacy has attracted national attention, too. Flores has already earned the backing of EMILY's List and the Latino Victory Project, while Hutchison was endorsed by his party's 2012 presidential nominee, Mitt Romney. Romney has been actively supporting establishment-friendly candidates in primaries across the country and had to personally contend with the Nevada GOP's haphazard infrastructure during his presidential bid two years ago.
In an interview with RealClearPolitics, Sandoval described Flores as "formidable," but Sandoval's campaign manager Jeremy Hughes maintained, "Mark's going to have a really good story to tell. We won't cede any ground to Lucy."
That's the story of the campaign in miniature, a race in which both party leaders are trying to protect and develop their political turf.