Why Lindsey Graham Avoided Eric Cantor's Fate
Both were criticized over their positions on immigration reform, but Graham regularly returned home to campaign.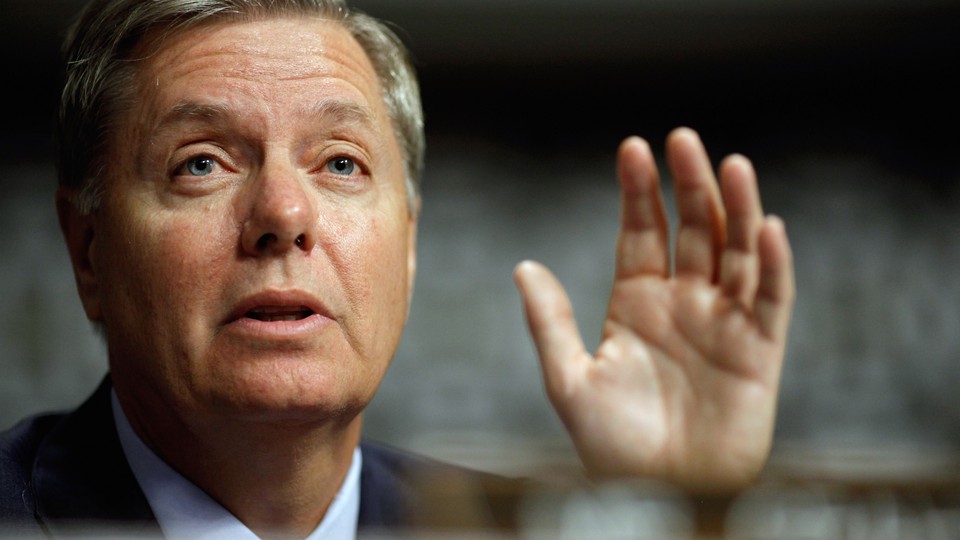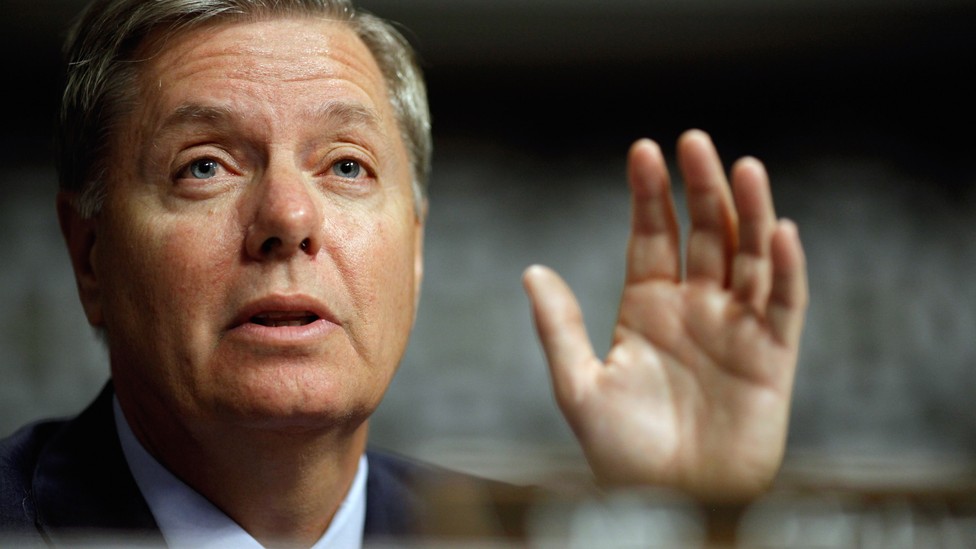 Senate Minority Leader Mitch McConnell wrote the book on how to outmaneuver conservative opposition in primaries, by tacking to the right and attacking early and often. But Sen. Lindsey Graham, another perennial Republican target, proved there's another way to get renominated — defeating his critics through kindness.
Against six lesser-known opponents, Graham comfortably won Tuesday's South Carolina primary, avoiding a runoff with 59 percent of the vote. It's the second straight primary where Graham won overwhelmingly despite vocal conservative opposition over his advocacy for comprehensive immigration reform. In both cases, the conservative bark was louder than its bite.
But Graham's victory was also aided by assiduous attention to constituent service, paying favors to his South Carolina Republican colleagues, an early and relentless focus on fundraising, and a hawkish record on foreign policy that conservatives in the military-rich state rallied behind.
All told, he scared off any credible opposition, even from a long-shot outsider. Since last winning reelection in 2008, Graham raised an imposing $12 million in preparation for this campaign, which he's used to swarm the state with ads touting his accomplishments. None of the six more-conservative Republicans from the state's congressional delegation was considered a challenge, and none of them received enough grassroots support to even mount a credible threat. Even the Senate Conservatives Fund, supported by former Sen. Jim DeMint of South Carolina, stayed out of the race despite backing long-shot challengers to other Republican senators.
"When the members of the congressional delegation needed something for their district, their first call was to Lindsey Graham and it was to his cell phone. Lindsey Graham has been accessible to that federal delegation from day one. He's helped them get committee assignments, too," said former South Carolina Republican Party Chairman Katon Dawson, who is running a super PAC backing Graham. "In politics, you don't want to be a lonely politician — and Lindsey Graham will never be that kind of politician."
Unlike other targeted Republicans who have rebranded themselves in the run-up to an election, Graham has stuck to his moderate principles on immigration (he supports comprehensive reform), the environment (he's argued climate change needs to be addressed), and Supreme Court justices (he voted to confirm Sonia Sotomayor and Elena Kagan on the principle that senators should judge on qualifications, not ideology). In contrast to several other endangered Republican senators who spend most of their time in Washington — neighboring Sen. Thad Cochran, who's at risk of losing a runoff this month, is a prime example — Graham regularly returns home on weekends to rallies, party events, and American Legion posts, where he tells well-wishers to greet him by his first name. "Everyone calls him Lindsey back home, no one calls him Senator Graham," Dawson said.
"He's never fallen into the trap of becoming Washington. He always campaigned. He's always kept up high-profile appearances back home. You don't always see that with senators," said veteran South Carolina Republican strategist Warren Tompkins. "All this talk and desire to get rid of him was generated outside the borders of South Carolina. And all that just ended up being talk."
Indeed, Graham's outspoken criticism of President Obama's foreign policy has trumped any conservative skittishness over his views on immigration. He was one of the most vocal Republicans to criticize the administration's response to the Benghazi attacks, and even warned that Obama could be subjected to impeachment if he releases any additional prisoners from Guantanamo Bay without congressional approval. He also led the GOP response on the scandal at the Veterans Affairs Department, comparing veterans' problems obtaining timely health care access to what could happen under Obamacare.
"All that drowned out his position on immigration"¦. Immigration wasn't that much of an issue here at all. There's a bloc of voters that would never vote for anyone based on immigration position, but that number is diminishing a bit," Tompkins said. "When the economy went in the tank, the illegals just disappeared."
Graham's comfortable victory is a testament to the fact that mastering the fundamentals of politics — strong relationships with colleagues and maintaining regular connections with voters — still plays an outsize role in winning elections. As Slate's Dave Weigel pointed out, while many Republicans have lately lost primaries for ideological reasons, a disproportionate number were defeated because they're old. Cochran might have won his primary against Chris McDaniel if he campaigned more vigorously in the final week, but instead he faced late-breaking questions about his rustiness on the campaign trail.
That's never been an issue with Graham.
"There's a difference between being attacked and stepping on an IED. Occasionally, the senator gets close to it," Dawson said. "Organic movements can catch a politician who's lazy and doesn't pay attention "¦ and that's not the case in South Carolina with Lindsey Graham. He works day and night."