Wall Street's Climate War Intensifies With New Weapons
Global-warming activists are giving investors new tools to pressure companies or even divest outright.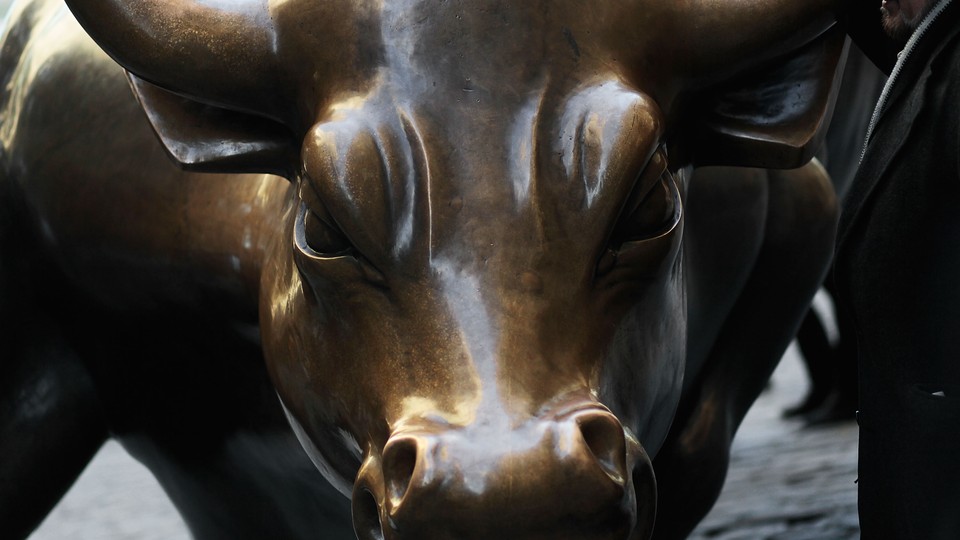 An activist group on Monday unveiled a new tool for keeping tabs on what companies are — and aren't — disclosing about risks they face from global warming.
The investor advocacy group Ceres has launched a searchable database of what 3,000 large corporations say about climate change in annual reports to the Securities and Exchange Commission.
The Ceres tool is fresh evidence that shareholder activism is playing a growing role in battles over climate change. The new database looks at filings from companies in the Russell 3,000 index of the largest U.S. corporations, but users can also look more narrowly at the S&P 500.
Activists say that investors should have more information about how publicly held companies may be affected by federal and state climate and energy policies, as well as the physical risks that climate change creates for businesses from threats such as rising sea levels and severe weather.
"For markets to properly account for rising climate-related risks, investors need information on how companies recognize and manage those risks. This tool helps to make that enterprise far easier for investors interested in understanding and managing climate risk," said Julie Gorte, senior vice president for sustainable investing at Pax World, a company that specializes in green investing.
In 2010, the SEC released guidelines for how companies should be accounting for climate-related risks in their filings with the regulators. But according to Ceres, the reporting has been spotty and often cursory, and the group says the SEC hasn't done enough to put teeth into the disclosure requirement.
According to Ceres, only half of the Russell 3,000 filers addressed climate change in their annual reports.
"Robust climate-related data from companies is a critical need, but it's still lacking," Ceres President Mindy Lubber said in a statement. "This tool is an important step in making it easier for investors to analyze corporate data that's available and what's still missing."
While Ceres organizes investors to push companies on climate and sustainability, a separate group of activists is waging a campaign that presses universities, cities, and others to divest their holdings from fossil-fuel corporations.
And that brings up another new development: Thursday afternoon brought the launch of the Fossil Free Indexes US, which measures the performance of a version of the S&P 500 that excludes large oil, gas, and coal companies.
"We're primed to give investors a unique opportunity to invest in the broad market while avoiding the increasing risk of long-term investment in fossil fuels," said Stuart Braman, CEO of Fossil Free Indexes, which has worked with 350.org, one of the activist groups behind the divestment movement.
Fossil Free Indexes has tracked the performance of its index against the S&P 500 — which is made up largely of U.S. companies — going back a decade.
"Over the 10 years ending 5/30/14, the correlation between returns on FFIUS and the S&P 500 has been very high, suggesting that index investors need not sacrifice returns when choosing not to invest in the biggest carbon resource companies," the company said in announcing the new index.
It's the second such index to launch in recent months.
In late April the U.K.-based index provider FTSE Group, the wealth-management company BlackRock, and the Natural Resources Defense Council unveiled the ex-Fossil Fuels Index Series, which is a global set of indexes.
Braman, the founder of the newer index launched last week, said it's a way to provide to provide options for "institutions and individuals to help protect the planet along with their investments."