The U.S. Teen Birth Rate Has Dropped 57 Percent Since 1991
A second-generation teen mother wants to know why Americans are still fighting about comprehensive sex education.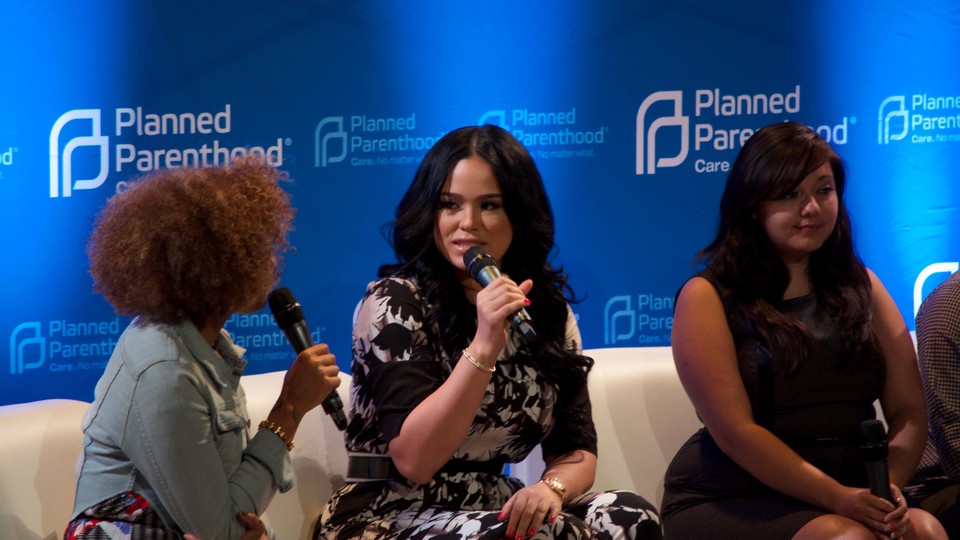 "Emily B" is a celebrity stylist and reality-television personality who lives in New York. With the news that the nation's teen birth rate has dipped to a historic low and has declined by 57 percent since 1991, Emily shared her thoughts with Next America on the numbers and the need for comprehensive sex education.
You could say that teen pregnancy is three times more important to me than it is to most other people. My mother had me when she was 16. I was pregnant at 16. And now my daughter is 16.
Fortunately, teen birth rates are at a historic low right now. The Centers for Disease Control and Prevention reported at the end of May that 2013 had the lowest number of teen births ever reported in the United States. That's without a doubt good news. However, U.S. rates of teen pregnancy are still high compared with other developed countries, and teen pregnancy rates among African-American and Hispanic teens remain two times higher than that of white teens. So there's still work to do to make sure that all teens have the information and support they need to prevent pregnancy.
I know this firsthand. I was born in New York but spent my teen years in Norfolk, Va. My mother and I didn't have the type of relationship where we could talk about sex, and I knew little about birth control or protection. I was in a rush to grow up, but I didn't have the information I needed. And I didn't have anywhere to go to ask questions.
I met my boyfriend, who was a little older. He bought me things and made me feel safe and special. I thought I was in love; and when I got pregnant, I thought that having a baby could help me escape the life I was living.
When you're a teen, you don't think about the fact that you and your partner are going to change as you grow up. Chances are that the two of you will not want the same things in life when you're adults. The odds are high that you'll grow apart.
Having a baby did change my life. I had no idea what being a teen parent would mean. Until you have a child of your own, you just have no idea how much time and hard work it is or how it changes everything about your life: your ability to be in school, to have a job, to spend time with friends, even to get enough sleep.
Like so many teen moms, I struggled to continue my education and support myself after I had my daughter. The truth is, only 38 percent of teen girls who have a child before age 18 get a high school diploma by age 22. Fewer than 2 percent of young teen mothers get their college degree by age 30, and half of all teen mothers live below the poverty line.
Today I know that being a parent means sometimes we have to do things that might be uncomfortable for the safety of our kids. Talking about sex, birth control, and relationships — and making sure they have the right information and resources — is just one of those things that we need to do to keep our teens healthy and safe.
It's important for me to be open and share the realities of my life as a teen mother because I want more teens to understand the challenges of raising a child at that age. I want more teenagers to have all the information they need so they can stay healthy and make thoughtful decisions about their futures. I want them to understand that if you are going to have sex, you need to be safe: use birth control and condoms to protect yourself against both pregnancy and sexually transmitted diseases.
Unfortunately, not every parent is ready, willing, or able to do this work.
That's why I wish that I had sex education in school that talked about birth control and healthy relationships. I want all young people to have access to those things. Schools can play a critical role in making sure that young people get accurate and age-appropriate sex education, instead of abstinence-only programs that just don't work. Most people in this country support sex education — including a majority of both parents and teens. Sex education has been proven to help young people to delay sex, and to use contraception and condoms when they do become sexually active — and it should be supported in every community.
My daughter is 16 now. I make sure to talk with her about sex and dating, and she knows that she can come to me at any time. I make sure she recognizes she's not ready to become a parent. She's happy just being a teen right now, enjoying this part of her life.
When my daughter does decide to have kids, I don't ever want her to have to struggle to balance her family and her future. I want her to be a parent when she feels ready and supported and secure in her life goals — when she decides the time is right.
Emily B is the proud mother of two and a celebrity stylist. She appeared on the first two seasons of VH1's Love & Hip-Hop. For tips and resources on talking with your children about sex and relationships, visit plannedparenthood.org/parents/.
"MY VIEW" OF THE NEXT AMERICAS Are you part of the demographic that is the Next America? Are you a catalyst who fosters change for the next generation? Or do you know someone who is? Next America welcomes first-person perspectives from activists, thought leaders, and people representative of a diverse nation. Email Janell Ross at jross@nationaljournal.com. And please follow us on Twitter and Facebook.