The Trickle-Down Effect of Tea-Party Primary Wins
Republicans in California and Colorado say that two far-right candidates could win their gubernatorial nominations this June — and damage their entire tickets in November.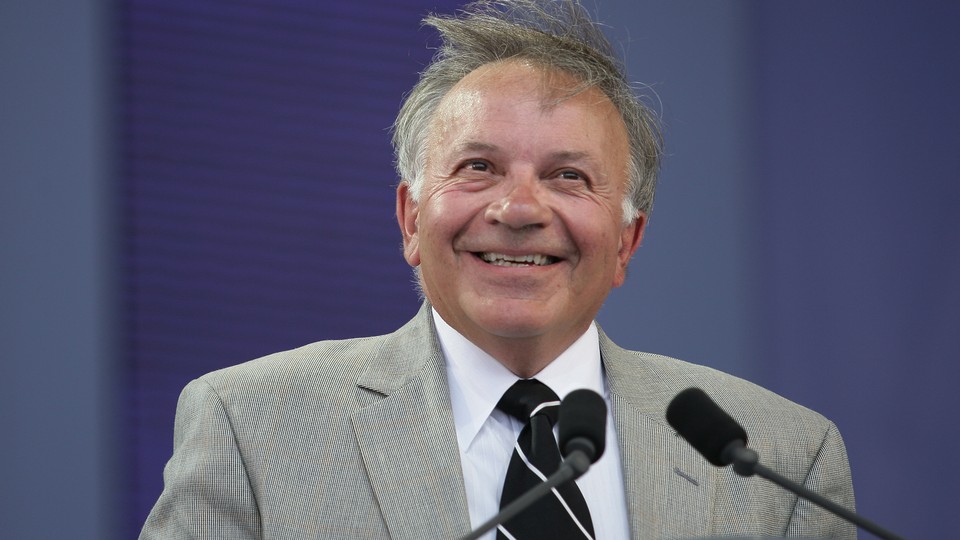 Republicans have gone all-in on mainstream candidates in this year's battleground primaries to maximize their chances of winning elections. But two tea-party candidates for governor could grind those efforts to a halt in California and Colorado, two Western states where the party has struggled in recent years.
California state legislator Tim Donnelly and former Rep. Tom Tancredo of Colorado are both capable of winning their party's primaries in June to take on Democratic Govs. Jerry Brown and John Hickenlooper. Both Donnelly and Tancredo are well-known anti-immigration demagogues prone to making incendiary, off-the-cuff remarks that have spared no offense, particularly to Hispanics and women. Powerful forces have lined up to defeat them, including 2012 presidential nominee Mitt Romney, who endorsed two of their opponents — former U.S. Treasury Department official Neel Kashkari in California and former GOP Rep. Bob Beauprez in Colorado — in the past month.
The fate of these bona fide tea-party candidates is about more than keeping score of establishment wins and losses. Democrats are hoping, and some Republicans are concerned, that having Donnelly and Tancredo atop their tickets would be a major drag on the entire California and Colorado GOP slates in November — or worse, could cause serious damage to the party's long-term prospects.
Donnelly is an antiabortion, pro-gun former member of the Minuteman Project, an activist group that patrols the U.S.-Mexico border to curb the flow of illegal immigrants, and is currently on probation for trying to board an airplane in Ontario with a loaded gun. Donnelly was recently condemned by members of his own party for claiming Kashkari, a nonpracticing Hindu, supported Muslim Sharia law because he participated in a Treasury seminar on Islamic finance.
Tancredo earned his reputation as an immigration hard-liner, vocal during his years in Congress about his belief that Hispanic and Islamic residents are a threat to the country's cultural identity. He's also been a staunch supporter of Colorado's perennial personhood proposals, which would ban abortion even in cases of rape and incest and outlaw certain forms of birth control.
Former Colorado Republican Party Chairman Dick Wadhams has been an unequivocal alarmist about Tancredo, who he thinks would win the primary if it were held today. "The danger he poses would go beyond this election," Wadhams said. "It would take Colorado off the table in 2016. It would really take Colorado off the map as a purple state."
A primary win for Tancredo on June 24 wouldn't mark his first go-round in the gubernatorial theater. He ran on the American Constitution Party line in 2010 after Republicans failed to field a credible candidate, and Tancredo finished second to Hickenlooper, 14 percentage points behind.
"Tancredo was basically a sideshow in 2010," Wadhams said. "This time he would be the main event because he would actually be the Republican nominee, not a third-party nominee in a race that was already lost. He would define the Republican Party as anti-Hispanic, antiwoman, and drive turnout among those voter groups."
If Tancredo wins, Wadhams said, "it will suck all the oxygen out of the election. Candidates like Cory Gardner, Mike Coffman, our candidates for attorney general and secretary of state, which are open seats, and our candidates for state Senate in competitive races will be saddled with the controversies and recklessness of Tom Tancredo and they will not be able to run their own campaigns."
Farther down the ballot, Republicans are one seat away from winning control of the state Senate, and in doing so, vanquishing Democrats of single-party control of the state. The GOP picked up two Senate seats in recall elections in 2013, and the chamber is a major target for the Republican Legislative Campaign Committee this year, which works to elect Republican candidates at the state level. RLCC spokeswoman Jill Bader said "Colorado is absolutely a target," and said the opportunity at hand is so vital that the committee chose Colorado Springs as the site of their annual national meeting this year.
A handful of the state Senate seats that are currently in play are in Jefferson and Arapahoe counties, areas with big Hispanic populations in the Denver suburbs. The voting population in Coffman's district to the east of Denver is also nearly one-fifth Hispanic.
In California, meanwhile, every year is a tough year lately. Even with competitive self-funding candidates in both the Senate and governor's races in 2010 Republicans still lost both races, failed to pick up any U.S. House seats, and ceded ground to Democrats in the state Legislature. This year, the party is hoping to win back several House seats lost in 2012, especially those held by Democratic Reps. Ami Bera, Raul Ruiz, and Scott Peters. They're also hoping to score the necessary three seats — two in the state Assembly and one in the state Senate — to break apart Democrats' powerful supermajority in the Legislature.
Beset by rapid demographic change, the California Republican Party has been in trouble for reasons that have little to do with Donnelly. But the former Minuteman could exacerbate things. Republican strategist Rob Stutzman says a Donnelly primary win is "a very real possibility" on June 3, and if it materializes, "Donnelly being the gubernatorial candidate will complicate the path for Republican candidates in competitive races."
At the legislative level, Donnelly could be an unwelcome distraction from the golden opportunity the GOP has to tie their opponents to three Democratic state senators who have faced corruption indictments. The financial stakes in the state Senate are higher than in some congressional races: Stutzman says he expects at least $7 million or $8 million to be spent on one particularly competitive open race in Orange County.
Not every Democrat is sold on Donnelly's bogeyman potential in down-ballot races, though. Democratic strategist Bill Carrick, who managed Sen. Dianne Feinstein's reelection bid in 2012, said, "I don't know that he's well known enough to cause that kind of dynamic."
Indeed, a Field poll from April showed a full 50 percent of voters didn't know enough about Donnelly to form an opinion, and there's a good chance he won't have enough money to change that. His most recent campaign finance report showed he had just $70,000 in the bank, while Brown reported over $20 million.
When all is said and done, Carrick said, "There's a good strong chance that he will just be ignored. That's what happened to [2012 U.S. Senate candidate Elizabeth] Emken. No one thought she was competitive and in a world of scarce media resources, she couldn't get any attention. She had no money."
Donnelly's track record is somewhat darker than Emken's, though. And on the bottom line, it's never good for a party to have a "sideshow," as Wadhams put it in Colorado, leading a ticket. "Democrats are concerned that if Jerry Brown is at 70 percent at the polls, does it hurt their turnout," said Stutzman, the California Republican strategist. "But if you're a Republican you can't argue that you're better off with a weak candidate at the top of the ticket."