The Three Kinds of Women, According to Marion Barry
The former D.C. mayor says what he's done for women's rights is "incredible" and "trailblazing." Don't believe it.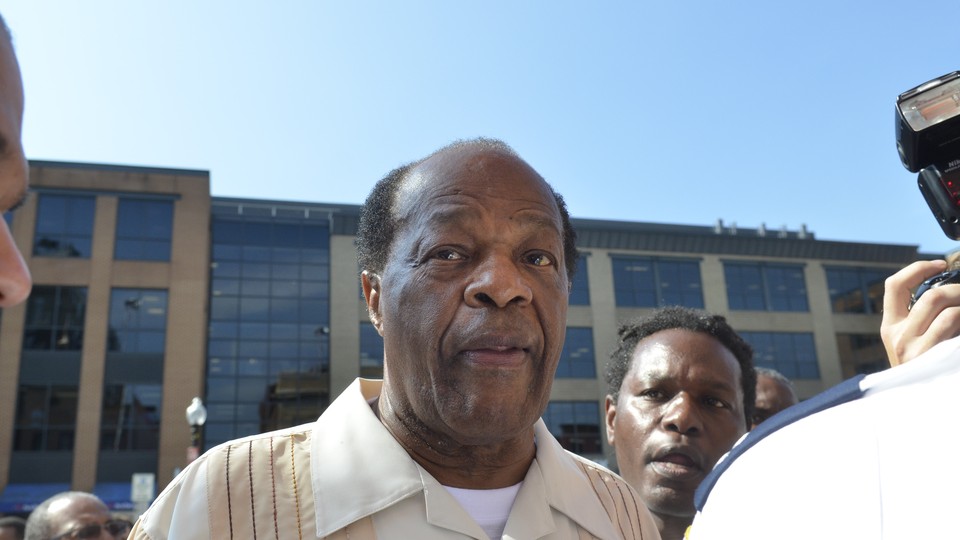 "We had made a good team business-wise, but we were never able to separate our work from our personal life," Marion Barry wrote of his marriage to the late Mary Treadwell in his new book. "You can't have two people of equal power in a relationship, you simply can't."
Written with best-selling author Omar Tyree, Mayor for Life: The Incredible Story of Marion Barry, Jr., tells the story of Barry's life as he sees it. In doing so, Barry unwittingly casts a spotlight on the disturbing gender dynamics of his interpersonal relationships, even as he seeks to portray any attention to his personal life as the media focusing needlessly on scandal.
In one instance, he's miffed when his late wife Effi Slaughter Barry refuses to visit him behind bars after he was arrested for smoking crack with a mistress. In another, he accuses an anonymous woman of manipulating him with sex. "Attracting women was never my reason for wanting to lead," he wrote, "but it was a trap that any man in power can get caught up in. And this woman had me in a compromised position."
For some, it's easy to write these comments off playfully as something a crazy uncle might say, and much of the media have done that. Others have focused on his self-congratulation. The most newsy thing to come out of a media event last Friday was his opposition to a nonexistent yogurt tax. Such colorful coverage, while often entertaining, plays into an image of Barry as a wild but lovable philanderer, just another boy with a cookie jar who can't help himself.
His behavior doesn't amount to a fluffy series of scandals but a systematic mistreatment of women. To hear Barry tell it, there are essentially three types of women in the world: the woman who traps you (sleep with her occasionally), your equal (don't marry her), and the woman who doesn't complain (best kind).
In the first category, there's Rasheeda Moore, better known to Barry as the "bitch" who "set me up," by offering him sex and crack in her hotel room and recording it. There's also an anonymous temptress, who offers him cocaine, saying it makes her nether regions "hot." Barry wrote: "What happened next? I had sex with her. She would never have done that out in front of me if she didn't want to tempt me."
In the second category, there's Treadwell, who cofounded the jobs program Youth Pride with him (she's the one who inspired the "you can't have two people of equal power in a relationship" comment). And Cora Masters Barry, the woman he married after Effi finally couldn't take living with him anymore. Here's why his marriage with Cora didn't work out in Barry's words: "She was not as tolerant as Effi had been and I didn't expect her or want her to be. However, Effi's understanding was what had allowed us to be married through so many different issues. I couldn't expect that from Cora."
In the third category, there's Effi, the wife he praised for her "understanding" and tolerance of his bad behavior. "There were always rumors about me womanizing and drinking as the mayor of Washington," Barry wrote, failing to mention that many of the rumors were true. "But Effi would ignore it all and never let it bother her. She wasn't a jealous woman." Mike Debonis, writing in The Washington Post, noted that she was reportedly less than equanimous about his affairs.
Even the women he was cheating with may have been under the impression that he valued them more than he did. He wrote of his mistress Rasheeda: "I enjoyed Rasheeda's company, her conversations and occasional sex. She may have fantasized about something more than that but I didn't."
After I emailed Barry's spokeswoman about this story, Barry called my cell Thursday night to say his personal life is, well, personal, and shouldn't be scrutinized for political implications. "We got married and it didn't work out, like six in 10 marriages in America," he said. He also repeated a point he made in his book — that he hired a lot of women as mayor, and that that's a better measure of his politics. "What I did is incredible," he said of his record on women. "No other mayor has that kind of record.... I'm trailblazing."
The implication is, if Barry treats the women in his life poorly but hires and promotes a representative number of women professionally, his personal life should be overlooked or excused. When I read his quote back to him about how "you can't have two people of equal power in a relationship," he responded, "What's wrong with that?"
The tokenistic way that Barry writes about hiring women in his memoir is reminiscent of Mitt Romney's famous comment back in 2012 that he has "binders full of women" on file for hire. "It was always my goal to place women in key management and leadership positions," Barry wrote of his hiring practices. "I knew how hard they worked and loyal they would be to achieving our goals. We also involved the Asian, Latino, and African immigrant communities of Washington, and the college kids." You can almost hear the soft motion of his pen checking off the obligatory boxes.
In another passage on his hiring practices, Barry denies a motive nobody was considering. "Since I hired so many women in my Cabinet and to high-department positions, the D.C. government had become women friendly. But that didn't mean I was sleeping with them." The fact that he feels the need to append the last sentence is telling.
More than once, he's berated local officials for hiring too many women. In 2011 when Rochelle Webb was nominated to head D.C.'s Department of Employment Services, Barry censured her for not hiring men for the leadership team. He began his attack by noting that when he was mayor, 51 or 52 percent of his Cabinet members were female. "I know it was not intentional but I wanted to point out to you that I'm a little disturbed that there are no men," Barry said, according to Alan Suderman, who was covering local politics for The Washington City Paper at the time. "I'm sure that going forward, as positions open up, that you're going to find some qualified men to fill those positions." (It's possible that his criticism here stems in part from a concern that black men in Washington are underemployed due to discrimination or lack of opportunity.)
Another time he opposed the appointment of Ximena Hartsock as director of the District's Department of Parks and Recreation on the grounds that women don't care about sports as much as men do. He also questioned why Hartsock, a Hispanic woman born in Chile who'd obtained permanent residency, wasn't a citizen. "I was mistreated," Hartsock said at the time. "Not only me, but my entire heritage."¦ If Marion Barry was a white person and I was a black person, there would be riots in the streets right now."
In an interview Wednesday night, Cora Barry defended his hiring record and argued that his personal politics are a product of the era he was raised in. "How old are you?" she asked me. I told her I'm 29. "You're evaluating this from a 21st-century, 29-year-old prism and you're talking about a man who's almost 80 years old. It's a different time and era, and that's a very difficult thing to do"¦. Power relations between men and women, womens' places, all of that was an evolution." She also supported his claims that he's been a trailblazer for women, noting that he'd had female chiefs of staff and that Madeline Petty, his director of housing and community development, was the first woman to hold that position. "He had no problem hiring women," she said.
Barry's hiring of women to prominent positions was more notable when he served as mayor in the 1980s, or even when he served a second term in the late 1990s, than it may seem now. (His office didn't make more detailed information about his hiring practices available.) It does not, however, grant him an excuse to argue there are too few men in leadership positions when the opposite is true, and it doesn't make up for the way he's treated the women in his personal life.
In the last section of his memoir, we learn that the book has truly been written for men when, under the heading "Family Values = Economics," Barry addresses his presumed audience. "Now it's time to look at the man in the mirror and have a frank discussion with yourself, and areas that you need to change. Now fellas, here's a BIG problem. We need more of you to step up and be MEN"¦. Don't be intimidated. She still needs you, no matter how many zeros she has in the bank. Even if you choose an alternative lifestyle, two is better than one." There's no section written for women, just aphorisms and advice for men.
Early coverage of Barry's memoir noted that he would make an appearance on Oprah: Where Are They Now, but a spokeswoman told me that while "a short interview with Marion Barry was completed for possible inclusion in an upcoming episode," no air date has been confirmed.
While the tokenism around Barry's professional treatment of women is especially pronounced, softer manifestations of that same sentiment can be found almost everywhere in politics, from the White House to the campaign trail. The incredible story of Marion Barry Jr. shows just how ridiculous and problematic that practice can be.
Correction: An earlier version of this article said Barry endorsed a non-existent yogurt tax. He opposed the non-existent yogurt tax.