The Senate Seats Most Likely to Flip: Hotline's Race Rankings
The top nine pickup opportunities still belong to Republicans, more than enough for them to win back control of the Senate.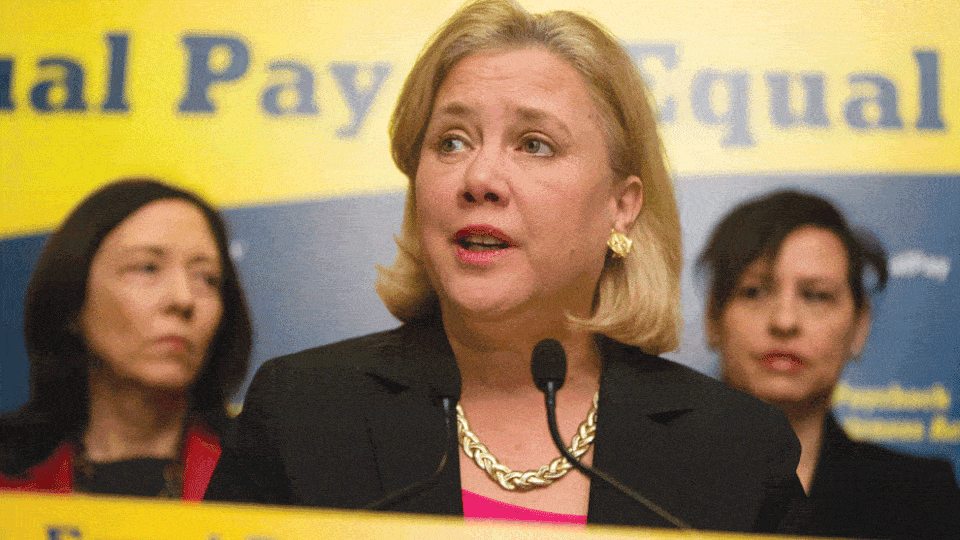 The campaign for control of the Senate has changed, somewhat, since The Hotline last ranked the 2014 Senate races in February. The top nine pickup opportunities still belong to Republicans, more than enough for them to win back control of the Senate. But some of the most threatened Democratic incumbents have stabilized since winter, when things looked particularly dire for their party, and they could yet manage enough red-state victories to keep the Senate in Democratic hands. Incumbents like Arkansas's Mark Pryor still have very difficult campaigns ahead, but they aren't done yet.
Meanwhile, Senate Minority Leader Mitch McConnell is still locked in a tight race with his Democratic challenger in Kentucky; Scott Brown is in — but having some difficulty — in New Hampshire; and Republicans successfully avoided a nominee problem in North Carolina, Georgia, and Mississippi. There are fewer questions and wild cards about these races than there were four months ago.
At some places in the list, the differences between the states are infinitesimal; at other points, there are wide gaps. We think about the Senate landscape in tiers: Democrats are highly likely to lose the top three races; the next four are toss-ups; the six after that are highly competitive campaigns where we think the incumbents still hold the upper hand; and the races at the bottom are against-the-odds upset possibilities.
Democrats currently control 55 Senate seats, meaning Republicans have to net six to take control of the chamber in 2015. Without further ado, here is our list of the top Senate races of 2014, ranked in order of most to least likely to flip:
1) South Dakota (Open D, Sen. Tim Johnson retiring) (Previous rank: 1)
With two former Republicans running as independents and likely to split votes on the Right, South Dakota could have been a better opportunity for Democrats. But Rick Weiland isn't the first-tier candidate the party was hoping for, and it doesn't look like he'll be able to make the race to replace Johnson competitive. Former Gov. Mike Rounds has the surest path of any Republican challenger in the country.
2) West Virginia (Open D, Sen. Jay Rockefeller retiring) (Previous: 2)
Secretary of State Natalie Tennant was always playing from behind against the top GOP recruit, Rep. Shelley Moore Capito, and the president's new EPA regulations aren't doing her any favors in a coal state. Tennant has so far kept on par with Capito's fundraising, but she has a lot of ground to make up running against a popular incumbent in a state that really doesn't like President Obama.
3) Montana (D, Sen. John Walsh) (Previous: 3)
Steve Daines isn't Denny Rehberg, John Walsh isn't Jon Tester, and 2014 is looking a whole lot tougher for Democrats than 2012. That, in a nutshell, explains why Democrats aren't too optimistic about Montana despite the party's strong track record of success there. Walsh's appointment to the Senate in January gives him the benefit of incumbency — sort of — but an internal report from the U.S. Army that the then-adjutant general misused resources has put him on the defensive over his military background, which should be a major strength of his campaign. Just five months into his term, Walsh is clearly the midterm elections' most endangered incumbent.
4) Louisiana (D, Sen. Mary Landrieu) (Previous: 6)
Democrats' struggles at the end of last year, fueled by Obamacare's woes and exacerbated by big-spending conservative outside groups, hit Landrieu hard, but she has built herself back up in the past few months with emphasis on how important her energy committee chairmanship is for Louisiana and a clever ad campaign featuring her famous father. Like all of the red states Democrats are trying to protect, Landrieu wants to make the race as much about local issues as possible, forcing Louisiana energy interests to choose between a Democratic friend or their favored party. If Landrieu can't win outright with a majority in November and the race goes to a December runoff with control of the Senate on the line, staying local could get difficult.
5) North Carolina (D, Sen. Kay Hagan) (Previous: 5)
After being an early target of historic spending from Americans for Prosperity, Sen. Kay Hagan finally has some groups (EMILY's List, Planned Parenthood) coming to her defense. Voters in North Carolina don't like national Democrats, especially President Obama, right now — but they are also sour on state Republicans. Hagan's opponent, state House Speaker Thom Tillis, has been pulled away from the race to finish out a contentious legislative session, which prompted protests outside the capitol and even in his personal office. Tillis is also tied to unpopular cuts to education funding and a controversial state budget. Still, Hagan hasn't seen a noticeable bump in available polling since the advertising evened out.
(National Journal Presentation Center)6) Arkansas (D, Sen. Mark Pryor) (Previous: 4)
Republicans once dreamed of putting away Pryor by summer. Instead, the two-term senator has shed his label as "the nation's most endangered incumbent" thanks to a strong early campaign rooted in his defense of Social Security and Medicare. If anything, more questions have been raised about Tom Cotton's aptitude as a candidate — his stiffness as a retail politician and hard-Right voting record have caused him a few headaches. But with all of that said, Democrats shouldn't get too carried away. This is still a deeply red state, Cotton is still a credible candidate, and well-funded groups like Americans for Prosperity and the Club for Growth will still pump millions more into the race. Arkansas remains a good pickup opportunity for the GOP, just like Louisiana and North Carolina; in these rankings, the trio are close to interchangeable.
7) Alaska (D, Sen. Mark Begich) (Previous: 7)
In some states, like Arkansas, Democrats and Republicans are seeing different things in their polling right now. Most people we talked to agreed about Alaska: Begich has had a good year so far, with his campaign giving a compelling account about how he's been fighting the federal government, and the senator has separated himself a bit from presumptive Republican challenger Dan Sullivan in private polling. Everyone always says "Alaska is different," and the situation is certainly looking different than it is for the other red-state Democrats. One thing Alaska has in common with everywhere else: the deluge of outside money. The party committees and two super PACs have reserved over $15 million in TV time for the fall, quintupling the total outside spending in Begich's last race.
8) Iowa (Open D, Sen. Tom Harkin retiring) (Previous: 12)
State Sen. Joni Ernst's impressive primary performance has made her one of the biggest wild cards this cycle. She faces a capable, though gaffe-troubled, Democratic candidate in Rep. Bruce Braley, but Ernst's ability to pull together different factions of the Republican Party has so far been impressive, and she raised more than $1 million in the six weeks leading up to her primary. Recent polls go back and forth on Ernst and Braley, but it's probably too early to tell whether she's really ready for prime time.
9) Colorado (D, Sen. Mark Udall) (Previous: 11)
Can Mark Udall make Colorado voters think Cory Gardner is just another Ken Buck? He's already trying, releasing a blistering TV ad this month depicting the Republican congressman as an antiabortion extremist. Whether he's successful remains to be seen: Gardner has fought back aggressively, renouncing some of his past support for personhood legislation and writing a sly op-ed in the Denver Post calling for the birth-control pill to be available without a prescription. It's early, but the fierce fighting in June speaks to the race's competitiveness. One sleeper issue to watch: A proposed ban on fracking in Colorado would leave the environmentalist-friendly Udall in a tight spot, forced to choose between his vocal liberal base and the state's majority of moderate voters.
10) Kentucky (R, Sen. Mitch McConnell) (Previous: 10)
Democrats have long grouped Kentucky and Georgia together, unable to determine which offers the best opportunity for a Democratic pickup in 2014. But the failure of either Paul Broun or Phil Gingrey to at least make a runoff in Georgia, coupled with continued strong poll numbers for Alison Lundergan Grimes, means the Bluegrass State has ever so slightly separated itself from its Peach State compatriot. The news hasn't been all good for Grimes, however: It's hard to imagine Obama's EPA regulations hurting any candidate more than her, and Mitch McConnell's campaign kept the issue alive in Kentucky — at least in the media — for weeks.
11) Georgia (Open R, Sen. Saxby Chambliss retiring) (Previous: 8)
Republicans have avoided the possibility of an extremist nominee, but Democrat Michelle Nunn's strengths still have her party thinking happy thoughts. Republicans David Perdue and Jack Kingston are still fighting for their nomination, while Nunn stockpiles cash and prepares to run an anti-Washington fall campaign, especially if her opponent is Rep. Kingston. But the demographics of the state are still just tricky for Democrats right now. Nunn will have to do something extraordinary to take over a Republican-held Senate seat.
12) Michigan (Open D, Sen. Carl Levin retiring) (Previous: 9)
This is one race definitely heading in the wrong direction for Republicans. Presumed GOP nominee Terri Lynn Land has struggled mightily in her scant few public appearances and reminded everyone why the Republican establishment in the Wolverine State was so hesitant to embrace her all of last year. Worse, the race's most recent polling shows Democratic Rep. Gary Peters establishing a small but significant lead, and one of Land's first major ads — in which she challenged Democrats to suggest that she was waging a war on women — was privately mocked as ineffective by Republicans. Michigan is by no means out of reach for Republicans, but with so many other opportunities for the GOP, it's in danger of dropping off the map come the fall.
13) New Hampshire (D, Sen. Jeanne Shaheen) (Previous: 15)
Former Sen. Scott Brown's entry to the race makes things interesting, but so far he has underwhelmed. New Hampshire voters seem suspicious of a transplant politician from Massachusetts, and Brown needs to realize that Shaheen, a popular former governor, is no Martha Coakley, in the words of one strategist. Most concerning for Brown should be his underwater approval numbers in a recent Suffolk University poll, 46 percent unfavorable to 35 percent favorable.
14) Minnesota (D, Sen. Al Franken) (Previous: 14)
Welcome to the new sleeper race of 2014. Investment banker Mike McFadden, who won the state party endorsement in May to effectively clear the GOP field, has the personal wealth to at least partially self-fund a campaign — a necessity for a contest otherwise off the radars of most national donors. Even as they remain resolutely confident of Al Franken's chances, Democrats are quietly conceding that this is a race that could end up closer than most people expect. This is, after all, a lawmaker who won his first race by fewer than 1,000 votes.
15) Virginia (D, Sen. Mark Warner) (Previous: 13)
Republicans have an inkling that Warner isn't quite "Mark Warner," the mythic all-conquering Democrat of the previous decade, any more after six years in Washington. Former Republican National Committee chair Ed Gillespie certainly will have the money to test that hypothesis, but the available polling doesn't show Warner in a bad place right now. In any case, if any races this far down the list end up truly in play, it's bound to happen late in the year.
16) Oregon (D, Sen. Jeff Merkley) (Previous: Not Rated)
In the time since we last ranked these races, Oregon has gone from solidly blue, to a possible pickup opportunity for Republicans, and back to being a long shot. For a short while, pediatric neurosurgeon Monica Wehby looked like just the moderate Republican who could give Sen. Jeff Merkley a run for his money. But just as she clinched the primary, troubling harassment allegations from her past became public, followed by near silence from her campaign. Wehby is working with a new staff now, bolstered by some help from national Republicans, but she definitely has long odds, highlighting everything that is both good and bad about inexperienced "outsider" candidates. Merkley will still have to work for it, but Wehby doesn't look as dangerous as she once did.