The Right to Lie in Campaigns Is Safe, for Now.
The Supreme Court ruled unanimously that a First Amendment case over "false" ads can continue.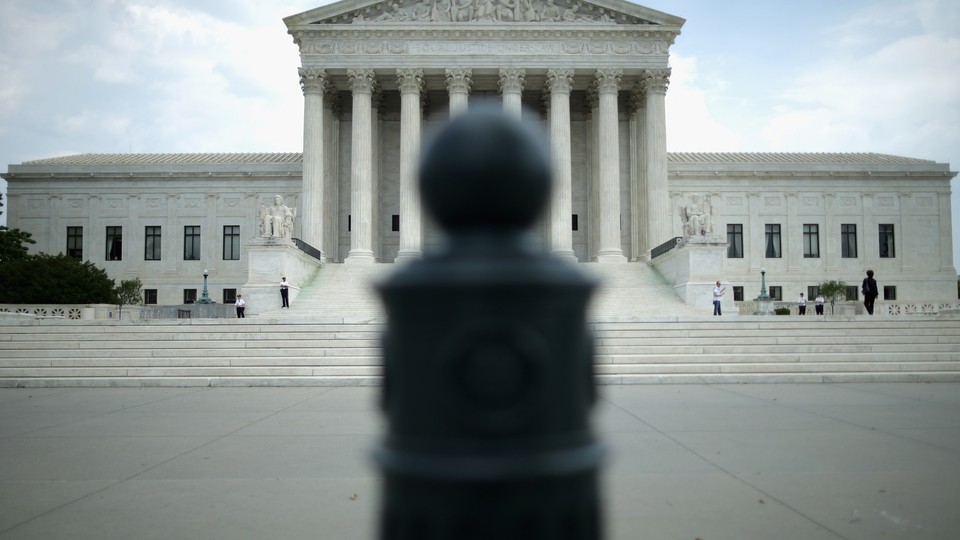 Add another wrinkle to the insanity that is the 2014 midterms: Courts will still be deciding whether states have the right to restrict "false" campaign ads.
The Supreme Court on Monday ducked the biggest questions in a potentially significant First Amendment case about political attack ads and how state governments can regulate them. But it said those issues should continue to play out in lower courts.
This all started with an anti-Obamacare billboard in 2010. The Susan B. Anthony List, an anti-abortion-rights group, wanted to put up a billboard attacking then-Rep. Steve Driehaus over his vote for the Affordable Care Act.  "Shame on Steve Driehaus! Driehaus voted FOR taxpayer-funded abortion," the billboard read.
Driehaus said the attack was false, and his state — Ohio — bans false ads.
SBA List never put up the billboard in question, but it challenged the Ohio law as unconstitutional. State governments have no business deciding what can be said in a political campaign, or serving as the arbiters of what's true or false, SBA List argued.
A federal appeals court tossed out SBA List's suit on procedural grounds. The Supreme Court reversed that decision in a unanimous ruling Monday, saying the suit can proceed.
Fifteen states have laws similar to Ohio's, all of which could hang in the balance as courts continue to question whether such laws are constitutional.
In 2010, Driehaus filed a complaint with Ohio's election commission and also pressured the billboard owner not to accept SBA List's ad. Because the ad never went up, the election commission never ruled. And that means SBA List's attack was never actually deemed true or false.
So, to challenge Ohio's law, SBA List had to argue that the whole mess with Driehaus was chilling its future speech — that it wants to run similar ads in the future and could face enforcement from Ohio's ban on "false" attacks. And of course, SBA List believes its attack is entirely true, citing the structure of the health care law's insurance subsidies, which calls into question whether an attack like this one could ever be ruled definitively true or false.
The lower court said SBA List's argument was too hypothetical — without an actual ruling from the election commission, SBA List hadn't been injured, the court said. And if it hadn't been injured, it couldn't sue.
The Supreme Court rejected that reasoning. Justice Clarence Thomas, who wrote the unanimous opinion, cited past cases in which the Court allowed "pre-enforcement" challenges.
When a state law restricts activity protected by the Constitution, the Court has said that the threat of prosecution is enough of an injury to support a lawsuit, Thomas wrote.