The Heroes Who Saved Chicago's Immigrant Homeowners
An unusual grassroots partnership rescued a local bank and made avoiding foreclosure its No. 1 priority.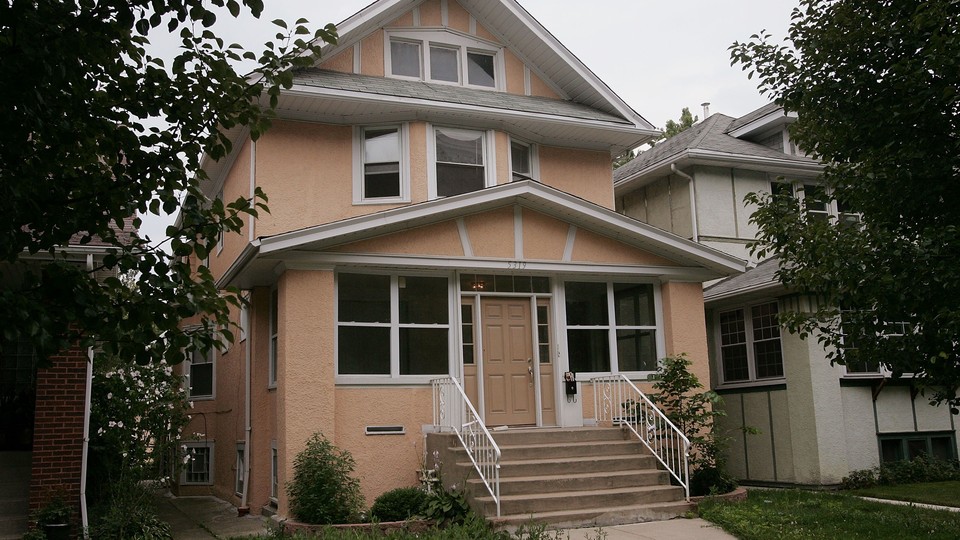 Jeidy Rodriguez de Aguilar nearly lost her two-story house in Southwest Chicago to foreclosure last year. The home's value had dropped, the mortgage interest rate had spiked, and her husband couldn't find enough work as a roofer. They were six months behind on the mortgage.
Now, a year later, the couple's two youngest children play on a new trampoline in the backyard of their Brighton Park home. They are no longer behind on their payments. "It's such a relief," says Aguilar, 35, a native of Monterrey, Mexico. "Owning a home was a dream come true for us."
Aguilar is one of hundreds of immigrant homeowners whose troubled mortgages were rescued in an unusual grassroots partnership to save a local bank. Their mortgages were set for the auction block after the FDIC in July 2012 shut down Second Federal Savings & Loan Association of Chicago, which served more than 10,000 customers who were predominantly Mexican immigrants. The FDIC sold the bank's three branches to a local financial corporation.
News of the takeover spread through the La Villita neighborhood, longtime home of Second Federal and the heart of Chicago's Mexican community. Raul Raymundo, who runs a nonprofit community-development organization nearby, grew anxious thinking about what would happen to the bank's 1,100 mortgage loans after the sale.
"My biggest fear was that there would be mass foreclosures," says Raymundo, CEO of The Resurrection Project, which promotes homeownership in Chicago's low-income neighborhoods.
Growing up in Southwest Chicago, Raymundo saw Second Federal take a chance on a community often shunned by mainstream banks. It was among the first banks in the country to make home and business loans to undocumented immigrants, accepting individual tax identification numbers instead of Social Security numbers. Bank tellers spoke Spanish and accepted mortgage payments in cash.
When the housing crisis hit, communities like La Villita got the worst of it. Latino borrowers and other minority groups were disproportionately offered risky, high-interest loans, according to the Center for Responsible Lending. Property values in Hispanic communities fell by 46 percent during that time — far worse than the 32 percent drop in black neighborhoods and the 23 percent drop in white neighborhoods, according to a 2014 analysis by Zillow.
The community banks that served many of these neighborhoods didn't get the federal bailout that America's biggest banks did. In Chicago alone, at least eight banks that catered to Asian, Hispanic, and African-American communities have failed since 2008.
Raymundo was determined to intervene for the customers of Second Federal. He did not want to see their loans end up in the hands of profit-driven investors, who would likely push to foreclose many distressed properties. So he went around town looking for a community bank to buy them. When that failed, he and The Resurrection Project found a partner in a North Carolina-based credit union that serves low-income customers.
Raymundo and the executives at Self-Help Federal Credit Union decided that their partnership could only work if the credit union could buy the failed bank and its loan portfolio. First, they urged the FDIC to sell Second Federal's loan portfolio as a package deal, making sure the buyer could provide services in Spanish to mortgage holders and keep a physical presence in the neighborhood that would accept cash payments.
In November, the FDIC sold the bank's loans to Self-Help for $59 million. The loans were worth $141 million and about one-quarter of them were delinquent.
But there was one more hurdle in the plan: The FDIC had already sold the bank itself and its deposits to Wintrust, a financial corporation based outside Chicago that also owned Hinsdale bank. Wintrust CEO Edward Wehmer said he thought Hinsdale bank would meet the needs of La Villita just fine. But then he listened to the impassioned pleas from the credit union, the nonprofit group, and even Rep. Luis Gutierrez, whose district includes La Villita. Four months after buying Second Federal, Wintrust agreed to sell the bank to Self-Help.
The plan to bail out Second Federal was "insane," says Randy Chambers, CFO of Self-Help. He was worried that the changes in ownership would take a toll on staff at Second Federal. But he says he soon realized he was wrong. "They were actually stronger than we were," Chambers says.
Rudy Medina, who managed the Second Federal branch in La Villita at the time, says his staff did struggle to keep up morale. But the hardest part was watching customers lose trust in the institution they had grown to know as "el banco del pueblo" ("the people's bank"). "People were walking in the door and taking their money," says Medina, who was born and raised in La Villita. "It was our job to prevent the runoff."
Self-Help staff sat down bank employees and explained that Second Federal would convert into a credit union, with a focus on keeping homeowners from going into foreclosure. "My first thought was, this is too good to be true, because this is exactly what we need," says Medina, who is now president of Second Federal.
When the failed bank reopened as a credit union in September, mariachis paraded through La Villita to celebrate. A large sign that reads Bienvenidos a la Villita still hangs above the door to the iconic art-deco building. The flags of Mexico, the United States, and Chicago wave above.
Now Medina and his staff continue working with The Resurrection Project to reach homeowners who can't make their mortgage payments. In most cases, they lower interest rates, replace adjustable rates with fixed ones, and extend the life of the loan. So far, they've modified 150 troubled mortgages, sold 20 homes through short sales, and foreclosed on just eight homes. The delinquency rate that peaked at 29 percent in February 2013 had dropped to 13 percent as of this April.
One of those loan modifications kept Jeidy Aguilar, her husband, and their four children in the Brighton Park house they bought 10 years ago. Second Federal lowered the interest rate from 8 to 3 percent, cutting their monthly $1,400 payment nearly in half.
Though roofing jobs are still scarce, Aguilar said the family now has enough money to pay their bills. And to buy a little trampoline for the kids. "This house is for them," says Aguilar. "So they don't have to struggle the way we did."