The Fox, the Hedgehog, and the Millennials
President Obama's student-debt proposal — and the reaction to it — reveal how Democrats and Republicans are courting young people.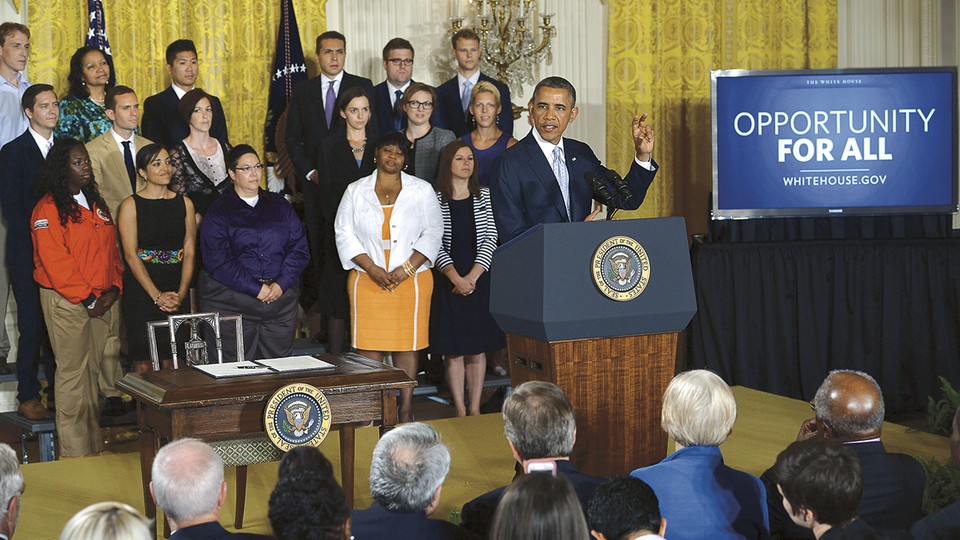 It was telling that when President Obama unveiled his latest proposal to restrain student debt earlier this week, Senate Republicans initially fired back not with a criticism of the plan itself but with a release that catalogued an array of grim statistics on young people's experiences in the economy. The exchange captured the contrast between the approaches Democrats and Republicans are using to court the massive millennial generation, whose electoral influence is steadily expanding.
Obama's new effort to cap student-loan debts illuminated a Democratic strategy of pursuing the millennial generation by offering them programs and policies that align with their views. The Senate Republican response shows a GOP that is courting millennials around a broader argument centered on the economic struggles many of them are facing.
It's the political equivalent of philosopher Isaiah Berlin's famous distinction between the fox and the hedgehog. Like the fox, Democrats say millennials agree with them on many things. Like the hedgehog, Republicans say Democrats are failing millennials on the one big thing that matters most: providing them economic opportunity.
So far, Democrats have gotten the better of the argument. As the first millennials have moved into the electorate since 2000 (the generation is best described as the 90 million-plus young people born from 1981 through 2002), Democrats have enjoyed a consistent advantage with younger voters. In 2008, Obama won two-thirds of voters under 30. His advantage slipped in 2012, but he still carried three-fifths of them.
Looking forward, though, the generation seems more conflicted. Analysts in both parties agree that millennials' economic struggles have prevented Democrats from solidifying their support as much as appeared possible after Obama's first victory.
The depth of their economic discontent rang through a recent poll conducted as part of a series of joint National Journal/Atlantic millennial town halls underwritten by Microsoft.
In the survey, only a little more than one-third of millennials described current economic conditions as either very good (8 percent) or even somewhat good (27 percent). Fewer than one-fourth thought the economy was better than a year ago. Nor was there much optimism about the months ahead: In the poll, only 27 percent thought the economy would be better one year from now.
On all of these questions, young whites without a college degree were especially pessimistic. But the larger story was the consistency of this economic discontent across the millennial generation, even among groups that otherwise have been the most supportive of Obama and Democrats. The share of nonwhite millennials who said the economy was good today or likely to improve over the next year was not meaningfully larger than the share of whites; women were no more optimistic than men.
The March 14-18 survey by the IC2 Institute at the University of Texas (Austin) was conducted online, so the results may not be as statistically precise as those from a random-digit-dial telephone poll. But they're consistent with other polling — polling that paints a distinctly gloomy picture of millennials' moods.
Another recent online poll of this group, this one conducted by Paul Harstad, a pollster for Obama in 2008, crystallized this discontent into a single answer when it asked respondents whether they agreed that "my employment or education opportunities are a lot less than I thought they'd be." Exactly three-fifths of millennials said yes.
All of that maps the opportunity for the GOP's hedgehog argument that Obama and the Democrats have failed millennials on the one thing that matters most. But the IC2, Harstad, and other recent surveys all show the potential power of the fox case from Democrats. Both the IC2 and Harstad surveys, for instance, indicate significant millennial receptivity to Democratic arguments about inequality; fully two-thirds in the IC2 poll agreed that it is difficult for average people to get ahead today.
Democrats also enjoy a consistent advantage with millennials on most cultural issues, as an ABC/Washington Post survey last week reminded. No Republican 2016 contender is likely to fully support gay marriage, but in the poll a head-turning 77 percent of Americans under 30 said they backed it. And even as Republicans erupted in opposition last week to Obama's proposal to limit carbon emissions from power plants, three-fourths of millennials in the same poll said they considered climate change a serious problem.
The most contested generational ground may be the role of government. Some surveys, like Harstad's, show millennials more open than their elders to government activism; but other polls show them understandably unconvinced that any big institutions — including government and business — have worked very well for them. Kristen Soltis Anderson, a young GOP pollster who has extensively studied millennials, says the real duel underway is between Democrats offering programs such as student-debt relief or a higher minimum wage that address "the acute, immediate pain" millennials face, and Republicans trying instead to convince them "we've got to start over and rethink our approach to these big systems, whether it's higher education or health care."
That debate isn't settled, but Anderson acknowledges that Republicans face a tough burden of proof "with a generation that has never really had a reason to trust [us]" after coming of age politically during George W. Bush's contentious presidency. The Republican hedgehogs are digging away, but must still burrow past a thick tangle of experiences and attitudes before reaching a millennial breakthrough.