The End of Public Schools in New Orleans
When school starts again in the fall, New Orleans will be an all-charter system, the first in the country.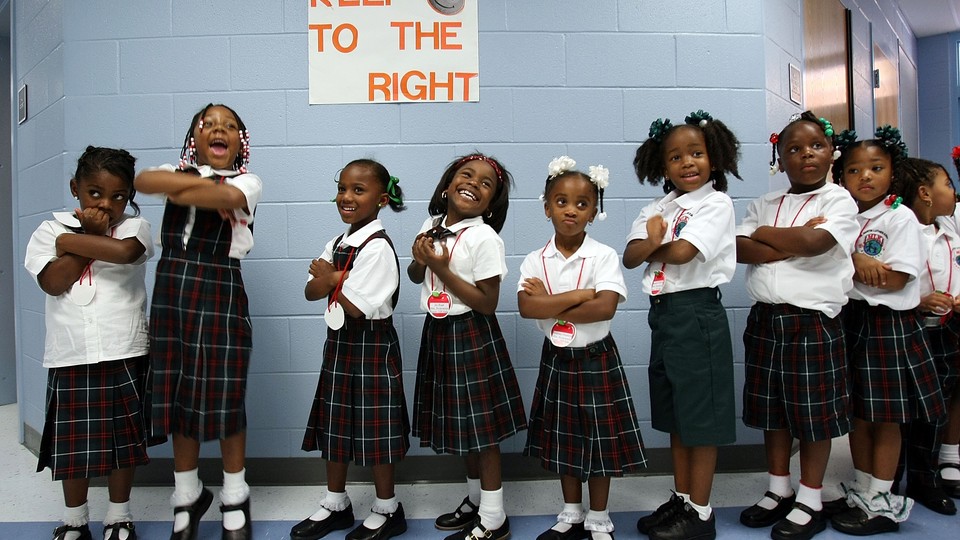 Here's a roundup of the education articles that caught Next America's eye from May 27 to June 1. All address trends that particularly affect minority students.
The march toward universal pre-K continues, a few hours at a time. As cities and states around the country make room for more children in whole and half-day pre-K classrooms, Vermont has just approved what officials there are referring to as a universal pre-K bill. Vermont Gov. Peter Shumlin signed a bill into law Wednesday guaranteeing every 3- and 4-year-old in the state a minimum of 10 hours each week in a pre-K classroom. The classroom time in public or private nonparochial schools selected by parents will be publicly financed and free of charge to Vermont families. Valley News/ The Associated Press
When charter schools are the only public schools. When the 2013/2014 school year came to an end in New Orleans last week, so did most of the city's remaining traditional public schools. When school reopens in August, only five schools will operate under supervision of the local school board, according to The New York Times. Most of the city's schools will be run by 40 different charter-school organizations. Since Hurricane Katrina, about 90 percent of the city's overwhelmingly black student population have been moved into or opted to attend charter schools. NPR
School lunches free to become unhealthy again. A House budget panel passed an appropriations bill last Thursday that will allow districts to opt out of school-nutrition rules that since 2012 have required cafeterias to offer more fruits and vegetables and reduce the amount of salt and fat in food offerings. The School Nutrition Association cheered the move, according to The New York Times. The association accepts funding from food companies that initially opposed the changes in school food standards. About 32 million children — all of them from low- to moderate-income families and many of them black or Latino — participate in school breakfast and lunch programs each day. The New York Times/ Education Week
Wanted: more learning time and more money in high-poverty schools. The American Civil Liberties Union has filed a class-action suit against the state of California alleging that many of the state's high-poverty schools do not offer students enough class time to succeed. Among the named plaintiffs is a Los Angeles student who described a class schedule that one year included four "home periods." During "home periods," students are expected to return home and remain there until their next class. While the ACLU's suit challenges the fundamental fairness of what is happening in some of the state's most impoverished schools, states ordered by courts to increase school spending in poor communities have seen a range of positive outcomes, according to a new analysis released by the National Bureau of Economic Research. The study found that in these school districts, low-income children "were significantly more likely to graduate from high school, earn livable wages, and avoid poverty in adulthood." NPR/ Education Week
Common-core opposition grows. A wave of state opposition to the common core — a set of academic standards for K-12 students adopted by 46 states and the District of Columbia — appears to be building. Governors in Oklahoma and South Carolina are considering bills approved by each state's legislature that would eliminate the common core. And the Missouri Legislature has passed a bill compelling officials to develop state specific standards in the next two years. The common core once enjoyed bipartisan support but has become the subject of increasing controversy as the Obama administration has taken steps to encourage states to implement the standards. Republican state officials have argued that the common core amounts to a federal education takeover. The New York Times
Student data for sale. One company's plans to sell off the student data collected by ConnectEDU while providing career-development websites has drawn the attention of federal lawmakers and regulators. Some 20 million students listed all manner of personal information on ConnectEDU sites, including their academic accomplishments and activities, interests, and résumés before the company ran out of financial steam. Officials at the Federal Trade Commission made contact with the bankruptcy judge overseeing ConnectEDU 's case after the company indicated in court documents that it planned to sell student data. Federal regulators have suggested that students who listed information on a ConnectEDU site should have the option to remove it before the data is sold, or that the data itself should be destroyed. The New York Times