The 4 Primaries to Watch This Week
From Lindsey Graham's surprisingly easy route to Eric Cantor's oddly aggressive tack, here are the most interesting nominations that will be decided Tuesday.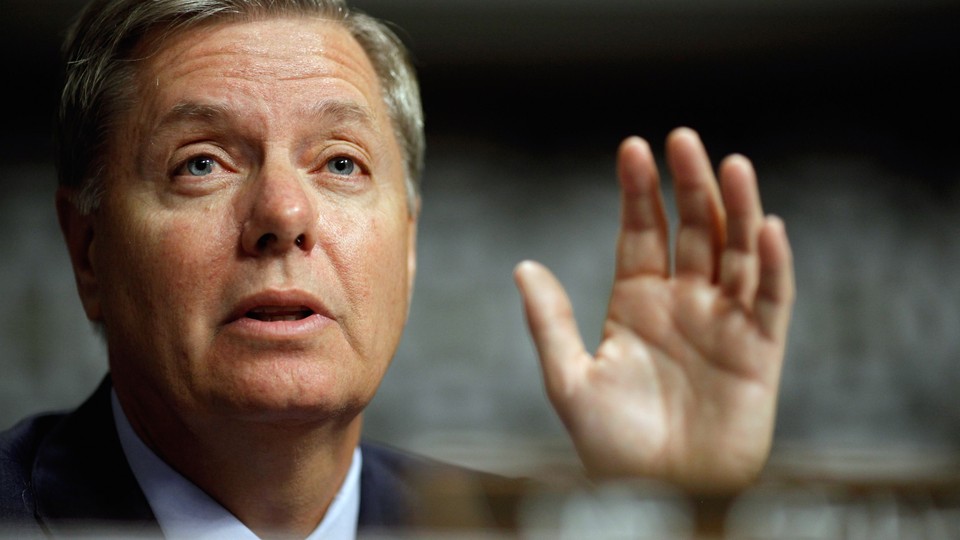 After the excitement of last week's late-night primaries, this week's nominating contests look a little more sedate. But there's still plenty to keep an eye on as voters in five states head to the polls Tuesday. Here are the top four primaries to watch on June 10.
SOUTH CAROLINA SENATE
At the beginning of last year, Sen. Lindsey Graham looked like a prime example of the type of GOP incumbent getting challenged in primaries these days. Since then, he's turned into a prime example of the type of Republican who escapes such a fate somewhat comfortably.
Graham's moderate stances on climate change, immigration, and several more issues damaged his standing with parts of South Carolina's famously factional Republican Party in the last six years. But Graham's aggressive campaigning and fundraising — he raised nearly $6.5 million in the past year and a half and spent even more than that over the same period — kept that specter of intra-party threat from growing into anything more real. Graham was not only in a comfortable first place in his primary in the most recent Palmetto poll from Clemson University, he was at 49 percent support, on the cusp of the majority he'd need to avoid a runoff and win the nomination outright. More than a third of the electorate said they were undecided, while the closest Republican to Graham was still languishing in single-digits.
Meanwhile, appointed Sen. Tim Scott is on the ballot, too, and he's going to cruise through his first statewide primary with ease. He technically has a primary challenger, but there's nothing to the challenge. Not only do 65 percent of South Carolina Republicans give Scott an "excellent" or "good" rating, according to that Palmetto poll, but, as the Charleston Post and Courier wrote in May, "Repeated efforts by state media to locate [Scott's opponent] have been unsuccessful."
MAINE'S 2ND CONGRESSIONAL DISTRICT
When Democratic Rep. Michael Michaud announced last year that he would run for governor, that left his district — a vast stretch of northern Maine that is the largest congressional district east of the Mississippi River — open for new representation. Two Democrats from the state Senate, Emily Cain and Troy Jackson, leaped at the opportunity. Jackson is well-connected with local labor, never a liability in a Democratic primary, but Cain has cast Jackson's voting record as insufficiently progressive on several major issues: abortion, same-sex marriage, and the environment. EMILY's List, the Democratic women's group, and the League of Conservation Voters have spent over $200,000 between them boosting Cain. Whoever wins on Tuesday will be a favorite, but definitely not a lock, to represent the district in 2015. Republicans Bruce Poliquin (who previously lost two statewide GOP primaries) and Kevin Raye (who previously lost two races against Michaud) are competing for their party's nomination.
VIRGINIA'S 7TH CONGRESSIONAL DISTRICT
No one expects House Majority Leader Eric Cantor to lose his primary Tuesday, and he'll probably win comfortably. But the aggressive campaign Cantor had to run against local economics professor Dave Brat symbolizes how, even if not very many incumbents are losing primaries, those nominating contests have still gotten much less stable than in the past. Cantor aired negative TV ads against Brat, sent mailers boasting about defeating a pro-"amnesty" immigration-reform plan, and spent more money than usual on campaign activities (as opposed to fundraising for the rest of his party), all unusually forceful moves for a party leader up for renomination.
VIRGINIA'S 8TH CONGRESSIONAL DISTRICT
Democratic Rep. Jim Moran is retiring, giving his party the opportunity to anoint the next member of Congress from his safely Democratic section of Northern Virginia. Former Lt. Gov. Don Beyer appears to be the front-runner in a crowded field of seven Democratic primary hopefuls, thanks not only to his prior political experience but also because of the name recognition and wealth that come with owning a successful local car dealership and serving as the national finance chair for a presidential candidate (Howard Dean in 2004). There has been a little outside money spent on behalf of state Del. Patrick Hope, but Beyer's million-dollar campaign has outstripped the rest of the divided field. Moran hasn't endorsed anyone, telling The Washington Post that "it wouldn't be fair."