Thad Cochran's Allies Consider Scaling Back Their Support for the Embattled Senator
After a second-place finish, his advisers huddle to find a strategy that doesn't damage Republicans' chances of winning the seat and taking the Senate.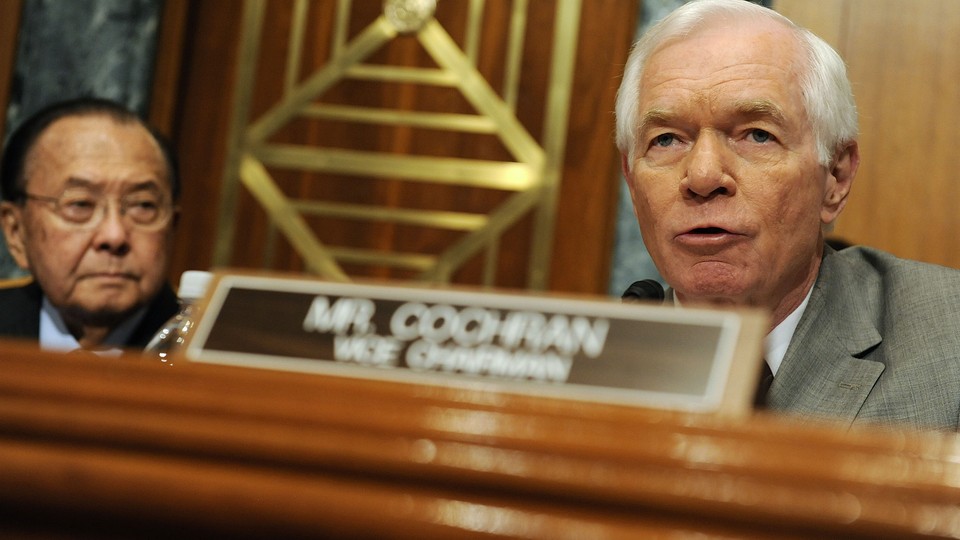 Establishment Republicans are in a tough spot in Mississippi.
They want Thad Cochran to win the coming runoff, and could spend tons of cash to attack tea-party challenger Chris McDaniel. But they know the sitting senator is more likely to lose, and going after his opponent will only damage the party's ability to beat the Democratic candidate and take over the Senate.
It's an excruciating decision for all of Cochran's supporters, from the National Republican Senatorial Committee to the U.S. Chamber of Commerce. And even though they're reiterating their support, it already looks like they are ready to scale back, and that means less money and toned-down attacks.
"The Club for Growth and Senate Conservatives Fund will bankrupt themselves just to make their point. The NRSC, the chamber don't have that luxury — they're looking at a Republican majority," one pro-Cochran strategist said.
According to several Republican sources, leaders of pro-Cochran outside groups were meeting Wednesday to discuss strategy going forward after McDaniel narrowly finished in first place in the primary with 49.6 percent of the vote. Sources raised the possibility that Cochran's supporters might shift their focus to other contests now.
American Crossroads, for one, announced Wednesday afternoon that it wouldn't get involved in the contentious runoff. "We have completed our work on Senate primaries this cycle ... this is not our fight," spokesman Paul Lindsay said. Crossroads didn't air ads in the primary, but it donated $120,000 to the pro-Cochran super PAC Mississippi Conservatives, according to Henry Barbour, the nephew of former Gov. Haley Barbour, who runs the group.
Cochran faces disadvantages in the runoff that range from his lethargic campaign effort to the likelihood of a smaller, more-conservative turnout in three weeks and the prohibition on Democratic crossover voters participating in the election.
He had no campaign operation when he announced his reelection bid and was dependent on outside assistance for the race. The Mississippi Conservatives super PAC spent $1.7 million on his behalf, while the NRSC helped staff his operations. He also was boosted by ads from the chamber, which reiterated its support for Cochran in a tweet after the primary's results came in.
Over the next three weeks, the senator might refocus his message on the out-of-state interest groups backing McDaniel, Henry Barbour suggested, rather than remain engaged in personal attacks against his challenger. The primary race took an ugly turn in its final weeks after one of McDaniel's supporters broke into a nursing home to take pictures of Cochran's ailing wife, Rose, who suffers from dementia.
Indeed, another Cochran ally involved with the senator's campaign strategy said that his team won't be bringing up that scandal during the runoff — a sign they realize it could badly damage McDaniel in the general election if he wins the nomination.
"The point of aggressively going after [the nursing home scandal] was to get it national attention. Now there is national attention on that, we've achieved that objective. I think it would be a fools' errand to continue use that for no other reason," the Cochran ally said.
That's a far cry from the aggressive posture coming from the outside conservative groups backing McDaniel. The antitax Club for Growth, which spent $2.5 million boosting his challenge, called on Cochran to withdraw from the race while threatening to continue hammering away at his record if he doesn't.
"He should do the honorable thing and decline to contest the runoff. Should he choose to persist, the Club for Growth PAC and conservatives throughout Mississippi will vigorously pursue this race to its conclusion, and we will look forward to the election of Senator Chris McDaniel," Club for Growth President Chris Chocola said in a statement.
If Cochran loses, he would be the first senator to lose to a primary challenger this year, and would give tea-party activists a much-needed victory after earlier setbacks against targeted incumbents. But Democrats hope that with McDaniel as the Republican nominee, former Democratic Rep. Travis Childers could make the race competitive. Childers, a Blue Dog Democrat, held a solidly Republican House seat from 2008 to 2010, proving his ability to win over conservative voters despite his Democratic affiliation.
"If you are concerned about winning this race, there is no question Thad Cochran will win. There are questions over whether Chris McDaniel can," argued Cochran strategist Stuart Stevens.