Thad Cochran, the Last of the Naive Republicans
A veteran senator's fight for political survival is the poignant story of the tensions wracking today's GOP.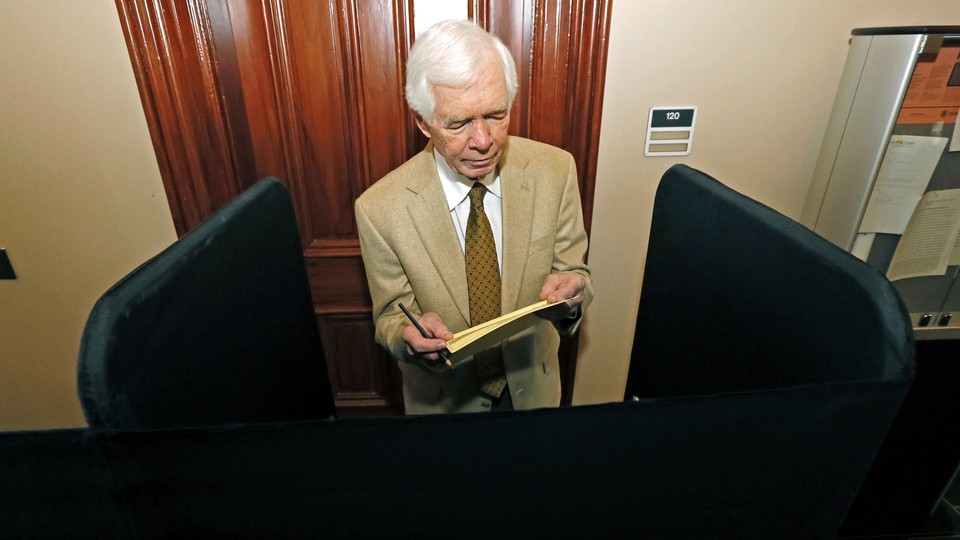 MERIDIAN, Miss.—My question was simple, but it wasn't clear Senator Thad Cochran had any idea what I was talking about. Why, I wanted to know, did he think Mississippi needed him in the U.S. Senate?
"I think my service in the House of Representatives and Senate have shown the kind of senator I'll continue to be, trying to work to help create opportunities for new and better-paying jobs for more and more Americans," Cochran, a slight, soft-spoken 76-year-old whose white hair flops across his forehead, told me. "To do this, we've got to have good working relationships with the international community, trying to contribute through our politics to peace and security. Prosperity exists because we do have peace and security."
Cochran's critics, I noted, believe things aren't going so well and Washington needs to be shaken up. He did not seem to agree. "I think it's a good, competitive environment, where the best ideas emerge and end up being approved by Congress and enacted into law," he said. "I think our system is designed to help us do that and to continue to be successful when we're competing with a lot of economies that don't have the capacity to grow and prosper as we do."
Defeating Cochran, who has been in Washington for 41 years, has emerged as the top priority of the right wing of the Republican Party this year, and it's not hard to see why. Mild-mannered to the point of self-effacement, Cochran seems to have as much fighting spirit as a guppy. He told the Washington Post last week that he would have preferred to retire—"I thought I'd served long enough"—but "people were saying, what are we going to do without you?" In that interview and others, he has often seemed confused. Asked about the national debt, he wandered off on a tangent about free trade.
Ever since the Tea Party suddenly rose from the right in 2010, Republican institutionalists in Washington have been in a state of disoriented panic. Some who believed their decades of unchallenged power would insulate them from petty attacks—Bob Bennett of Utah, Dick Lugar of Indiana—were taught a stern lesson instead. More recently, dealmaking senators like Mitch McConnell and Lindsey Graham have taken great pains to shore up their right flank, spending millions to strangle potential challengers in the crib, however small-time they might seem. If Cochran is uniquely vulnerable, it is because he represents the last of a dying breed—the Naive Establishmentarian, a Republican who is unwilling or unable to learn the new folkways of a party that has shifted under his feet.
You could not get a clearer avatar than Cochran—a former chairman of the agriculture and appropriations committees who has hauled home hundreds of millions of dollars in earmarks over the years while making barely a ripple personality-wise—for the type of Republican the Tea Party has made it its mission to eliminate, both temperamentally and in policy terms. And so, last fall, a two-term Mississippi state senator aligned with the Tea Party, Chris McDaniel, entered the GOP primary against him. Many expected Cochran, who had less than $1 million in his campaign account at the time, to retire. But in December, he announced he would seek reelection. On Tuesday, the last of the naive Republicans may survive, thanks to his allies' last-minute effort to prop him up. Or he may go down as the last senator the Tea Party managed to catch unprepared.
As the primary neared, Cochran's campaign has sought to create the impression of a candidate fighting vigorously for survival, setting him on an intensive, two-week bus tour around the state. Unhelpfully for a man trying to defeat the image that he is more at home in Washington than Mississippi, he has sometimes sounded like an awestruck tourist, as when he told the Wall Street Journal, "It's just good to be home, in the warmth of the friendships of people I don't get to see as often as I would like because I'm in Washington most of the time." And while his campaign touts his long days and punishing schedule on the trail, much of the tour has not been advertised publicly. At a coffee shop here Monday morning, I watched as Cochran's staff moved him from place to place like a prop; Representative Gregg Harper, a supporter, had to remind him to greet patrons, and he was mostly silent as he shook hands, standing still and listening as Harper made conversation.
Cochran proceeded to Meridian's central square, where Mississippi's aggressively folksy, jeans-wearing governor, Phil Bryant, whipped up the crowd in front of a peeling dark-wood gazebo. Bryant's eyes narrowed as he inveighed against the outsiders who, he says, look down on Mississippians and want to tell them what to do and how to vote.
"Now they tell us, 'It's time for a change,'" he said, his deeply grooved face settling into a sneer. "'Oh, we're just mad,' they say. Well, that'd be like trading Peyton Manning because you got mad at the city of Denver." One wonders whether Bryant watched the last Super Bowl, in which an aging Manning performed abysmally and the Broncos were trounced by the young, dynamic Seattle Seahawks.
Cochran's speech was not so fiery. He shuffled onto the stage and spoke for two and a half minutes to the group of about 100 local people, many of them hospital workers taking a morning break. "Standing out here, I couldn't help but think back to my first days in elected politics," he mused, recalling his old friend Sonny Montgomery, a Democratic member of Congress who has been dead for eight years.
I followed Cochran from the square to a local diner, Jean's Restaurant, where patrons swiveled away from plastic plates of boiled okra and corn fritters to shake his hand. On the wall were two framed photographs of Chris McDaniel. The restaurant's owner, Diane Trammell, told me McDaniel had visited twice and stayed for an hour each time. "I don't recall the last time I seen Thad," she said. She'd always voted for Cochran in the past, but now she wasn't sure.
Cochran didn't pose for any pictures during his brief sweep. As he made his way toward the exit, the senator held out his hand to me. I had met and interviewed him less than half an hour before.
"Hello, how are you doing?" he said with a kindly smile. "I'm Thad Cochran."
* * *
If Cochran embodies everything the Tea Party is against—the out-of-touch, go-along-to-get-along, big-spending Washington insider—his opponent is nearly as good an exemplar of the Tea Party. A lawyer and two-term state senator from a part of the state that was once a haven for Civil War deserters, McDaniel is prone to portentous, fire-and-brimstone declarations, often involving the Constitution. If elected, he says he will follow in the footsteps of senators like Ted Cruz of Texas, Rand Paul of Kentucky, and Mike Lee of Utah.
The national right-wing groups whose mission is to purify the GOP of heresy have rallied behind McDaniel. The Senate Conservatives Fund, the Club for Growth, the Tea Party Patriots, and numerous other groups have spent more than $4.5 million on his behalf. Over the weekend, Sarah Palin dropped by McDaniel's hometown of Ellisville for a raucous rally where she made the case for rejecting the "old guard."
McDaniel, however, routinely casts his mission not as a break with the past but as a bulwark against a frightening future. "Millions in this country feel like strangers in this land," he says. "An older America is passing away. A newer America is rising to take its place. We recoil from that culture. It's foreign to us. It's offensive to us." This is a remarkably frank declaration of the vision of the Tea Party embraced by liberal social scientists: an expression, above all, of old white people's anxieties at the prospect of an urbanizing, liberalizing, diversifying America.
Back in April, Cochran allies hoped McDaniel would be tripped up by the release of politically incorrect comments he'd made on a talk-radio show he hosted. McDaniel mused about hitting on Mexican woman by calling them "mamacita" and accused a female candidate of "using her boobies ... to run for office." (As Dave Weigel points out, the candidate in question actually did make her cleavage the centerpiece of her campaign; her slogan was "More of These Boobs.") But those and other arguably racist statements didn't faze voters; McDaniel's support stayed constant.
Instead, the scandal that seems to have damaged McDaniel came in mid-May, with the arrest of Clayton Kelly, a 28-year-old McDaniel supporter and Tea Party activist.
Cochran's relationship with his assistant, Kay Webber, had long been the subject of a whisper campaign among McDaniel supporters. Cochran rents an apartment from Webber in Washington, and she frequently accompanies him on trips abroad. Meanwhile, Cochran's wife, Rose, has been in a nursing home suffering from dementia for 14 years. In April, the rumors apparently prompted Kelly to sneak into Rose Cochran's nursing home and take her picture, which he then included in a YouTube video under the handle "Constitutional Clayton." The video was quickly taken down. Weeks later, police arrested Clayton and three others, including an official with the Central Mississippi Tea Party.
McDaniel has said he had nothing to do with the incident, but the Cochran campaign used it to charge him with "dirty politics" in television ads. (In a response ad, McDaniel called the attack "outrageous.") Supporters hope the incident has created sympathy for Cochran, whom voters universally see as a kindly old man, whatever his deviations from orthodoxy. In the final days of the campaign, McDaniel's camp has gone into bunker mode, no longer publicizing his schedule and speaking only to friendly conservative media such as Laura Ingraham and Glenn Beck. It is either the panicked move of a campaign falling apart or the play-it-safe strategy of a campaign seeking to maintain its position. Take your pick.
* * *
Back in Jackson, the sleepy state capital, on Monday afternoon, hundreds of Cochran supporters gathered in a wood-paneled auditorium of the state agricultural museum. Sitting in the crowd were Henry Barbour and his wife. A thin-lipped blond 49-year-old, the Yazoo City lobbyist and political consultant is a nephew of Haley Barbour, the larger-than-life former two-term governor, Washington lobbyist, and former Republican National Committee chairman. Now Henry Barbour is running a Cochran-allied super PAC, the Mississippi Conservatives PAC, that is spending $2 million on blistering anti-McDaniel ads. Henry's brother Austin is advising the Cochran campaign, and since super PACs cannot coordinate with campaigns, the brothers are not allowed to talk shop. Henry's lawyer has advised him, however, that he may attend campaign events.
To backers like the Barbour brothers, Mississippi Republicans would be crazy to give up Cochran's clout in the Senate. Their poor state depends on the federal largesse he delivers—Mississippi gets in federal spending three times what the state pays in federal taxes; many rely on the agricultural subsidies and food stamps contained in the farm bill Cochran helped shepherd through the Senate. In 2006, Time dubbed Cochran "The Quiet Persuader" for his behind-the-scenes work to secure $29 billion in federal funding to rebuild the Gulf Coast after Hurricane Katrina. Cochran's allies have made little effort to revise this image, touting at campaign stops the federal projects he's made possible; his campaign rests on the hope that enough Mississippi voters still care about Washington clout in an era of populist antagonism. It is testament to the confusion, not to say hypocrisy, of modern conservatism that McDaniel says he, too, would have supported the Katrina funds.
The Barbour brothers' Cochran rescue effort is supported by their uncle Haley, who has raised money for both Cochran and the super PAC. But the family is not all on board: Last week, Haley's brother Jeppie, who is Henry and Austin's father and a former Yazoo City mayor, threw his support behind McDaniel, telling Breitbart News—the right-wing website that has virtually embedded itself with the McDaniel campaign—"I am for McDaniel because Congress spends too much money .... I am ready for a change." In the audiences for Cochran's events, I kept meeting people who said even though they were voting for Cochran, they sympathized with McDaniel's views.
Onstage at the rally, Cochran read from paper notes. It was a stock speech of generic Republican lines, a marked contrast from Cochran's rambling performance earlier in Meridian. Cochran read slowly and deliberately, looking up from the podium every so often. The other politicians surrounding him onstage appeared nervous about whether he'd make it through the text, but he did not stumble. "President Obama has taken us down some wrong paths, but starting tomorrow, we can get America back on the right path," Cochran said. "That starts with repealing Obamacare!" Belatedly, he thrust a finger forward, then waited as the crowd applauded forcefully.
Afterward, Henry Barbour told me he was nervous. He expected the race to be tight. (He declined to comment on his father's position in the race.) He hoped Mississippi Republicans would be annoyed by all the out-of-state money behind McDaniel. "On the other hand, people who love Mississippi and care about Mississippi interests, we're for Thad," he says. "The only reason people are for McDaniel is their own political aspirations, and I like that contrast."
Still, Barbour worried about complacency. McDaniel's voters are fired up and sure to vote; Cochran's supporters tend to have a hard time believing he could lose. And Cochran, he acknowledged, is out of place in today's GOP. "This political environment favors McDaniel," he says. "People are undeniably fed up with Washington."
Should McDaniel win the primary, Barbour considered it even odds that Republicans lose the general election. Mississippi has not elected a Democratic senator since 1982, but the party is thought to have a strong candidate in Travis Childers, a former member of Congress. Barbour's super PAC has distributed talking cards that, on the front, juxtapose McDaniel with Todd Akin, the failed Missouri Senate candidate, and on the back say, "This candidate has been rated HE: Highly Embarrassing." When opened, the card plays an audio clip of McDaniel talking about mamacitas and boobies.
"He's just got so much baggage. He's said so many dumb things," Barbour told me. "But there's no question, Thad's swimming against the current."