Tea Party vs. Establishment Round 2: Primary Runoff for Open House Seat in Georgia
Two GOP candidates seeking to succeed Rep. Jack Kingston square off July 22.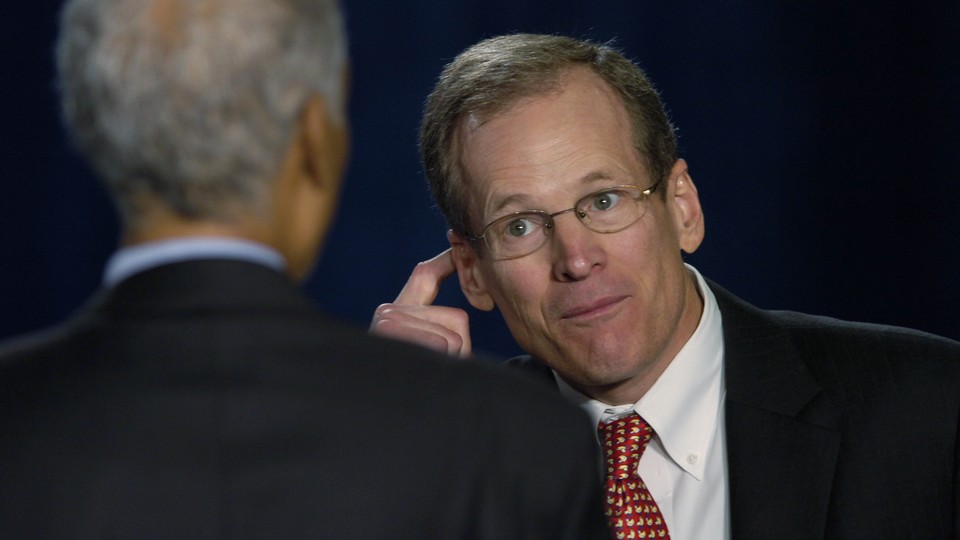 With Mississippi's Thad Cochran-Chris McDaniel showdown in the rearview mirror, the Peach State is set to play host to the next big battle between the establishment and tea-party wings of the Republican Party.
Unlike in Mississippi, however, this split is not manifesting itself in Georgia's Senate runoff election, where Rep. Jack Kingston and businessman David Perdue are duking it out. Rather, it's coming in the much lower-profile race to succeed Kingston in his conservative Savannah-based district.
On one side in Georgia's 1st Congressional District, there's Earl "Buddy" Carter, a Republican who's held elected office for more than two decades, serving in both the state House and Senate and before that, as the mayor of a small town called Pooler. Meanwhile, his opponent, Bob Johnson, is a tea-party-backed surgeon and a retired Army Ranger who has never run for office before.
Despite his status as a political unknown, Johnson received endorsements from FreedomWorks and the Madison Project before the six-way May 20 primary, but after he advanced, the heavier-hitting conservative groups Club for Growth and Senate Conservatives Fund quickly lined up behind him, as did the Tea Party Express. Carter hasn't seen the same level of support from national groups, but he is beginning to pick up some noteworthy supporters, like John McCallum, a former aide to Newt Gingrich who finished third in the 1st District primary, and the National Rifle Association. The runoff election is less than four weeks away.
Until recently, the race had remained relatively congenial, without many major policy disputes between the two candidates: Both want to repeal Obamacare, cut taxes, and pass a balanced-budget amendment. That congeniality changed last week, however, when Carter, who finished first in the May primary, questioned Johnson's conservative credentials in the first TV ad of the runoff. Johnson wasted little time in responding with a spot of his own, casting Carter as "a liberal career politician looking for a promotion."
The Johnson campaign, hoping to make Carter's political experience a liability, is fully embracing his role as an outsider. Johnson has signed a pledge to serve a maximum of only three terms in the House if elected, and aside from his work as a doctor, he is playing up his military experience in a district that is home to several military installations and where veterans make up more than 14 percent of the population — the highest level of any congressional district in Georgia.
"He's the establishment, and we're the underdog coming from the tea-party side," said John Konkus, a consultant for the Johnson campaign. "Our support is coming from the grassroots."
Carter is also making a concerted effort to paint himself as more than just a politician. The owner of a pharmaceutical company, Carter is shown wearing a white lab coat behind the counter of a drug store in several of his TV ads. Still, Carter's campaign is in no way running away from his record in office, arguing that it provides a level of credibility that Johnson lacks.
"Experience is an asset, and Senator Carter's voting record proves his conservative bona fides," Carter spokesman Jud Seymour wrote in an email. "Our opponent is campaigning on empty rhetoric and pledges that he publicly contradicts."
If Johnson hopes to improve on his second-place finish come July 22, he will have to buck a recent streak of bad luck for tea party-aligned candidates in Georgia. Despite a late surge, former Secretary of State Karen Handel was unable to advance out of the GOP Senate primary, and Gov. Nathan Deal easily won renomination last month. Conservative challengers to state lawmakers didn't fare much better. But many of the big-spending conservative groups backing Johnson did not intervene in those races, and they could provide him with an edge.
"Money talks in these elections, so when you have outside groups come in, that makes a difference," said Jeremy Brand, a Georgia Republican consultant who is not affiliated with either campaign.
And there isn't likely to be any shortage of cash in this race, as both candidates have shown they are willing to dip into their own bank accounts. Before the May primary, Carter pumped a quarter-million dollars of his money into the campaign, while Johnson put in $220,000 — no small sums for a House race.