Tea Partiers Are Unsatisfied With a Wide Range of House Leadership Options
Kevin McCarthy backer Devin Nunes calls complainers "exotic members" who "obviously aren't conservative."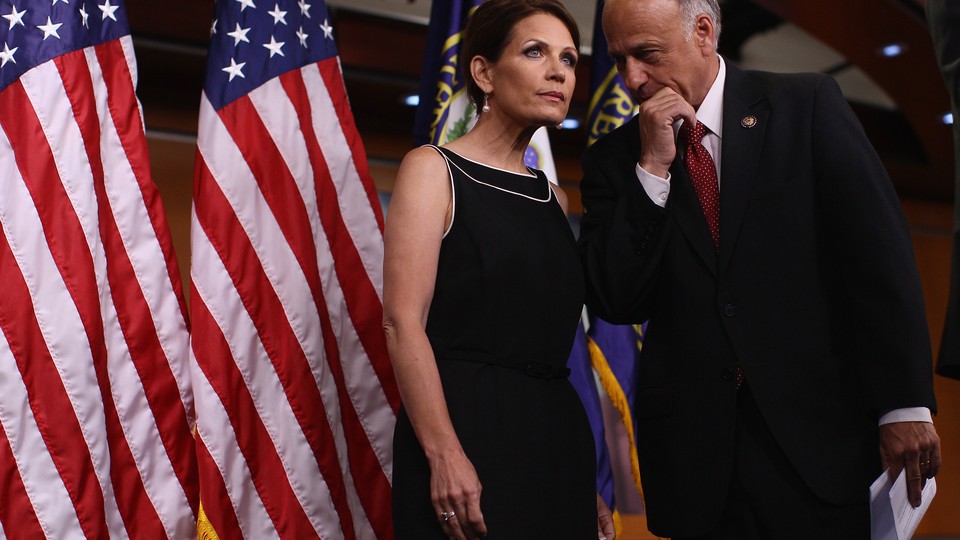 House Majority Leader Eric Cantor fell to shocking defeat at the hands of a man who labeled him as pro-amnesty. This should be the perfect opportunity for the most vocal and hard-line opponents of immigration reform — their supporters helped topple one of the most powerful men in Washington.
Members of the conservative Republican Study Committee are running for both majority leader and to replace Rep. Kevin McCarthy as majority whip, should he win the top contest.
But still, some tea partiers aren't happy.
Republican Reps. Steve King and Michele Bachmann, both hard-liners on immigration, are eyeing the possible duel elections with an air of depression, arguing that none of the candidates for either position will feel any differently about immigration than his predecessors.
And the only solution they've got to offer: Delay the June 19 leadership election "so that we can actually field a candidate who's not for amnesty. That was the result of the election in Eric Cantor's district," Bachmann said. "It would be wrong for us to have an election for leadership for the Republican Conference without even one candidate who stands for securing our borders and rejecting amnesty."
For these lawmakers, the current candidates to be the next majority leader have unsatisfactory stances. McCarthy has come out in favor of allowing the the undocumented to apply for legalization. House Rules Committee Chairman Pete Sessions, R-Texas, beat a primary challenger in March who had attacked him for supporting a guest-worker program. (Sessions, for his part, has emphasized that his position on immigration is "border security, border security, border security.")
Two of the candidates for majority whip — Rep. Marlin Stutzman, R-Ind., and Deputy Whip Peter Roskam, R-Ill. — have supported aspects of immigration reform that the far right has termed "amnesty" as well. Republican Study Committee Chairman Steve Scalise, R-La., has strongly opposed their efforts.
But even with Scalise at the helm of the RSC, a frustrated Rep. Devin Nunes, R-Calif., said the tea party is not satisfied. "They don't like them either," Nunes said of Roskam and Stutzman. "They're not happy with Scalise, they're not happy with Roskam, they're not happy with McCarthy, they're not happy with Cantor, they're not happy with [House Speaker John] Boehner, they're not happy with Sessions — so I don't know who their candidates are."
Nunes, it should be noted, is a major supporter and ally of McCarthy.
King and Bachmann are in the minority in their opposition to all of the candidates and Bachmann, to be fair, is retiring at the end of the year. McCarthy and Sessions have a "big head start" in their campaigns for next majority leader that will be difficult for others to overcome. "We don't have the lineup of conservative rule-of-law candidates in place, so we're asking for a delay in this vote so that there's time for the conference to come to its senses," King said.
The bid to delay a vote is frustrating not only rank-and-file Republicans, but many conservatives as well. "They don't have candidates," Nunes told reporters. "They just come out here to you guys and complain and they blog and they Facebook, but when it's time to actually raise money and go recruit candidates and win elections so that you can stop Obama, which is what they say they want to do, they don't have a capability of doing it."
"They're obviously not conservative," Nunes added, calling his colleagues on the far-right "exotic members."
King and Bachmann's reading of Cantor's race as a referendum on immigration and establishment conservatism, Nunes says, is wrong.
Immigration reform did become a flash point in Cantor's race. His opponent, Dave Brat, focused on the majority leader's support for a pathway to citizenship for children brought here illegally. National tea-party groups largely sat the race out and spent almost no money in the district, but Brat had the backing — and platform — of people like popular conservative radio show host Laura Ingraham. In reality, there were many contributing factors to Cantor's loss, including constituent services, time spent in his district, bad polling, and the redrawn district itself.
King wants Rep. Jim Jordan, a member of the Republican Study Committee who has repeatedly said he will not run for leadership, to reconsider a bid. Bachmann is disappointed Rep. Jeb Hensarling, R-Texas, decided to bow out. When asked how many other lawmakers are likewise on the prowl with them for someone who is "anti-amnesty," King turned to a gaggle of reporters and said, "You're going to send the message out to them and let's just see."
So there you have it. Are you a member of the House of Representatives whose position on immigration lines up with King and Bachmann? Then you may want to give them a call, because they're looking to build a coalition that can actually sway an election. And so far, it's just the two of them.