Seattle: Beacon of Progress or Liberal Pariah?
With a $15 minimum wage, legal marijuana, and same-sex marriage, Seattle has set itself apart.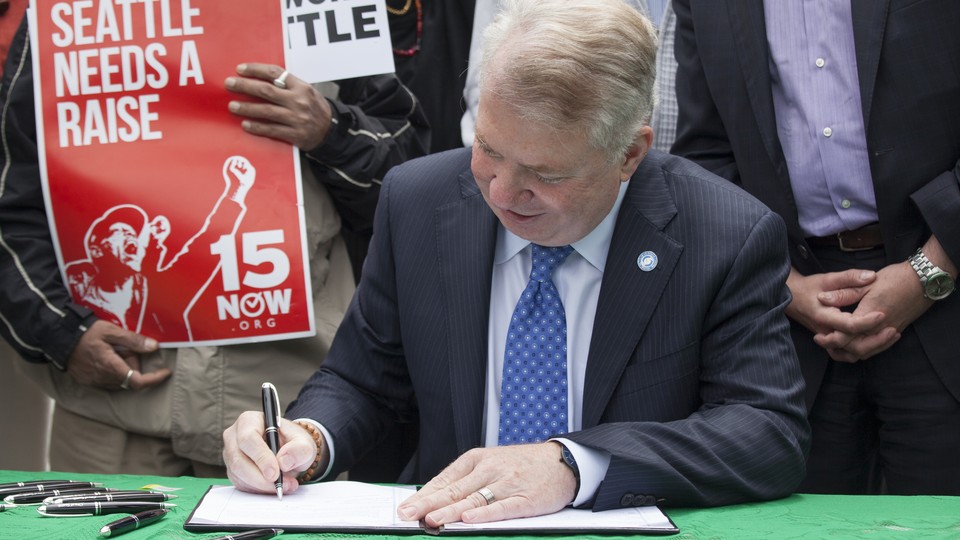 Are Seattle and Washington state at the forefront of a progressive future, or will the Pacific Northwest become a liberal pariah in a forgotten corner of the country? Increasingly progressive policies could set Seattle up as a leader and role model for the nation, or could turn the Emerald City into an example of liberalism gone wrong.
On Monday, the Seattle City Council approved an increase in the city's minimum wage to $15, making Seattle's by far the highest minimum wage in the country (San Francisco has the second highest wage at $10.74). The council's unanimous decision requires large employers (those with more than 500 employees) to pay workers at least a $15 hourly wage by 2017 and allows smaller employers an additional two years to comply. The campaign to raise Seattle's minimum wage was led by Kshama Sawant, an outspoken socialist who was elected to the city council last year.
"No city or state has gone this far. We go into uncharted territory," said Council Member Sally Clark in support of the vote.
But Seattle, the most populous city in Washington state, holds the progressive torch in more arenas than just labor rights. Washington was not the first to legalize either marijuana or same-sex marriage, two touchstone liberal issues, but it is the only state that has legalized both.
North Dakota or Alabama may never look like Washington, but the country could turn to the Northwest for guidance if attitudes continue to shift toward social liberalism nationwide. As a guinea pig for unprecedented policies such as the minimum-wage hike and legal marijuana, Seattle could act as a proving ground and ease the way for similar policies elsewhere in the country. If, however, these liberal experiments fail, Seattle could turn into a cautionary tale, bolstering opponents of these policies across the country.
Washington's path to marijuana legalization, especially, is likely to serve as a model for other states, because it had to create a regulatory framework from scratch. Washington and Colorado voted to legalize marijuana at the same time, but Washington's progress has been much slower: Colorado has already licensed more than 100 dispensaries while Washington has yet to authorize a single legal sale. This is because Colorado already had a regulatory framework in place when marijuana was legalized (its medical-marijuana market was tightly regulated) where Washington did not (medical marijuana was largely unregulated in Washington).
The U.S. as a whole, although still very conservative in parts, seems to be inching in Washington's direction. Approval ratings for same-sex marriage and marijuana legalization are at all-time highs, and increasing the federal minimum wage (although not nearly as drastically as Seattle did) was a major issue in President Obama's 2014 State of the Union speech, and is a rallying point for Democrats ahead of this year's midterm elections.
It'll take years for Seattle and Washington state to implement these new policies, and for the rest of the U.S. to make sense of the results. But as more of these progressive ideas wind up on ballots nationwide, proponents and critics both will have a laboratory experiment to look to.