Republicans Are Screaming for Action on Global Warming, But Only From the Stands
Retired GOP officials are pushing for action, but Capitol Hill Republicans aren't buying it.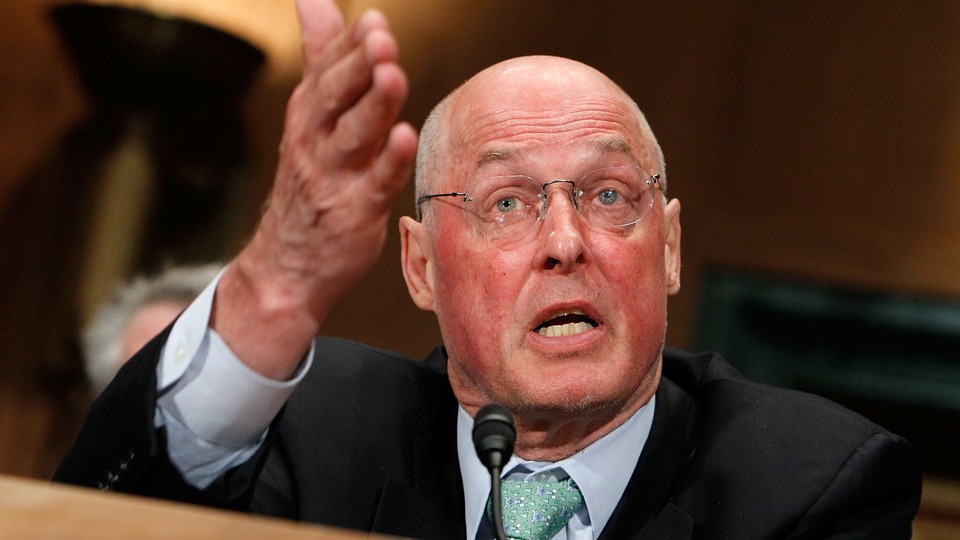 A cadre of Republican former officials are breaking with their Capitol Hill colleagues to push for action on climate change.
Henry Paulson, who was President George W. Bush's Treasury secretary, is the latest, writing in a The New York Times opinion piece Sunday to warn of a looming "climate bubble" that poses "enormous risks."
"If there's one thing I've learned throughout my work in finance, government, and conservation, it is to act before problems become too big to manage," he writes.
Paulson had a front-row seat for the bursting of the credit bubble that wreaked havoc on the economy in 2008, noting, "It's fair to say that I know a little bit about risk." This time he has a proposal to lessen the danger of the "climate bubble": A carbon tax.
Expect to hear more from Paulson on Tuesday when he, ex-New York Mayor Michael Bloomberg, and billionaire climate activist Tom Steyer — who have a joint initiative called Risky Business — release a report on the economic perils of climate change.
Paulson is part of a boomlet of GOP former officials breaking publicly with Capitol Hill Republicans on climate change.
Last week, four former EPA chiefs who served under Republican presidents testified before a Senate committee on the need to address climate change. Democrats, who called the the four as witnesses, are trying to politically isolate congressional Republicans who are skeptical of climate science and oppose regulation or market-based proposals such as cap-and-trade or taxes.
And for the past couple of years, GOP former Rep. Bob Inglis of South Carolina has been barnstorming the campus and newspaper editorial board circuit. He's selling a "revenue neutral" carbon tax, which means he wants to pair fees on carbon emissions with equivalent cuts in personal tax rates.
But among Capitol Hill Republicans, nobody is buying.
Opposition to carbon regulations or carbon pricing is, if anything, more powerful than it was a few years ago, when Republican Sen. Lindsey Graham negotiated a climate proposal with then-Sens. John Kerry and Joe Lieberman (although Graham ultimately abandoned the talks). Republican Sen. John McCain coauthored cap-and-trade bills several times during the 2000s, but he's no longer pushing the idea.
It's too early to say whether more GOP ex-officials will speak up, or whether they could have any sway on Capitol Hill. Lately, Republicans are indeed becoming more engaged on climate change, but not in the way that activists might hope. Instead, they're launching fresh efforts to scuttle newly proposed EPA regulations, alleging that the rules would hurt the economy. It's not the kind of opposition that Senate hearings or New York Times op-eds will undo anytime soon.