Rep. Kevin McCarthy Elected New GOP Leader; Steve Scalise Chosen as Next Whip
But a bigger House leadership fight is just beginning.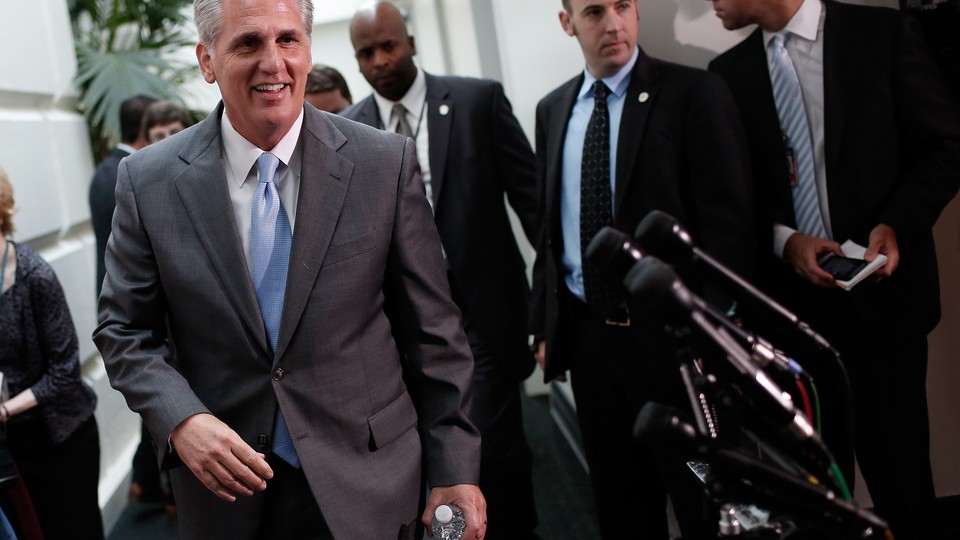 House Republicans on Thursday elected Kevin McCarthy as their new majority leader, elevating the 49-year-old Californian to the No. 2 position in GOP leadership and triggering a subsequent contest to replace him as majority whip.
McCarthy defeated Rep. Raul Labrador in the race to replace Eric Cantor, whose shocking primary loss last Tuesday set the stage for Thursday's secret-ballot special election. After the vote, Labrador asked for the results to be recorded as unanimous — a gesture appreciated by his colleagues.
Shortly after McCarthy's victory, Republicans elected Rep. Steve Scalise to replace him as whip on the first ballot. Scalise was the front-runner throughout the three-man race between him, Rep. Peter Roskam, and Rep. Marlin Stutzman; the only question was whether Scalise could win an outright majority on the first ballot and avoid an unpredictable head-to-head contest with either Roskam or Stutzman.
Roskam attributed Scalise's first-ballot victory to "a great campaign," adding that he will "actively support" the new whip.
Vote tallies were not released by GOP officials in charge of the election, but the end result is all that matters: McCarthy and Scalise will join Speaker John Boehner atop the Republican leadership team.
After the votes, the new team — McCarthy, Scalise, Boehner, and Conference Chairwoman Cathy McMorris Rodgers — came together for a short news conference. "I make one promise," McCarthy said. "I will work every single day to make sure this conference has the courage to lead with the wisdom to listen. And we'll turn this country around."
Scalise emphasized that he would bring a fresh voice to leadership and asked President Obama to work with them to solve the nation's problems. "We've got solid conservative solutions that are going to solve the problems facing our country," he said.
McCarthy and Scalise will not officially assume their new roles until July 31, when Cantor steps down from the post. At that point only 12 legislative days are scheduled before the Nov. 4 midterm elections. And, after the midterms wrap up, another round of internal elections will be held for both parties in the House to choose leaders for the next Congress.
Republicans, in fact, were buzzing about this fall's elections before Thursday's contest was completed.
"We're going to hold them accountable," Rep. Jeff Duncan of South Carolina said Wednesday when speaking about the candidates in Thursday's races. "There's another leadership election right around the corner, and we're going to watch how this new leadership team works with the speaker and how they lead the conference through this crucial November election. And then we'll judge them."
While McCarthy supporters were celebrating, FreedomWorks President Matt Kibbe, in response to Labrador's loss, was already pointing to the next round of leadership voting after the Nov. 4 elections — a harbinger of possible battles ahead.
"We are looking forward to an even bigger group of liberty leadership candidates after the elections in November," said Kibbe.
When McCarthy was asked at the presser after the vote about possible conservative concern over his blue-state background, the California Republican touted his biography. House Republicans "elected a guy who is a grandson of a cattle rancher, a son of a firefighter. Only in America do you get that opportunity," he said.
"I think you give an opportunity, people'll be very impressed about what we're going to do and where we're going to go," he said before leaving the podium.
McCarthy will become the nation's 25th different House majority leader — a position created in 1899 and first held by another Republican, Sereno Elisha Payne of New York. No majority leader has ever risen from that post to eventually become president. But some have been promoted to speaker — including Boehner, who was leader from 2005 to 2007.
The main duties of a majority leader are to schedule legislation for floor consideration, and plan the daily — and weekly — agendas, along with gauging member sentiment on goals and how to proceed.
McCarthy will have more than a month to transition into the new role, but he could nonetheless face a baptism by fire. There's a bundle of unresolved but important legislation in this Congress that a leader must decide whether or when to move forward on. Those range from unfinished appropriations bills for the fiscal year starting Oct. 1, to miscellaneous tariffs, terrorism risk insurance, the Trade Adjustment Assistance program, rechartering the Export-Import Bank, replenishing the Highway Trust Fund, and passing a new surface-transportation bill.
Some House Republicans have said they believe Cantor sticking around through next month will help McCarthy — Cantor's best friend in Congress — and his staff learn the ropes of their new job. Cantor endorsed McCarthy to succeed him last Wednesday after announcing his July 31 resignation as leader.
Immediately after McCarthy's election was announced, Cantor tweeted his approval.
Scalise also should benefit from a slow transition, as his new position entails forging personal relationships across the conference to build voting coalitions that transcend the House GOP's geographic and ideological boundaries. It's a difficult job — and one that Scalise could be quite well-suited to, given his impressive whipping operation this week that won him the promotion.
One of the realities awaiting McCarthy and Scalise is that American confidence in Congress has sunk to a new low.
A new Gallup poll shows 7 percent of Americans say they have "a great deal" or "quite a lot" of confidence in Congress as an American institution — down from the previous low of 10 percent in 2013. Those results come from a June 5-8 Gallup poll that updated Americans' confidence in 17 U.S. institutions.