Rangel Faces Another Tough Reelection Bid in Divided District
A rematch of a close contest in 2012 comes down to race and age.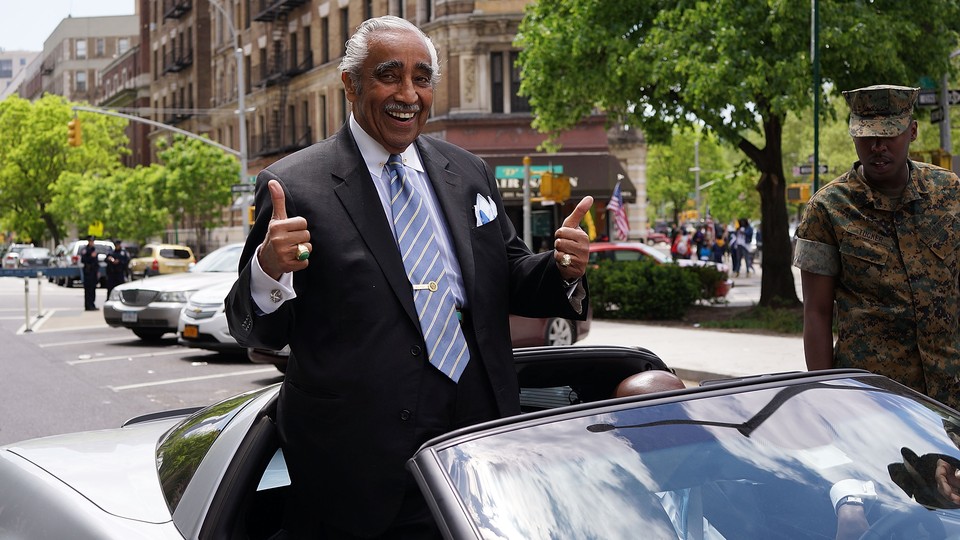 For decades, Rep. Charles Rangel has been "the Lion of Harlem," a reliably liberal Democrat in a reliably liberal district covering Harlem and other parts of Upper Manhattan. From 1972 to 1994, he won all 12 of his general elections with at least 95 percent of the vote.
So how does it come about that the third-most-senior member of the House is sweating bullets for the second consecutive cycle?
It comes down to race, age, and redistricting. Rangel's seat is safely in Democratic hands, but he faces a primary race against state Sen. Adriano Espaillat, whom he beat by only about 1,000 votes in 2012. On Tuesday, Rangel will find himself in his second consecutive toss-up election.
Rangel began feeling pressure in 2010, after a spate of ethics issues forced him to step down as chairman of the House Ways and Means Committee and led to his censure. That year, he beat a six-candidate field by 28 points but only received 51 percent of the vote.
His primaries got even more heated when his district lines were redrawn in 2011, expanding it into the Bronx and pulling in more Hispanic voters at the expense of his African-American base. In Rangel's first election in the new 13th District, he nearly lost his seat to Espaillat. This cycle, he has accused Espaillat of running a purely racial campaign, aiming to take advantage of the large number of Dominicans in the district.
"Just what the heck has he actually done besides saying he's a Dominican?" Rangel said in a debate.
Espaillat has largely stayed out of the race debate, criticizing Rangel for drawing it along those lines.
"Across every community in the district — white, African-American, Latino — voters are hungry for the change that Adriano Espaillat offers," said spokeswoman Chelsea Connor in a statement.
Rangel is right that the race will largely come down to racial demographics. A Siena College/NY1/New York Times poll in late May showed most African-American voters supporting Rangel and most Hispanic voters supporting Espaillat. Overall, Rangel held a narrow lead over Espaillat in that poll, 41-32 percent. Harlem pastor Mike Walrond received 6 percent in the poll, and Bronx community activist Yolanda Garcia received 5 percent.
But there are still unpredictable factors influencing the race. For one, the racial divide is tilted in Rangel's favor. Among African-Americans, Rangel led Espaillat by a 63-point margin, 68-5 percent. Among Hispanics, Espaillat led by 27 points, 52-25 percent.
And while Espaillat is likely to draw Dominicans to the polls, he has no guarantees among other Hispanic voters, especially considering that Rangel is part Puerto Rican.
Walrond and Garcia also throw a wrench into the racial dynamics. Garcia is likely to take a higher share of Hispanic votes, possibly siphoning support from Espaillat. But Walrond's effect is less predictable: His support comes primarily from African-American voters in Harlem, which is the same base as Rangel's, but he will also likely draw support from anti-Rangel voters who want a fresh face.
And Rangel has another advantage in that his voters have been reliably turning out for decades.
"You have to give the edge to Charlie Rangel," said Democratic strategist Hank Sheinkopf. "Why? He's been there for long time. His voters have a history supporting him."
Dominicans' turnout rates have been less predictable, Sheinkopf said, so it's possible Espaillat could underachieve compared with his polling numbers.
Still, "anything can happen," Sheinkopf said. One seemingly minor issue could have an outsized impact on the race, he said: New York only started holding June primaries in 2012, previously holding them in September, so it's no guarantee that Rangel's longtime supporters turn out as much as they usually do.
Rangel's long tenure has been a talking point on both sides of the race. Rangel has emphasized his seniority in debates, often poking fun at Espaillat's lack of legislative achievements in the state Senate. When Espaillat said he would do more to cooperate with President Obama on affordable-housing issues, Rangel reportedly replied, "I'll introduce you to the president so you can begin this cooperation."
"We can't afford to lose the experience and seniority Congressman Rangel brings to the table," said Rangel adviser Charlie King in a statement, noting influential endorsements from Bill Clinton, House Minority Leader Nancy Pelosi, Sen. Chuck Schumer, and Sen. Kirsten Gillibrand.
But Rangel has also said he would only serve one more term, finishing his career as President Obama leaves office, which Espaillat and Walrond have both seized on, emphasizing their relative youth. Espaillat "will bring a fresh voice to Congress," Connor said, accusing Rangel of becoming "completely out of touch with the people he is supposed to represent" during his tenure.
Although Rangel led the Siena poll, 46 percent of respondents said they would like to be represented by someone new, compared with 42 percent who wanted to reelect Rangel.