Rand Paul: 'The Enemy Is Too Often Us'
The senator's speech at the Faith & Freedom Coalition oozes with disdain for Congress.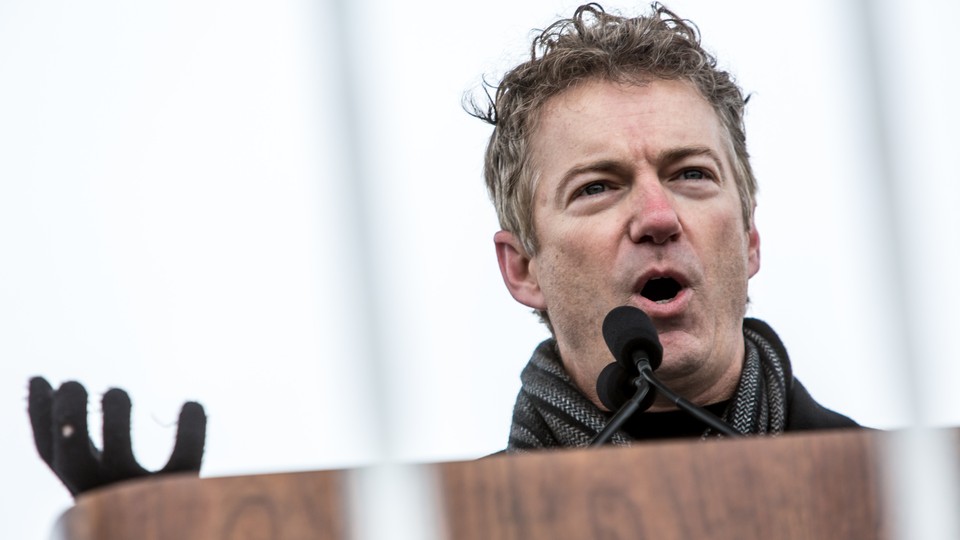 A candidate really can't lose campaigning against Congress — even if he so happens to work there.
According to Gallup, just 7 percent of Americans say they have either "a great deal" or "quite a lot" of confidence in Congress, a historic low recorded by the polling firm. So it makes sense for Sen. Rand Paul to criticize his colleagues in the run-up to a likely run for the White House. "I can tell you without exaggeration that I've met the enemy, and the enemy is too often us," he said in a Friday speech at the Faith & Freedom Coalition's "Road to the Majority" conference, which attracts Christian-values voters to Washington.
Many of the speakers at the event spoke in populist terms — Rick Santorum called for a turn to "blue-collar conservatism," Michele Bachmann anchored her fiery speech in Obama's low poll numbers. But Paul's anger was focused mainly on Congress. Here are some of his key lines:
Congress is responsible for "the bipartisan destruction of our currency," he said.
"They pass 100-page bills no one has read," he said. "No bill should ever pass that has not been read."
"Congress routinely passes laws they exempt themselves from," he said.
"Over time many politicians become distant and distanced from their constituents," he said.
"It is the right time for term limits," he said.
His speech was tight, lyrical even, and at one point echoed Lincoln. Paul said, "I don't think a nation can long endure" with legalized abortion.
Paul isn't an obvious choice for religious-values voters — Bachmann and Santorum have proven to be a lot more outspoken on religious issues. But he doesn't shy away from the issues either. "No government should make anyone choose between their faith and their livelihood," he said of the pending Hobby Lobby Supreme Court case.
If anything, Paul has proven himself able to pitch himself effectively to many ideological corners of the Republican Party — the libertarian leaning and the faith-based. And the kids love him. That, combined with a war against the unpopular establishment, could provide him with a strong base going forward.