Race Called for Rangel but Espaillat Won't Concede
A racially split district, a heated race, and too many outstanding ballots for a concession.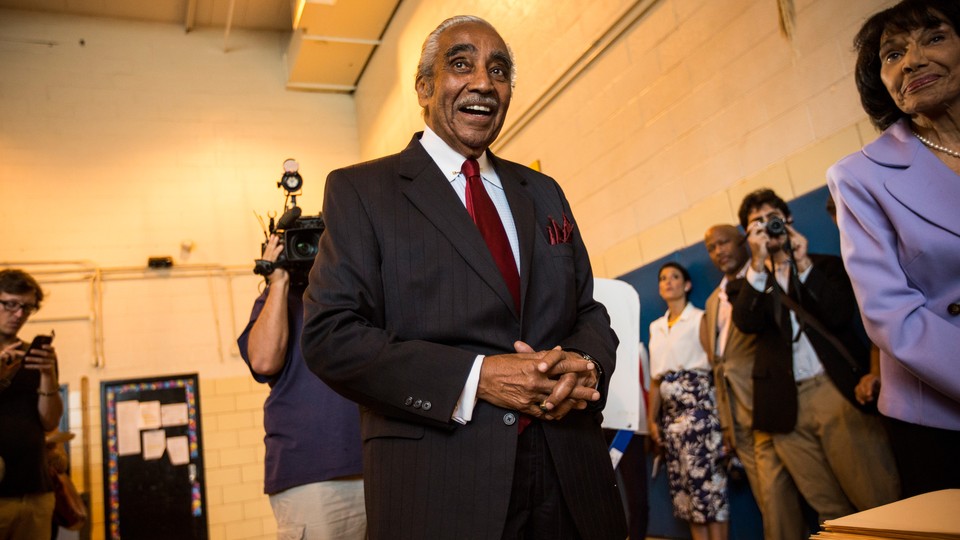 Rep. Charles Rangel has declared victory in another close primary race and the Associated Press has called the race in his favor, but state Sen. Adriano Espaillat still has not conceded.
Rangel won with 47 percent of the vote, while Espaillat had 44 percent,  pastor Mike Walrond had 8 percent, and Bronx activist Yolanda Garcia had 1 percent when the AP called the race shortly before 4 p.m. today. Rangel's margin stood at slightly more than 1,800 votes.
"Words cannot describe my overwhelming gratitude to the voters "¦ for standing with me to the very end and giving this veteran his one last fight," Rangel said in a statement. He said he hoped "to begin the healing process" after the divisive primary and announced that he would attend a "unity rally" with Rev. Al Sharpton, who did not endorse him in the race.
But Espaillat still has not conceded, citing outstanding absentee and provisional ballots. Espaillat insisted that "every single vote needs to be counted in this race," in a statement late Tuesday night, and spokeswoman Chelsea Connor said Espaillat has not changed his mind since then.
Rangel's reelection bids have become more difficult since he was censured in 2010 over several ethics issues and especially after redistricting in 2012 transformed his district into a majority-Hispanic constituency.
In 2010, he barely won the majority of votes in a six-candidate primary field. And in 2012, he didn't even get majority support in a crowded field but still beat Espaillat by slightly more than 1,000 votes.
The rematch was expected to be competitive, although Rangel appeared to be ahead late, leading by 13 points in a mid-June NY1/Siena College poll. He also had an advantage over Espaillat in his reliable base of supporters who have kept him in office for more than four decades. But primary turnout is always unpredictable, especially since New York moved its congressional primaries from September to June in 2012.
The district's divided demographics led to a divided race. In the NY1/Siena College poll, Rangel led Espaillat among African-American voters 76 percent to 6 percent, and Espaillat led Rangel among Hispanic voters 53 percent to 29 percent. Rangel even accused Espaillat of entering the race only because he thought he could win over the Hispanic population.
"Just what the heck has he actually done besides saying he's a Dominican?" Rangel said in a debate.
The debate also focused on the length of Rangel's tenure. Espaillat and another candidate emphasized their relative youth, while Rangel frequently mocked Espaillat for his lack of experience.
Rangel also did not have as much support as he used to, missing out on endorsements from President Obama and Mayor Bill de Blasio, both of whom stayed out of the race. In previous campaigns, Rangel had been endorsed by then-Mayor Michael Bloomberg, and he once again got Bill Clinton's support.
Rangel has said this would be his last reelection campaign, meaning another crowded field of Democrats will compete to take over the heavily Democratic seat in two years.