On Keystone, Politics Is Thicker Than Oil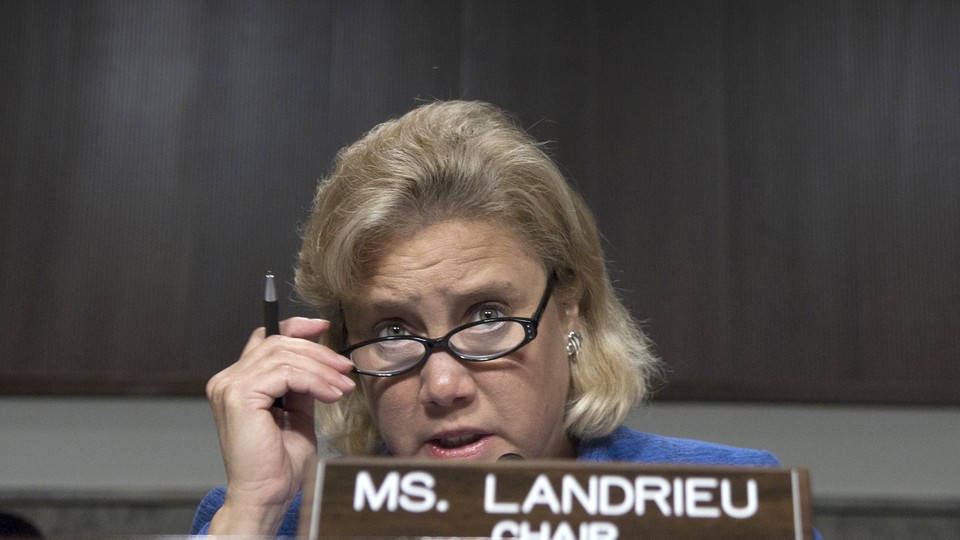 Republicans are working hard to prevent Mary Landrieu from winning political traction with her efforts to advance the Keystone XL pipeline.
The criticism of the pro-Keystone Democrat Landrieu from pro-Keystone Republicans is a lesson in election-year politics: Policy agreement with the other side means little when control of the Senate is at stake.
Landrieu, who is facing a tough reelection battle for her Senate seat in Louisiana, successfully steered pro-Keystone legislation through the Senate Energy and Natural Resources Committee on Wednesday — but even while siding with the GOP, she could not escape criticism from a senior Republican, who called it a pointless move.
"I do question the purpose of today's vote," said Sen. John Barrasso, who heads the Senate Republican Policy Committee, ahead of the vote in the committee that Landrieu chairs. "With all due respect this vote seems more like a cheerleading exercise than a meaningful effort to get Keystone built."
"The obstacle of getting Keystone built is Senator Reid and members of the Senate who continue to elect him majority leader," Barrasso said.
Barrasso voted for the bill, which would approve the project that has long been stalled under White House review. He was joined by other Republicans as well as Landrieu and fellow Democrat Joe Manchin of West Virginia, while other Democrats opposed it.
The RPC that Barrasso leads went after Landrieu in even tougher terms Tuesday, questioning her clout and calling the committee action a "show vote."
But Landrieu fired back at the Wyoming Republican before the vote, challenging the idea that she's merely staging a piece of political theater.
"There was no popcorn and Coca-Cola handed out today in this meeting, and there were no tickets sold to get in here," Landrieu said, addressing Barrasso directly. "This is the United States Senate."
"This is the Energy Committee, and those of us are privileged to serve on it. This is about what the future of our energy policy should look like. And I believe that working with Canada and Mexico to create a North American energy alliance that supports the needs of this nation and supports a growing economy is critical," she added in remarks that begin at the one-hour, five-minute mark here.
Landrieu said she'll work to get a vote in the full Senate, although Reid was noncommittal at best about the idea on Tuesday.
And Barrasso is just one of several GOP officials to make the case that Landrieu's Keystone advocacy means nothing as long as Democrats are in charge of the Senate.
On Wednesday, ahead of the committee vote, the National Republican Senatorial Committee released a new Web ad attacking Landrieu's clout, noting that efforts to have a Keystone vote in the full Senate fell apart in May.
And Senate Minority Leader Mitch McConnell piled on, calling it a "show" vote and saying: "The question isn't whether energy-state Democrats can support a Keystone bill in committee — it's whether or not they'll continue to stand with their party and their leader in blocking the full Senate from voting on it," the Kentucky Republican said.