On Gay Rights, Obama Has Built a Legacy
The executive order banning discrimination by federal contractors caps off a long list of things this White House has done to change life for LGBT Americans.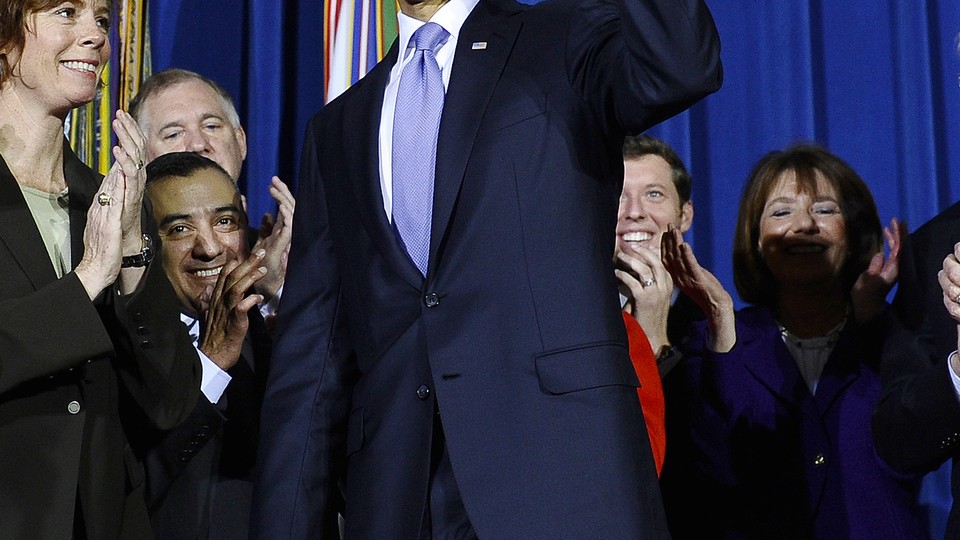 President Obama's highly public and often-tortured evolution on gay issues is complete.
The politician who opposed gay marriage, was cautious on allowing gays to serve openly in the military, and resisted calls to ban federal contractors from discriminating on the basis of sexual orientation has come a long way in six years. Indeed, he has become the president who has done more for gay people than any of his predecessors.
"The cycle of evolution has come full circle," proclaimed Richard Socarides, the New York lawyer who was President Clinton's top adviser on gay issues and remains deeply involved in issues important to the LGBT community. "The evolution is complete."
Socarides has been a frequent visitor to the White House for meetings on gay issues. Many of those sessions, he recalled, were "contentious." At several, Obama sided with the activists on the merits of an issue but laid out a course that was much slower than they desired. On more than one occasion, Socarides said, the president told them the story of President Roosevelt's meeting with labor leaders after his election in 1932. FDR told the union leaders: "I agree with you; I want to do it; now, make me do it."
"That's how we kind of always felt we had to deal with him," said Socarides. "His heart has always been with us, and his policy wonk side has always been with us. But in terms of actually taking steps to deliver on the policy goals, we had to push him."
For almost all of Obama's first term, there was great frustration and even some anger at the White House's refusal to move more quickly on the LGBT agenda. In 2010, the Justice Department defended the "don't ask, don't Ttll" policy in court, much to the chagrin of activists. That same year, Justice appealed a federal court ruling in Boston that had declared the Defense of Marriage Act unconstitutional. When critics exploded in anger, the White House rather meekly insisted it wanted to stick with "the process."
Further fueling the frustration, the president was sticking as well with the position on marriage he had outlined in 2004 when he said, "I'm a Christian. I do believe that tradition and my religious beliefs say that marriage is something sanctified between a man and a woman." In an interview then, he insisted, "I don't think marriage is a civil right." That stand started to crack in 2010 when he told ABC's Jake Tapper at a press conference that his views on marriage were "constantly evolving. I struggle with this." In 2011, he told ABC, "I'm still working on it." It wasn't until 2012 that he used another interview, this time with ABC's Robin Roberts, to announce his support for gay marriage.
That pleased the activists — and contributed to his reelection by helping boost turnout of gay voters. But it did not lessen the pressure and the demands for the executive order. "We were tough on our enemies and tougher on our friends," Socarides said.
That included being tough about the executive order issued this week, something the president initially resisted because he preferred the protections be provided by Congress and not just for federal contractors. The Employment Non-Discrimination Act has passed the Senate but prospects in the House seemed dismal, increasing the pressure on the White House to move ahead.
Now, with the announcement that the president will sign the executive order, he arrives in New York City for Tuesday night's Democratic National Committee's annual LGBT Gala as the toast of the community.
As someone who pushed hard for presidential action, Socarides remains a little amazed at how far Obama has come since 2008. "This was far from inevitable," he said. "But now it looks like his record on gay rights will be one of his most important and lasting accomplishments.... He has turned out to be the fierce advocate he told us he wanted to be."