Obama's Coded Climate Politics
Did President Obama blow the dog whistle for fossil-fuel-divestment activists?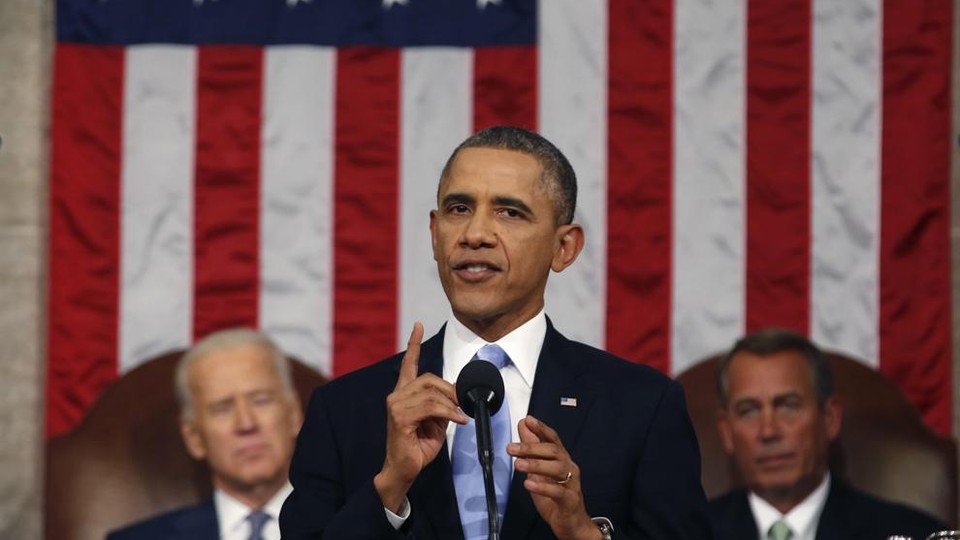 President Obama's climate speech Saturday got plenty of press for its lengthy assault on global-warming denial. But what excited an aggressive wing of the climate movement were just a few cryptic words elsewhere in the commencement address at the University of California (Irvine):
"You need to invest in what helps, and divest from what harms."
Activists pushing universities and other institutions to dump their financial holdings in coal and oil-and-gas companies believe they heard an unmistakable White House endorsement. "People are thrilled about it," Jamie Henn of 350.org, one of the groups leading the divestment movement, said of Obama's comments Saturday.
"Students will be taking the president's message to their college presidents and boards of trustees," he said of the fossil-fuel-divestment campaign, which also includes the Energy Action Coalition, the Responsible Endowments Coalition, the Sierra Student Coalition, and groups on specific campuses. The founder of 350.org, Bill McKibben, a high-profile climate activist, has been a major divestment advocate.
It's Obama's second apparent nod to the idea. During a Georgetown University speech rolling out his second-term climate plan last June, Obama was even briefer, saying "Invest. Divest."
The "invest" part of Obama's speeches is unremarkable. Obama's climate and energy speeches are often loaded with advocacy of federal support for green-energy development.
If Obama's endorsing the fossil-fuel-divestment movement, however, it's a noteworthy stance from a White House that has applauded booming U.S. oil-and-gas production that's undertaken by some of the very same companies that activists target in their campaign.
Endorsing the campaign, which draws inspiration from the 1970s and 1980s movement urging divestment from apartheid South Africa, would also be a return to Obama's earliest political roots.
In remarks in South Africa last year when the now-deceased Nelson Mandela was gravely ill, Obama recalled that his first speech, in 1981, was as an Occidental College student at a rally demanding the school's divestment from the apartheid regime.
But were Obama's brief "divest" comments Saturday really a dog whistle for the fossil-fuel-divestment crowd? The White House won't say what, exactly, Obama meant on Saturday.
In an email exchange Monday morning, White House spokesman Matt Lehrich declined to elaborate on the comment. "I don't have a parsing of the statement for you," he said.
Obama's latest comment drew attack from the right Monday afternoon, when Stanley Kurtz wrote on the conservative National Review magazine's website that Obama had "declared war" on the nation's conventional energy industry.
Kurtz urged the press to "force Obama into the open" by pushing the White House to expand on the remarks, and he similarly called on Capitol Hill Republicans to press for clarification.
Activists, however, already see a clear signal of support for their campaign, which generally targets investment by pension funds, universities, foundations, and others in the 200 largest fossil-fuel companies.
The divestment campaign in recent years has won various levels of divestment commitments — or at least recommendations to investment managers — from about two-dozen cities, roughy a dozen higher-education institutions, and others.
The highest-profile university has been Stanford, which in May said it would no longer invest in coal-mining companies.
Henn said Obama's remarks will provide the movement with momentum to pressure other institutions.
"I think students will see that as a clear sign that the [Obama] administration is on their side in terms of challenging their universities to take this step," said Henn, one of the cofounders of 350.org.