Obama Has a Response to Republicans' 'I Am Not a Scientist' Line
It's a long string of jokes.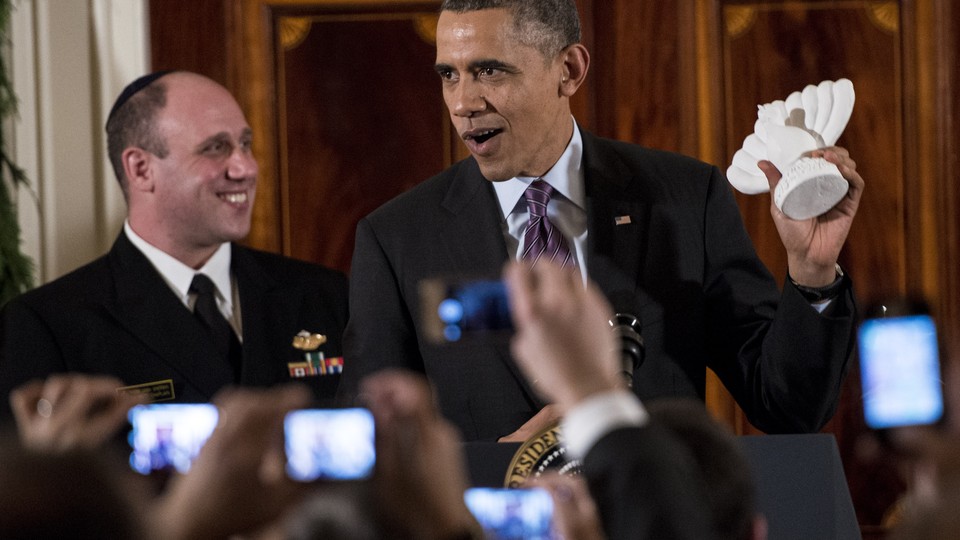 Too often in life when someone insults your intelligence or levels some other stinging verbal attack, the best responses present themselves hours, even days, too late to be useful. The French have a term for it: L'esprit de l'escalier (staircase wit).
One of the benefits of being president of the free world is you can deploy a team of speechwriters to help you think of the perfect comebacks, and whenever you're ready to dish your witty retorts, the national press will line up to broadcast your zingers.
That was precisely the situation Wednesday night, when President Obama, speaking at the annual dinner of the League of Conservation Voters, lit into GOP climate skeptics with a barrage of funny put-downs.
"It's pretty rare that you encounter people who say that the problem of carbon pollution is not a problem," Obama told an audience of several hundred gathered in Washington's Ronald Reagan building. "In most communities and workplaces, they may not know how big a problem it is, they may not know exactly how it works, they may doubt they can do something about it. Generally they don't just say, 'No I don't believe anything scientists say.' Except, where? Congress!"
"In Congress," he added, "folks will tell you climate change is hoax or a fad or a plot. A liberal plot."
Then there are those who if pressed about climate "duck the question and say, 'Hey, I'm not a scientist,' which really translates into: 'I accept that man-made climate change is real, but if I say so I will be run out of town by a bunch of fringe elements,' " he said. "So I am just going to pretend like — I don't know — I can't read."
The jokes snowballed from there.
"I mean, I'm not a scientist either, but I've got this guy, John Holdren, he's a scientist. I've got a bunch of scientists at NASA and I've got a bunch of scientists at EPA."
"I'm not a doctor either, but if a bunch of doctors tell me that tobacco can cause lung cancer then I'll say, 'OK!' It's not that hard."
"I'm not a scientist, but I read the science."
It's the second time in recent days Obama has mocked Republicans for allegedly being antiscience. Earlier this month, while speaking at the University of California (Irvine), Obama compared Republicans' positions on climate change to believing the moon was made of cheese, and he tested out a number of the lines above.
Gene Karpinski, the president of the environmental group hosting the event, told National Journal at the dinner that Obama's mocking tone was "totally appropriate." And Keith Gaby, who, in his work as communications director for the Environmental Defense Fund, has been encouraging environmentalists to make better use of humor, went further with his praise.
"I think humor is a good way to get people who aren't paying attention to take notice of an issue, particularly one like climate change that has the reputation of earnest seriousness," Gaby said in an email. "It's very much the same strategy the President used when he went on Between Two Ferns to talk about health care. A lot of young people tune out politics, but that doesn't mean they don't care about their future — so you try to reach them through other methods, like humor."
Comedians have long struggled to find much humor value in environmentalism, and if Al Gore is any indication, it doesn't come naturally to most evangelists. But at the dinner last night, environmental activists were eating it up, whooping and hollering and pumping their arms.