Obama Hardly Ever Uses Executive Orders But Boehner Wants to Sue Him Anyway
President Obama signed 147 executive orders his first term. President Reagan signed 200.
This article is from the archive of our partner
.
House Speaker John Boehner says that he plans on suing President Obama for eroding "the power of the legislative branch" through his use of executive actions.
Republicans have decried the president's so-called "overreaching" for months, but Boehner is finally putting (taxpayer) money where his mouth is. The fact that the president has issued fewer orders than several of his predecessors — including Ronald Reagan — seems irrelevant.
Boehner denied that he was trying to rile up the Republican base ahead of the midterm elections, but instead said Wednesday that "the constitution makes it clear that the president's job is to faithfully execute the laws and in my view the President has not faithfully executed the laws."
According to CNN, the lawsuit likely won't be filed until next month, after the top three GOP leaders meet with the top two Democrats who make up the Bipartisan Legal Advisory Group.
Despite Boehner's denials, Republicans have been pushing party leadership to respond to the president's uptick in orders. During his State of the Union speech in January, Obama said he was no longer going to wait on Congress and would instead use his "pen" to sign more executive orders. Since then he's signed orders on several issues stalled in Congress, including raising the minimum wage for federal contractors and banning LGBT workplace discrimination.
That birthed the Obama lawlessness meme, or the idea that King Obama I was trying to govern without Congress by failing to enforce existing laws (particularly concerning immigration). The problem with that idea is that Obama is a pretty bad dictator. As the chart below shows, Obama's on track to issue fewer orders per term than Presidents Clinton, Bush Jr., Bush Sr.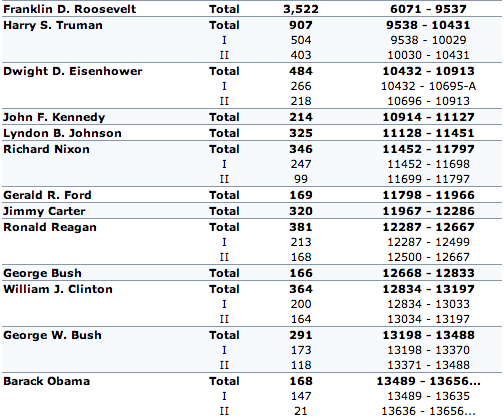 If you want to talk about dictators, check out the executive orders on FDR. Unfortunately, Boehner will have to settle for a president who's done less to erode the power of the legislature than any leader in decades. And while it could work out well for Republicans, Boehner may end up spend millions of taxpayer dollars — like the $2.3 million the GOP spent on its Defense of Marriage Act lawsuit — only to lose.
This article is from the archive of our partner The Wire.