No, Rick Perry, Being Gay Is Not Like Alcoholism
The science is so very clear on this.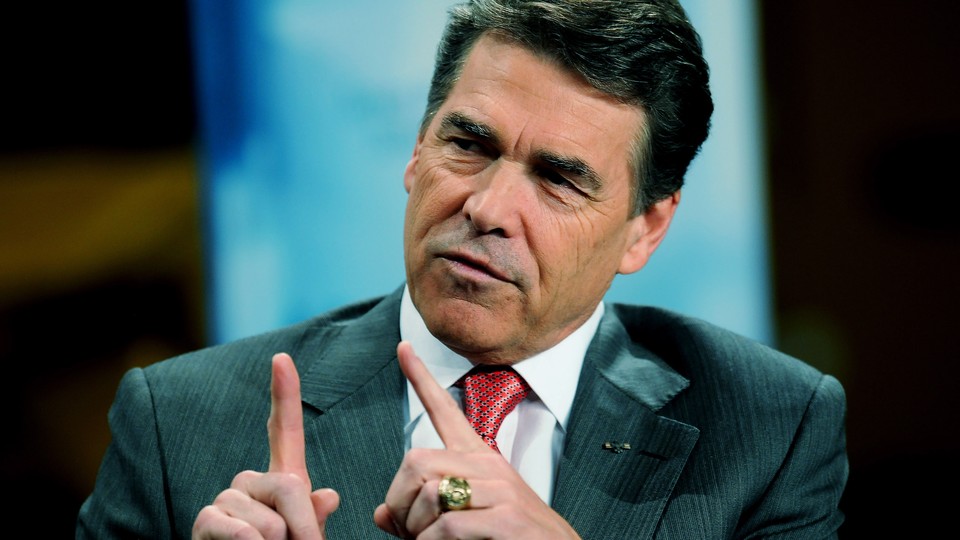 Texas Gov. Rick Perry's speech at the Commonwealth Club of California on Wednesday night was going well — he complimented the California climate, and even spoke kindly of Hillary Clinton. But then he said this, in San Francisco no less:
"I may have the genetic coding that I'm inclined to be an alcoholic, but I have the desire not to do that," he said. "And I look at the homosexual issue in the same way."
This is important, as it reflects the thinking of the Texas Republican Party at large, which recently adopted a party platform that supports the legality of gay-conversion therapy. That platform reads,
We recognize the legitimacy and value of counseling which offers reparative therapy and treatment to patients who are seeking escape from the homosexual lifestyle. No laws or executive orders shall be imposed to limit or restrict access to this type of therapy.
The therapy is much derided by the psychological scientific establishment. "The long-standing consensus of the behavioral and social sciences and the health and mental-health professions is that homosexuality per se is a normal and positive variation of human sexual orientation," the American Psychological Association wrote in a resolution condeming such therapies. Furthermore, the association finds that the therapies can cause more harm than good.
Recently, some states, such as New York, have sought to ban the therapies outright, prompting Texas Republicans to preempt such measures at home. In a such strongly conservative state, it's unlikely that such measures would stand a chance. (It's reminiscent of the bans on sharia law in very Christian-dominated areas: All bluster.)
Perry's comments represent a complete conflation of the scientific issue. Alcoholism is a disease. Alcoholism is maladaptive. Alcoholism takes and ruins lives. Alcoholism ought to be cured. Homosexuality, while its origins are not quiet understood, is not a disorder. And unlike therapy for alcoholism, "the American Psychological Association concludes that there is insufficient evidence to support the use of psychological interventions to change sexual orientation."
On the other hand, the APA says of alcohol-addiction therapies: "These therapies can help people boost their motivation to stop drinking, identify circumstances that trigger drinking, learn new methods to cope with high-risk drinking situations, and develop social support systems within their own communities."
Perry is not seeking reelection as governor in 2014, and it's likely he'll run for the White House again.
This will be an issue he'll be held accountable for. The number of Americans who support same-sex marriage has reached an all-time high. In 2012, 54 percent said they view homosexuality as morally acceptable. And 63 percent of Americans say discrimination against gays is a "very" or "somewhat serious" problem.