Nigeria Is Playing in the World Cup Today. Its Girls Have Been Missing for Two Months.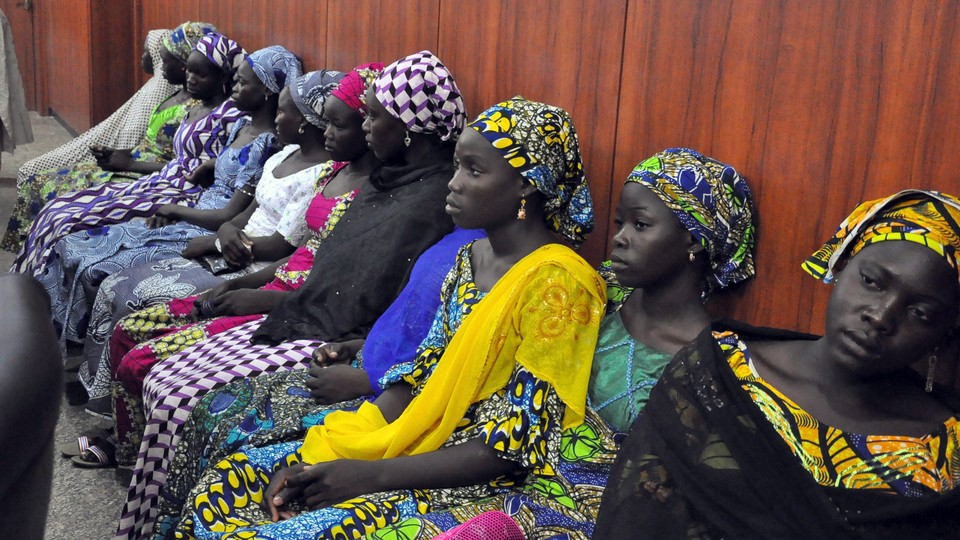 Last Saturday marked two months since 276 girls were abducted from their beds at gunpoint, loaded onto a truck, and taken into the woods by terrorists for daring to go to school. Since then, the terrorist group, Boko Haram, has continued to wreak havoc across northeastern Nigeria, practically unchecked. The girls are still gone.
But you wouldn't know that from the lull of "hashtag activism" since the story became international news in late April. Scroll through the Twitter mentions of #BringBackOurGirls today, and you won't see Michelle Obama or Hillary Clinton sending supportive messages. Gone are the viral photos of celebrities like Bradley Cooper, Anne Hathaway, Justin Timberlake, Sean Penn, and the cast of The Expendables 3 holding up #BringBackOurGirls signs on the red carpet. (Sharon Osbourne, however, has not forgotten about them).
Nigerian President Goodluck Jonathan's government has been criticized for not having recovered the girls yet. "Pray for Oby Ezekwesili. You have no idea what the Jonathan government is making her go through at the moment. #BringBackOurGirls," Japheth J. Omojuwa, a prominent Nigerian blogger, tweeted about one of the kidnapped girls on Friday. But even Nigerian activists are growing fatigued from the barrage of bad news. Ten minutes later, Omojuwa tweeted, "I am tired of everything here. I will now focus very much on the World Cup."
Nigerian military leaders have said they know where Boko Haram is holding the girls captive, but will not attempt a rescue for fear that a use of force would be too risky. "Just leave us alone," Alex Badeh, chief of Nigeria's defense staff, told reporters on May 29. "We are working. We will get the girls back." That was almost four weeks ago.
The Nigerian military has deployed ground troops and surveillance planes. The U.S., China, France, and England have all pledged to help Nigeria locate the girls and bring them back. Meanwhile, members of Boko Haram have killed nearly 500 people — shot, blown up, and hacked to death — since the girls were abducted. President Jonathan has promised to wage a "total war" against Boko Haram, but the terrorist group has gotten more than a head start.
Aside from Boko Haram, world governments seem to be playing a game of terrorist Whac-A-Mole. The Islamic State in Iraq and Syria, or ISIS, is trying to take over Baghdad in a bloody attack. And the Obama administration just sent five Taliban members to Qatar in exchange for the last American POW in Afghanistan.
The message that government leaders in Iraq and Nigeria are sending is that they don't know how to deal with these terrorist groups, and are afraid to try. And it may take more than a few tweets from American celebrities to shame them into action.