New, Five-Month Unemployment Insurance Bill Will Likely Hit the Senate Next Week
Sens. Heller and Reed get ready to try again. But in the House, nothing's changed.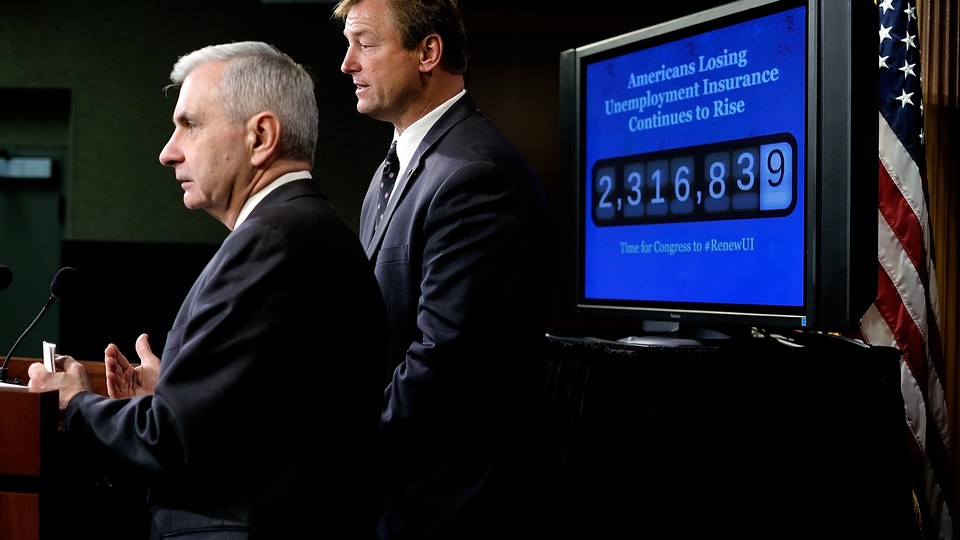 Senate negotiators are once again going to bat for unemployment insurance. Sen. Dean Heller of Nevada — a Republican who has been working closely with Democratic Sen. Jack Reed of Rhode Island for more than a month to construct new legislation — said the announcement will likely come next week.
The bill will restore unemployment-insurance benefits for five months and will not include retroactive checks for the unemployed who stopped receiving benefits in December, according to a Senate aide. Other details on the bill are sparse, and Heller indicated this week that some of them — including how the bill will be paid for — are still being worked out.
More than 3 million Americans have stopped receiving emergency unemployment-insurance benefits since the program expired on Dec. 28. The new legislation will not reimburse those people, according to the aide, but would provide checks to those who remain unemployed and qualify for the program for five months after the bill passes.
That is, if it passes.
Back in December, Democrats in the House pushed to keep the benefits going, but were blocked by House Republicans.
That will almost certainly happen again with the Senate bill, unless something changes drastically. House Speaker John Boehner has said repeatedly that he will not bring up a bill to extend unemployment insurance unless it is paid for and includes a separate jobs provision. That likely hasn't changed. The Senate in April presented him with the former, but not the latter, and Boehner allowed the bill to idle until it expired at the end of May.
Heller told National Journal two weeks ago that he agreed with Boehner's position, but was unable to get a jobs package into the bill. It is unclear if that has changed in the interim.
In the Senate, Heller and Reed will need to gather five more Republican votes to pass the bill. Although the two conducted their negotiations one-on-one (and with their staffs), they have begun reaching out to some of the members who joined them in passing the bill in April to sign onto the new legislation. They are Republican Sens. Kelly Ayotte of New Hampshire, Susan Collins of Maine, Mark Kirk of Illinois, Lisa Murkowski of Alaska, and Rob Portman of Ohio.
The timing on when the bill will come to the Senate floor is dependent on the ongoing battle over appropriations. Senate Appropriations Committee Chairwoman Barbara Mikulski of Maryland is supposed to have the floor for the next three weeks to pass the nation's spending bills through the chamber, but a fight over amendments could derail that, putting unemployment insurance on the floor as soon as next week.