Meet the Mississippi Man Who Just Cost Republican Donors Millions
Thomas Carey got only a few thousand votes in the Mississippi's GOP's Senate primary. But that was enough to force the top two candidates into an expensive three-week runoff.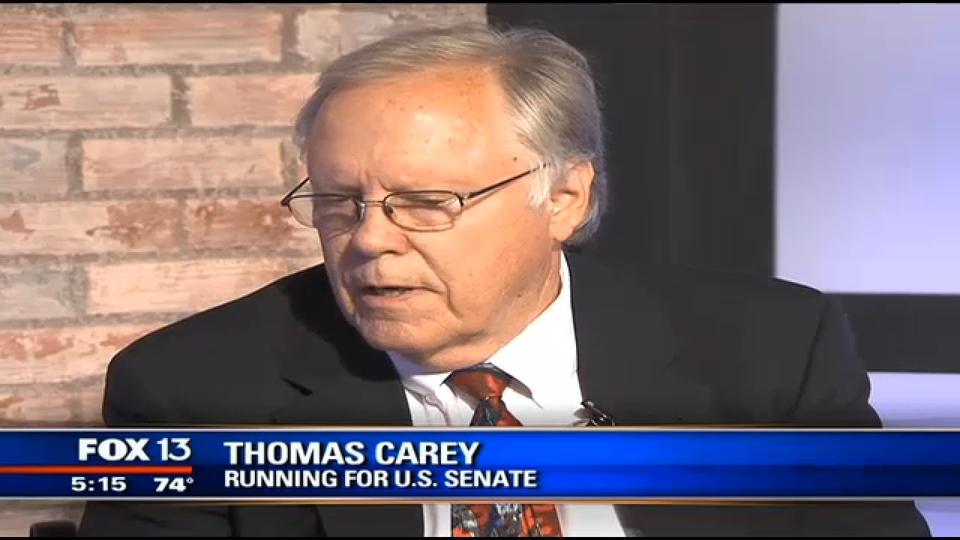 Mississippians will have to keep watching Senate TV ads for the next three weeks, and the man who made it happen is not concerned.
Former Realtor Thomas Carey, an afterthought in a heavily scrutinized Republican primary between Sen. Thad Cochran and state Sen. Chris McDaniel, won just a few thousand votes Tuesday night. But he siphoned off just enough support — about 1.6 percent — to keep either of the closely matched front-runners from reaching 50 percent, the threshold to win the Republican nomination. Now, the $12 million contest between Cochran and McDaniel is set to extend another three weeks, after they both got close to 49 percent on Tuesday. A runoff between Cochran and McDaniel will be held June 24.
A longtime telephone installer, Carey worked for Southwestern Bell for 35 years before changing careers to work in real estate in 2001. He retired several years ago to join the Kairos Prison Ministry with his son. They plan overnight trips to the Mississippi State Penitentiary to minister to inmates.
Carey has never run for office before, didn't run a single television ad, and didn't raise any money, according to the Federal Election Commission. But his campaign is going to cost Republican donors millions of dollars in June as they fund a primary that Carey prolonged.
In a primary-day interview, Carey expressed no preference between McDaniel and Cochran and said he didn't plan to vote for either of them in a runoff — if he didn't win outright himself. Carey said he ran a faith-based campaign to retire two career politicians who he says are out of touch with people in the state.
"I believe the Lord called me to do this," he said. "Not literally, but he woke me up a lot of times in the middle of the night."
"The average Mississippian couldn't even fill up a tank of gas for McDaniel's campaign bus," Carey continued. "How can they relate to an average Mississippian who is barely making it paycheck to paycheck?"
After a primary that featured disagreements over bringing home money to Mississippi, Carey cast the extended campaign as something like a privately funded stimulus package for the state.
"I'm not really in favor of a runoff, but if it brings millions of dollars into the state, that's good for Mississippi," Carey said. "If groups spend money on TV stations and ads that generate revenue for those stations and the surrounding areas."¦ Who knows, maybe the money will help them hire another person or two."