Making a Move to Counter Unemployment and Boost Social Mobility
In the long run, unemployed Americans moving to better labor markets could also save the federal government serious money.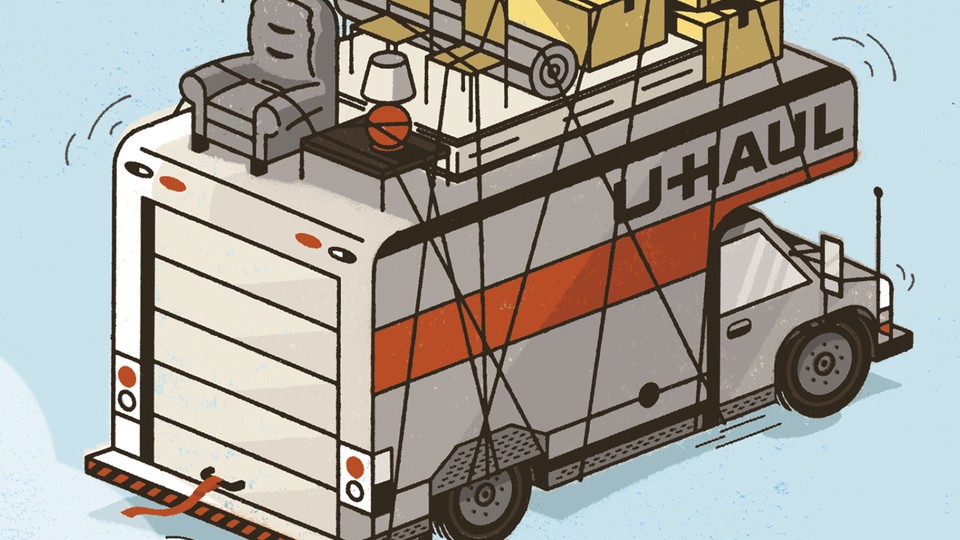 The solution to two of the country's most pressing economic woes may come down to a very simple idea: renting a bunch of moving vans. Those vans could help relocate some of the more than 3 million Americans who have been out of work for more than six months to states with relatively low unemployment rates, such as Texas and North Dakota. Or the vans could transport entire families to places where low-income kids historically have a better chance of moving up the income ladder as they age.
The concept of encouraging unemployed workers to move enjoys bipartisan support. Back in February, a tea-party Republican from South Carolina and a California Democrat introduced a House bill to give the long-term unemployed vouchers worth up to $10,000 to move at least 60 miles away from home for serious job offers. The main condition? The new location would need to have an unemployment rate much lower than the area the person left.
Republican Sen. John Thune of South Dakota, a member of the Senate GOP leadership, supports a similar idea. He wants the Labor Department to award low-interest relocation loans to the long-term unemployed. "There is a barrier because people who are unemployed don't have the resources to be able to relocate, and this is something that would allow them to do that," Thune said in January during a press call.
(Mike McQuade)Giving long-term unemployed workers subsidies to move is, in part, the brainchild of conservative economist Michael Strain of the American Enterprise Institute. "A lot of the long-term unemployed are in really bad shape. They could use some help, because the policies we have aren't working," Strain says. "It's a threat to the efficiency of the labor market when the workers live one place and good jobs are elsewhere."
A 2010 paper from the Hamilton Project at Brookings estimates that relocation subsidies would cost the federal government less than $1 billion a year and would result in as many as 62,000 matches between workers and new jobs. (In the long run, unemployed Americans moving to better labor markets could also save the federal government serious money on programs such as food stamps, Medicaid, and state-sponsored children's health insurance.)
Moving may help those just starting out their lives, too. Two prominent Harvard economists, Raj Chetty and Nathaniel Hendren, are working on a study, tentatively due out this later this year, that will look at the value of relocating to a different area as a way of increasing social mobility for kids. Moving, and moving alone, could increase the likelihood that a child at the bottom 20 percent of the income-distribution ladder eventually rises to the top 20 percent, says Hendren.
Hendren and Chetty's hypothesis follows on the heels of their recent much-buzzed-about work, which found that where people live affects their families' economic chances. Low-income children in cities such as Boston, New York, Pittsburgh, Salt Lake City, San Jose, Seattle, and Washington enjoy much higher rates of income mobility than those in places such as Atlanta, Cincinnati, Columbus, Indianapolis, Memphis, and Raleigh. (The first group of cities share some common characteristics, including socioeconomically diverse neighborhoods, high rates of civic engagement, and good schools.)
Moving to where the jobs are during tough economic times — or where low-income kids have more opportunities — may seem like an easy fix. Yet fewer Americans move today than did before the recession. Economists cannot agree on the reason everyone is staying put. All they know for certain is that, if Americans started renting moving vans en masse, it would be a very good thing.
For more on how changing demographics are reshaping the nation, go to National Journal's Next America website.