Lobbyists Warn Colleges That Participating in Sexual-Assault Survey Could Make Them Look Bad
"What will play well on TV?" lawyers for the American Council on Education ask colleges.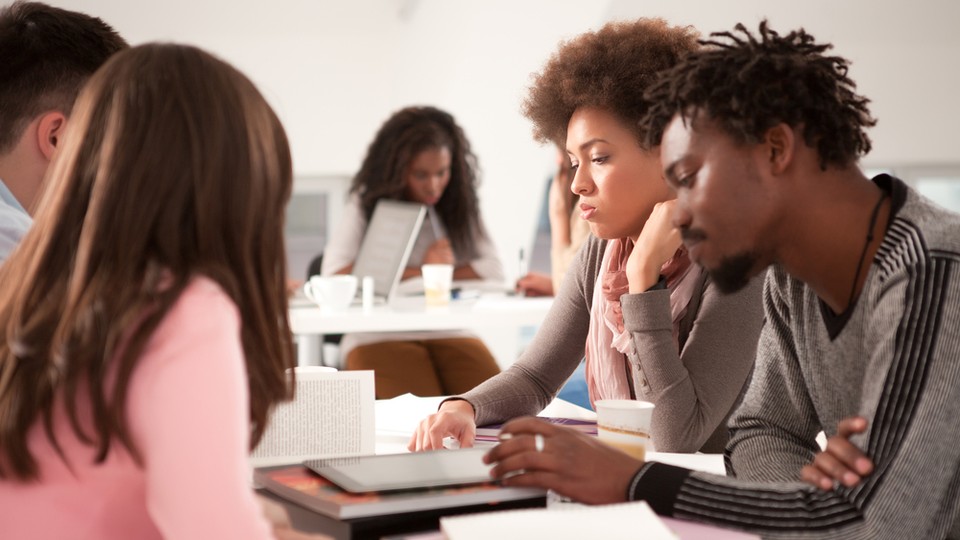 A slideshow produced for a major education lobbying group is warning colleges that participating in a congressional survey on campus sexual assaults could give them bad press.
After Sen. Claire McCaskill's requests to see a copy of a webinar the American Council on Education sent out to its members early last month were repeatedly rebuffed, according to her office, the document was leaked to an education blog on Tuesday. Not long after Inside Higher Ed published the slides in full, ACE made a copy available to McCaskill's office. A representative for ACE said that McCaskill's office made several requests for different pieces of information about the webinar, before they sent the copy to her office.
The published slides lack context and are not accompanied by any text or a transcript of what ACE officials said to member schools, but the message is clear: Work too closely with Congress on this survey, or any future investigation, and it could come back to bite your institution. The group said Thursday that they did not have a transcript or recording of the call that accompanied the webinar with its member schools, but said it was not their intention to discourage schools from participating in the survey.
ACE represents 1,800 two- and four-year colleges and universities, according to its website.
McCaskill, who was one of the senators leading the push for new regulations to combat sexual assaults in the military earlier this year, launched the survey initiative in April. In order to get an idea of how widespread sexual assaults are on college campuses — one frequently cited survey says that one in five women will be raped during her college career — McCaskill has asked 350 universities to participate in a survey that asks, among other questions, how many sexual-assault investigations they've conducted in the last five years. (You can see a sample copy of the survey here.)
Some of those schools -- though ACE would not say how many or name them -- participated in a webinar and call with the lobbying group in early May. ACE says that they were trying to lay out the process and difficulties of a congressional investigation, not warn schools against participating in the survey.
But the slides include the caution: "Surveys provide fodder for additional [congressional] investigation."
They then go on to warn colleges and universities that the potential scope of a congressional inquiry is essentially limitless. Investigations conducted by Congress, they say, are politically motivated, characterized by a "Wild West" approach "without real rules," subject to leaks to the press, and lacking safeguards for their subjects (including attorney-client privilege and right of appeal). The documents do not mention, however, that attorney-client-privilege claims are holding up the House investigation into the scandal at the Veterans Affairs Department.
The slides also advise schools that confidentiality in the survey and potential investigation process is not guaranteed, noting that members could hold press conferences on the proceedings. It also advises them to consider: "What will play well on TV?"
McCaskill has told all 350 institutions that the survey will be completely confidential and is not releasing any of the names of participating schools.
A McCaskill spokeswoman told National Journal that some of the schools involved in the survey reported that they felt they were "being warned against cooperating." The senator's office is now pointing to the ACE slides as the culprit, though they would not provide the names of any of the participating schools either.
"It was absolutely nothing we said to instruct schools to not respond to the survey. "¦ Non-cooperation would have been a bad strategy," Covington & Burling partner Robert Kelner, whose firm produced the slides, said Wednesday.
Kelner and ACE general counsel Ada Meloy both said that the odds of a school being investigated would go up significantly if they did not participate in the survey. Kelner added that it would be "foolish" not to do so. But neither could say confidently that that message was conveyed to schools on the call.
Kelner said that the assumption of the call was that schools would participate, but added that because the call was for a broad variety of schools, not a specific client, his firm would not have given any advice on the survey one way or the other. Covington & Burling provided the contact information for three of its attorneys at the end of the slideshow for any schools concerned about the legal ramifications of answering the survey and responding to future congressional inquiries.
"We'd certainly hope moving forward that ACE will be more willing to work productively with us and its member institutions to help combat sexual assault on our college campuses," McCaskill spokeswoman Sarah Feldman said in a statement.
Meloy said that her group is happy to continue working with McCaskill on reducing sexual assaults on college campuses. "We certainly are aligned with her in that desire and we've given her several options of opportunities to get her message to our member organizations," Meloy said.
This post was updated at 6:45 p.m. Wednesday with further comments from ACE and Covington & Burling.