Lindsey Graham Sitting Pretty Against Six Primary Foes
The senior senator from South Carolina faces little of the conservative push-back hitting his GOP colleague Thad Cochran.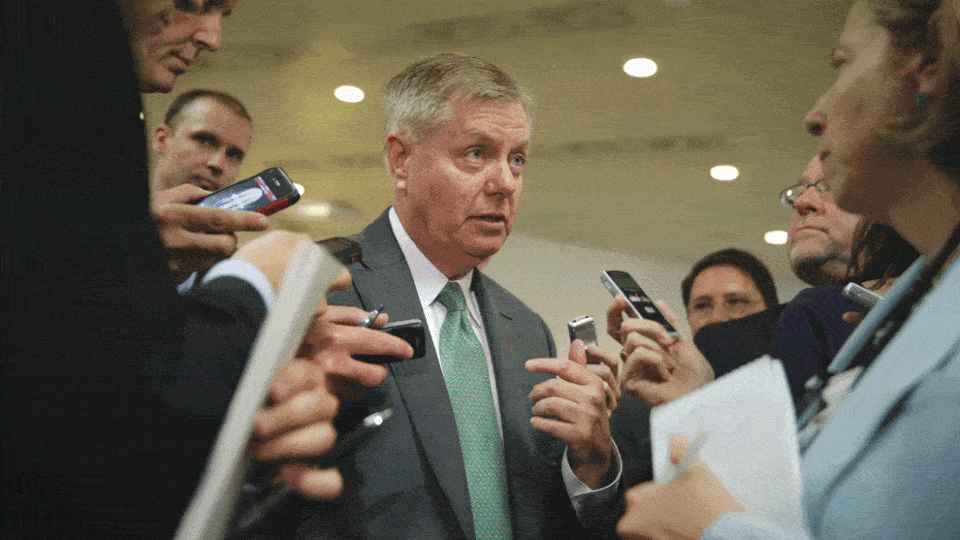 If Sen. Lindsey Graham cruises through his primary race unscathed — as he is expected to do Tuesday night — he will owe a big thank-you to President Obama.
Once considered a prime target for conservative groups, Graham faces six opponents in the South Carolina GOP primary but zero true competitors who pose a threat to his job. The outside groups that have poured millions into defeating Republican Sen. Thad Cochran in Mississippi have ignored Graham.
Graham's lack of competition has a lot to do with his proactive campaign to forestall potential challenges from other elected officials. But Graham's position as one of Obama's biggest, loudest foreign policy critics — and the free media that comes with it — has also played a role, one that's only gotten bigger in recent months as the White House's foreign policy agenda has gotten more scrutiny.
"There's no question that the political turmoil [the Obama administration] dealt with has benefitted Graham in this campaign," said longtime South Carolina political communications consultant Chip Felkel. "He was already a point guy on issues in terms of the military; issues [like Benghazi and Syria] have fallen nicely into his hand, given him great visibility."
For Graham, that visibility has been crucial. Following the Sept. 11, 2012, attack on the U.S. Consulate in Benghazi, the senator has appeared on TV and radio shows countless times criticizing the administration's response. In 2013, Graham tied for fourth among lawmakers as the most frequent Sunday show guest, appearing 16 times, according to a report by Rachel Maddow.
Graham's most recent TV ad features the candidate saying his job is asking "tough questions" of the administration, including "looking for answers on Benghazi."
In the final weeks before his primary, Graham was even threatening an impeachment effort over the White House's prisoner swap for U.S. Army Sgt. Bowe Bergdahl.
Graham's omniscient presence on Fox News has given South Carolina Republicans a high-profile spokesman who regularly gains national attention.
"Lindsey has a larger platform than most senators in a small Southern state," said former Graham campaign manager and Clemson University political science professor David Woodard. "You're a citizen who lives in a state of 4.5 million people that's not nationally known, and you have a senator who gets a lot of national publicity and doesn't embarrass you. He can talk on a lot of foreign policy issues where a lot of other senators can't, and I think they like that."
Of Graham's current challengers, Woodard said they'd be "hard-pressed to find Syria on a map."
Woodard said Graham's penchant for the spotlight is nothing new. He made a name for himself as a quotable lawmaker during his time in the House, especially in the Monica Lewinsky scandal, when he played a prominent role in the impeachment hearings. He's been known to drive to Atlanta early on Sunday mornings to get on those marquee shows.
For Graham, a former Air Force colonel who is at home in front of the camera, an administration embroiled in a handful of controversial foreign policy moves has created a perfect opportunity.
"We have a strong military history and a lot of military retirees and several bases still in the state," Felkel said. "We'd be disappointed if our elected officials, particularly at the federal level, didn't keep national defense on the forefront of what they're talking about."
Between September 2013 and June 2014, the number of voters who told Clemson University's Palmetto poll they would reelect Graham regardless of his opponent rose from 31 percent to 46 percent.
Political moves that run contrary to the agendas of some conservative groups, such as Graham's work on immigration reform, have upset many conservatives. Nine county Republican parties have held a vote of no confidence for the senator. But outside of the party's activist groups, Graham has many voters nodding their heads with him as he criticizes of the administration.
"If you watch Lindsey's pattern in Washington, he always has a conservative issue he's working on if he's doing anything that would be considered unrighteous in the South," Woodard said. "If he's dealing with immigration or cap and trade, he's also in there doing something for veterans or complaining about Obamacare. He is careful to make sure he has something to talk about that conservatives would nod along with."