Justices Be Darned, Obama Pledges Action and Accountability
The president talks tough about reforming Veterans Affairs and immigration.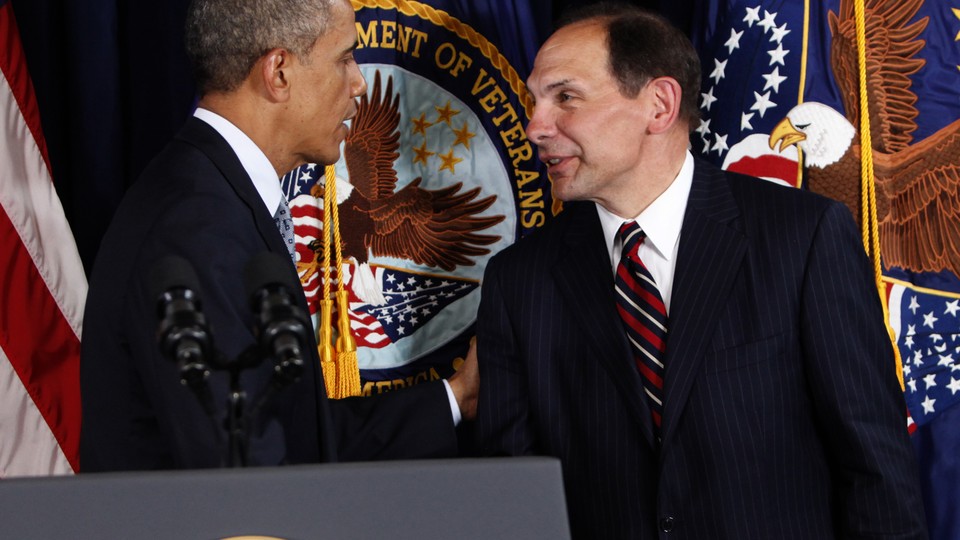 If Republicans thought President Obama would be cowed by a run of Supreme Court defeats, the president sent a strong message Monday: Think again. Obama was more defiant than despondent, more challenging than cowed, more confrontational than conciliatory when he stood before the cameras twice to announce changes involving immigration and veterans' health care.
The president made no reference to last Thursday's unanimous rebuke by the justices, who ruled that he had exceeded his constitutional authority when he made several recess appointments. Nor did he mention Monday's defeat when the Court, by a 5-4 margin, thwarted his attempts to force companies to provide contraceptive health care to employees. The failure to acknowledge his twin defeats was not accidental. He was sending an unmistakable signal to both Republican foes and Democratic allies that he is not willing to surrender the initiative.
If anything, he seemed energized by his long-awaited attempt to get himself off the defensive and be seen as actively trying to take charge, even if belatedly and even if he has to share the blame for not moving more aggressively much earlier both to force immigration reform and to demand better oversight of the Veterans Affairs Department. Less than a week after House Speaker John Boehner informed him that no immigration measure will move through the House this year, the president decided, as he said Monday, that "America cannot wait forever for them to act."
But even as he pledged action, the president was decidedly less soaring in his rhetoric and more down-to-earth in his promises. The VA scandal has taken a toll on the president's standing and the White House has been stung by recent polling showing the public no longer views him as a competent manager. A Fox News poll of 1,006 registered voters taken June 1-3 found that Obama is now viewed as less competent than President George W. Bush by 48 percent of respondents and less competent than President Clinton by a whopping 68 percent.
So, again, it was no accident that Obama's focus in his two sets of remarks Monday was on "management" and "fixes" and dealing with "problems" and getting things done. He mentioned "fixes" 10 times; dealing with "problems" another 10 times; and stressed "accountability" three times. In introducing Bob McDonald as his new VA secretary, the president proclaimed, "We're instituting a new culture of accountability."
No sentence better captured the new emphasis than when Obama, whose presidency was built on "the audacity of hope" and promises to redo the country, said, "Grand plans are not enough. What matters is the operations that you put in place and getting the job done." That is not what candidate Obama stressed. But it is what Obama laid out for the coming months. He charged his new nominee to head the VA with "making operations more efficient and effective," adding, "In short, he is about delivering better results." Of his new nominee, he said, "Bob's the manager we need to help get this done."
The theme was similar on immigration. He blamed Republicans for refusing to work with him to find "permanent fixes." He cast the GOP argument as saying, "Because the system is broken, we shouldn't make an effort to fix it." He even got unusually folksy, lamenting that Republicans won't help him "pass a darn bill." And he lectured the Republicans, stating that "the point of public service is to solve public problems."
But the White House may soon learn that their newfound assertiveness is unlikely to be enough to solve either the president's political problems or the problems of health care and immigration. In fact, his promise to act unilaterally almost certainly will cause him new problems with his own allies. He has held them at bay for several years by contending he needed to wait on Congress to reform the system. Now, though, he has raised their hopes. Within minutes of his remarks, the Dream Action Coalition, a group of young pro-immigration activists, put out a statement welcoming his announcement but pointedly asking, "Will he act boldly?"
It is up to the president now to deliver on Monday's promises of better management and bolder action.