Issa Threatens EPA With Contempt as Team Obama Celebrates Its Climate Anniversary
Oversight chairman says agency has failed to comply with a subpoena.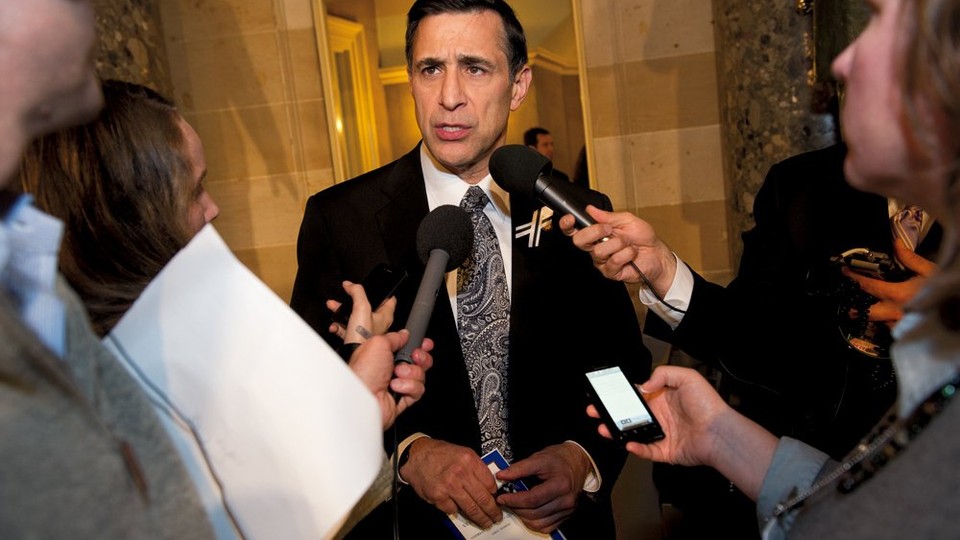 While most of President Obama's Cabinet was touting the anniversary of President Obama's landmark speech in which he laid out plans to address climate change, EPA Administrator Gina McCarthy was left facing a contempt threat from House Oversight and Government Reform Committee Chairman Darrell Issa.
Issa issued a subpoena in November for documents and communications between the Environmental Protection Agency and the Executive Office of the President over a five-year period as part of an inquiry into whether the White House interfered with how the agency responded to congressional inquiries.
That request has gone unfulfilled, said Issa, who says he's planning to convene a committee business meeting after next week's recess and hold the agency in contempt if the documents are not turned over or executive privilege exerted.
"There is no negotiation "¦ negotiation time expired long ago," Issa said.
McCarthy told the committee that EPA staff was still working with the committee to address its concerns and this morning held an in camera review of a previously-redacted email that showed there was no coordination with the White House about how to comply with congressional requests. McCarthy said the email should address the root of the subpoena.
Democrats were quick to criticize Issa for focusing so much on agency management, especially since the hearing fell a year after the president's climate speech and marked McCarthy's first appearance before Congress since EPA released a carbon pollution-reduction plan for existing power plants.
"Eventually, I believe, the committee must turn from 'oversight' to 'reform,' " said ranking member Elijah Cummings of Maryland. "At some point, history calls on us to take on the greatest challenge our generation has ever faced in global warming."
Rep. Gerry Connolly of Virginia also dismissed Issa's original request as a "fishing expedition."
The hearing also included a bit of deja vu for the committee when members grilled McCarthy on lost emails from a hard-drive crash (the same issue that wiped out emails from IRS employee Lois Lerner). In this case, the emails in question were from retired EPA employee Philip North, who was involved in the agency's decision to begin the process of preemptively vetoing the Pebble Mine project in Alaska.
North, who declined an interview request by the committee, is retired, and committee staff say they have been unable to track him down. According to a committee aide, North's hard drive crashed in 2010 — which was around the same time that the committee is investigating the agency's discussions of a potential veto — and the emails were not backed up.
McCarthy said it appeared there were some emails the agency could not produce that should have been kept, but she was still working to see if they could be recovered. McCarthy made it clear that it was a small set of emails and that the agency had notified the National Archives of the problem Tuesday, though had told Oversight Committee staff earlier.
Rep. Mark Meadows, a Republican from North Carolina, raised concerns that the failure to back up the emails was a violation of the Federal Records Act.