Iraq Is a Terrible First Test for Obama's New Foreign Policy
The U.S. will partner with the Iraqi government to confront a terrorist threat, but Iraq's ineffective military and corrupt leadership make it an ineffective partner.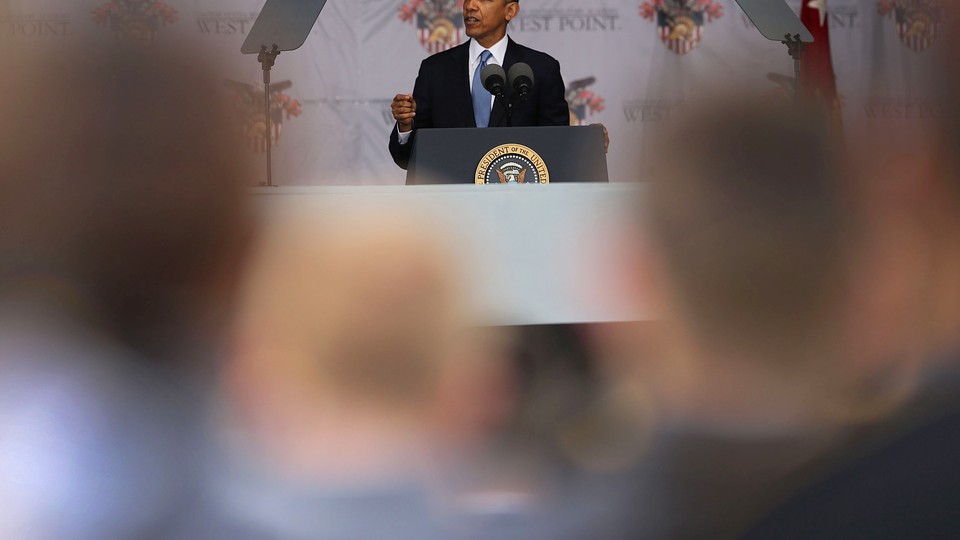 The crisis unfolding in Iraq is the first real test for the new American foreign policy President Obama announced in late May — but it's unlikely to end well for the administration.
Speaking in front of a graduating class of West Point cadets last month, the president announced a shift away from full-on military confrontation and toward cooperation with foreign governments to combat terrorism worldwide. At the time, he pointed to proofs-of-concept in the Middle East and Africa: arrangements to train opposition fighters in Syria; to cooperate with counterterrorism forces in Afghanistan; and to build up elite troops in Libya, Niger, Mauritania, and Mali.
But in Iraq, the White House must find a way to implement its partnership-focused foreign policy in the face of a rapidly unraveling situation.
The Islamic State of Iraq and Syria took a key crossing on the Iraqi-Syrian border on Sunday through which it can easily ferry military supplies and reinforcements between territory it controls in both countries. Meanwhile, ISIS fighters draw nearer to Baghdad every day.
Obama announced on Thursday that the U.S. will send up to 300 military advisers to Iraq to help stop the ISIS advance. Some of these advisers will set up "joint operation centers" in Baghdad and northern Iraq to share intelligence with Iraqi forces and coordinate planning. But the president emphasized that the move is limited in scope and that American troops would not get involved in combat. Ultimate responsibility, he said, lies with Iraq's political leaders, who "must rise above their differences and come together around a political plan for Iraq's future." Secretary of State John Kerry traveled to Iraq over the weekend to meet with some of these leaders.
The situation in Iraq "underscores the importance of the point that I made at my West Point speech: the need for us to have a more robust regional approach to partnering and training," said Obama earlier this month.
In line with the proposed foreign policy shift, the U.S. is partnering with Prime Minister Nuri Kamal al-Maliki and the Iraqi army to address the ISIS threat. But Maliki and Iraqi forces are unlikely to be valuable partners: Military experts have determined that about a quarter of Iraq's military is "combat ineffective," and its leadership is rife with corruption.
In his May speech, Obama said, "Today's principal threat no longer comes from a centralized al-Qaida leadership. Instead, it comes from decentralized al-Qaida affiliates and extremists, many with agendas focused in the countries where they operate." In the statement, Obama may have misread the future of terrorist threats. ISIS was once an Qaida affiliate, but al-Qaida cut ties with the group in February because of its extremely violent tactics. Now, ISIS functions much more like the state it purports to be than a "decentralized" terrorist group with local interests. Its military strength, funding, and organization have allowed it to best government troops at every turn.
If the partnership between the U.S. and Iraqi forces sees some success, it could vindicate the foreign policy pivot the president put forward last month. But if it fails to check the advance of ISIS troops and to help Iraq regain lost territory — and this is the more likely outcome, given the current state of Iraq's beleaguered military — the president's focus on diplomacy and collaboration will likely look out of touch.