Iowa GOP House Race Heads to Unpredictable Convention
Tuesday's primaries ended nominating contests for hundreds of candidates around the country, but six in Iowa will now focus their campaigns on about 500 delegates who will decide the nominee.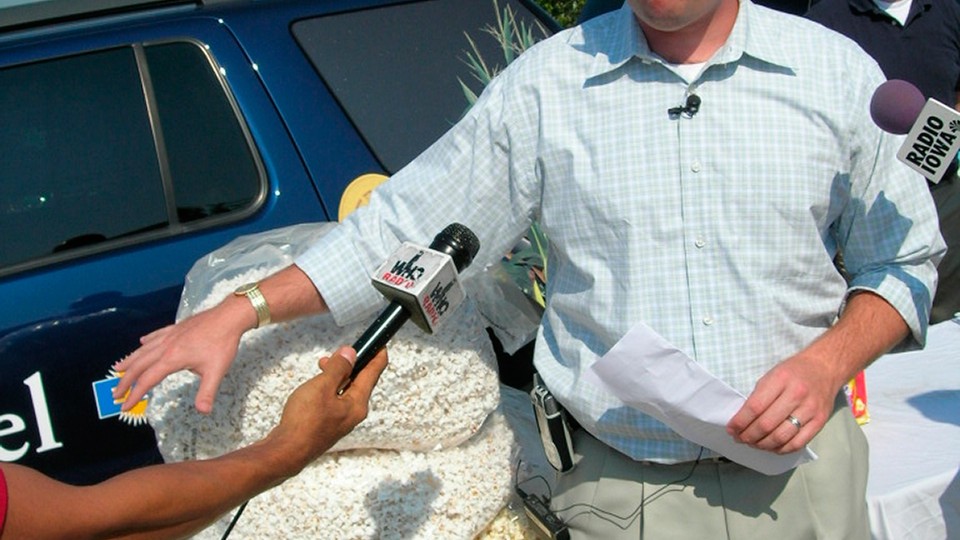 For hundreds of candidates around the country, Tuesday's primary was the end of a long nominating process. In one battleground House district in Iowa, though, the fight for the Republican nomination there is starting over now that the votes have been counted.
No Republican candidate got 35 percent of the vote in the primary to succeed Rep. Tom Latham, an Iowa Republican retiring from Congress at the end of the year. That means local activists will choose the nominee at a convention on June 21, an unpredictable setting that Democrats say will drive the eventual nominee to the right — but one where former state GOP Chairman Matt Strawn says delegates could give the edge to a moderate.
All the campaigns have likely been "literally running two concurrent campaign strategies" in order to prepare for a convention, Strawn said. Leading up to the primary, candidates went on TV to get their names out to average voters, but they also sent mailers to delegates and met with them in person, said John Maxwell, a consultant to candidate Monte Shaw's campaign.
And the top Republican in the state has spent effort shaping that convention electorate over the past year. Strawn said a recent push by GOP Gov. Terry Branstad to fill the state party with establishment Republicans over tea partiers gives moderates an advantage compared with recent years, defying the stereotype of activist-dominated conventions. That could give someone like Shaw, an Iowa Renewable Fuels Association executive who emphasized pragmatism during the campaign and said he would have voted to raise the debt ceiling, an advantage over his situation in the regular primary, in which he finished fourth.
"You will have a delegate pool that places greater weight on electability than perhaps conventional wisdom would say," Strawn said.
But the race is still unpredictable. Conservative candidates Brad Zaun and Matt Schultz were well received at the May district delegate meeting. (Zaun's and Schultz's campaigns did not respond to pre-primary interview requests.) Unlike regular runoffs, all six Republican candidates will continue on to the convention, which means the race is effectively starting over. Tuesday's results only matter insofar as they show delegates who has the most initial support among voters.
As the results came in, Democratic Congressional Campaign Committee Chairman Steve Israel said in a statement that the GOP convention would be "bruising" and would "drive the Republicans further outside the mainstream."
The Republican field was closely packed Tuesday night: Zaun, a repeat candidate and a state legislator, led the pack with 25 percent, followed by businessman Robert Cramer at 21 percent; Schultz, the secretary of state, at 20 percent; Shaw at 17 percent; and David Young, a former aide to Sen. Chuck Grassley, at 16 percent.
The lower the finish in the primary, "the more spin you've got to put on it" to convention delegates now, Maxwell said before Tuesday's vote.
If electability is on the minds of convention delegates, two candidates will have to deal with questions about spots on their records. Zaun's 2010 congressional bid was handicapped by news of a 2001 restraining order filed by a then-girlfriend, and he told The Des Moines Register he sometimes takes a gun to the state Capitol. And Schultz reportedly paid an aide $126,000 after the employee's position was eliminated.
Campaigns have mostly avoided negative ads on those issues for fear of coming across as divisive at the convention, but Maxwell said Shaw's campaign has emphasized the need for the Republican nominee to have a clean background in order to have a chance against Appel.
"Monte's been urging people to take a good look at the candidates and whether they're gonna have a lot of 'esplainin' to do, Lucy,' in November," Maxwell said.
The potential convention shift toward establishment Republicans is the result of a tug-of-war between Branstad and tea-party Republicans after the state Republican Party supported Ron Paul for president in 2012. Branstad led the effort to take back the state party from Paul's supporters after it struggled to raise funds. And at the state's district conventions in April, Branstad's allies won control of the state party central committee.
Shaw's previous service on the central committee could also be an asset heading into the convention.
"The governor is very strongly in control now," Maxwell said. "These are, for most part, Branstad people."
The Republican nominee will challenge Democratic former state Sen. Staci Appel, who did not have a primary opponent and built up nearly a half-million dollars in her campaign account while Republicans fought over the right to face her.