Inside a Green Billionaire's Brain Trust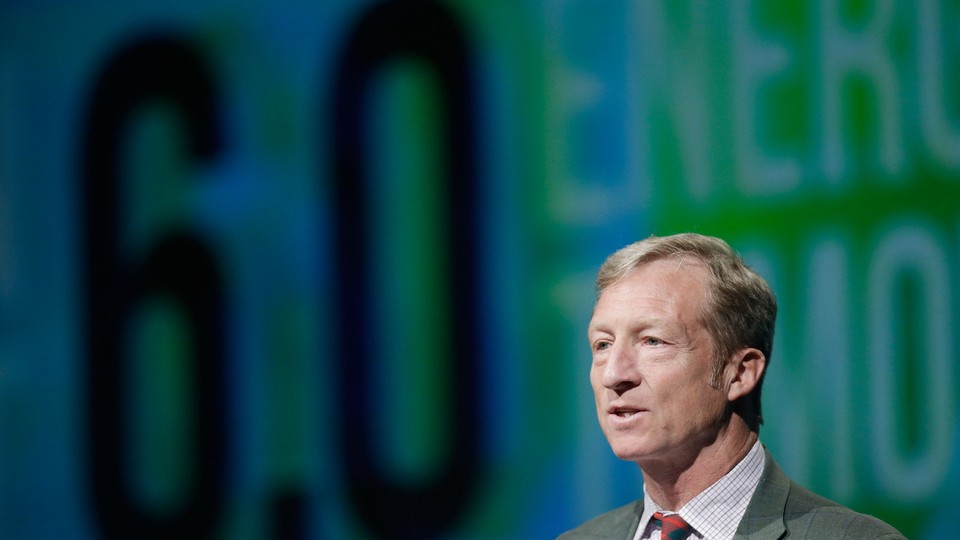 Billionaire environmental activist Tom Steyer wants to put climate change front and center in American politics and he has assembled an all-star team of Democratic operatives in his bid to do it.
The list of players working with Steyer's NextGen Climate group is full of high-powered veterans who've held important positions in some of the Left's biggest victories of the past two decades — including operatives in President Obama's 2008 election win and advisers in the Obama and Clinton administration.
Some have played public roles in Steyer's increasingly high-profile, big-money push to make global warming a top-tier issue in several 2014 contests and battle the Keystone XL pipeline. Others, such as the mastermind behind Obama's pivotal 2008 victory in the Iowa caucuses, have done their work behind the scenes.
The team will advise Steyer as NextGen pours a planned $100 million — half of which will come out of Steyer's own pocket — into the 2014 elections, money aimed at electing candidates who will push action to address global warming. NextGen recently announced its involvement in four battleground Senate races, ranging from Colorado to Iowa, as well as three governor's contests.
Here's a look at some of the strategists, communications experts, and political advisers working to turn Steyer's dreams into political reality.
Chris Lehane is the chief strategist for NextGen Climate.
Lehane is a seasoned Democratic operative known translating opposition research into biting communications campaigns aimed at undercutting political adversaries.
He worked as the press secretary for former vice president Al Gore during his presidential campaign in 2000. Lehane also served out a brief stint as the communications director for John Kerry during his unsuccessful run for the White House.
Lehane cut his teeth on political communications strategy in the Clinton White House, where he worked to defend the administration in the face of scandals, attacks, and investigations.
Sky Gallegos is NextGen Climate's political director.
Gallegos held a variety of positions in the Clinton administration, including associate policy director for intergovernmental affairs during the president's second term in office. She also worked as deputy political director for the state of California during Clinton's 1996 presidential campaign.
Gallegos worked as the political director for the Kerry campaign in California in 2004. She also served as deputy assistant secretary for intergovernmental and external affairs at the Energy Department in the Obama administration.
Paul Tewes is a political adviser to NextGen Climate.
Tewes is a seasoned Democratic hand with the Smoot Tewes Group, a political-consulting firm led by strategists who have worked on President Obama's campaigns and in the administration, but often with Democratic resumes that go back much further.
He's credited with engineering Obama's 2008 win in the Iowa caucuses, which dealt a major blow to then-rival Hillary Clinton's White House bid that year. Tewes later oversaw Democratic National Committee operations for Obama during the 2008 campaign.
Earlier in his career he played major roles with the Democratic Senatorial Campaign Committee, as well as Sen. Maria Cantwell's close 2000 election in Washington State and former Wisconsin Sen. Russ Feingold's 1998 win, according to the Smoot Tewes website.
Nick Baldick is a political adviser to NextGen Climate.
Baldick served as campaign manager for former Sen. John Edwards's White House bid during the 2004 cycle. He was state director of Al Gore's victorious 2000 New Hampshire primary campaign and later was a senior adviser during the Florida recount, according to the website of Hilltop Public Solutions, the public-affairs and political-consulting firm he founded.
Even further back, Baldick played key roles in both of Bill Clinton's White House runs, serving as a field organizer in 1992 and helping to engineer Clinton's 1996 win in Florida.
More recently Baldick was counsel to New York City Mayor Bill de Blasio's successful 2013 campaign. Other clients include the Service Employees International Union and the Democratic Attorneys General Association.
Josh Fryday is NextGen Climate's chief operating officer.
Fryday worked for John Edwards in his effort to secure the Democratic presidential nomination in 2004 and 2008, first as the campaign's national youth and volunteer director and later as campaign director in Northern California.
He has also served as a lieutenant and member of the Judge Advocate General's Corps for the U.S. Navy.
Justin Buell is the director of development for NextGen Climate.
Buell worked as a consultant for the Obama presidential campaign in 2008, and served as Utah field director for the Kerry campaign in 2003.
He has served as a member of the Democratic National Committee's national finance council. Buell also serves on the advisory board for Organizing for Action, a political advocacy group that grew out of Obama's presidential campaign.
Heather Wong is the communications director for NextGen Climate.
Wong worked in the Obama administration as deputy assistant secretary for public affairs at the Homeland Security Department. She also served as the spokeswoman for the Treasury Department.
Udai Rohatgi is the policy director of NextGen Climate.
Udai served in the Obama administration as a senior adviser at the Energy Department. Rohatgi also worked on communications and outreach during Obama's first run for the White House in 2008.
Before joining NextGen, Rohatgi was a director at a smart-grid data-analytics company based in the Bay Area.
Josie Mooney is a strategic adviser to NextGen Climate.
Mooney is a longtime labor-movement advocate whose past jobs include special assistant to the president of the Service Employees International Union.
Ted White is a longtime friend and business partner of Tom Steyer.
White has worked for many years as a corporate attorney and is currently a name partner at the Denver law firm Moye White LLP. White is also managing partner of Fahr LLC, a group that works to support Steyer's philanthropic ventures and policy advocacy work.
Mike Casey is the founder and president of Tigercomm, a clean-tech media-relations and marketing firm.
Casey oversees Tigercomm's work for Steyer against the Keystone XL pipeline, which has included ads and polling. The firm recently handled the release of a former Navy SEAL commander's analysis that called Keystone a potential terrorist target.
Casey also wrote the communications plan for NextGen's involvement in the Massachusetts special election to support Democratic Senate candidate Ed Markey and the group's campaign in the Virginia gubernatorial race to elect Democrat Terry McAuliffe.
Ben Wessel is a political associate at NextGen Climate.
Wessel previously worked as a regional field director for Cory Booker's Senate campaign. He also worked as the New Hampshire youth-vote director for the Obama campaign during the president's second run for office.
Wessel has also worked as a policy campaign manager at 350.org, a group at the forefront of the anti-Keystone campaign.