The Left's Quiet Advance in Democratic Primaries
Progressives tout their victories as proof they're successfully pushing the party to adopt bolder ideological stands.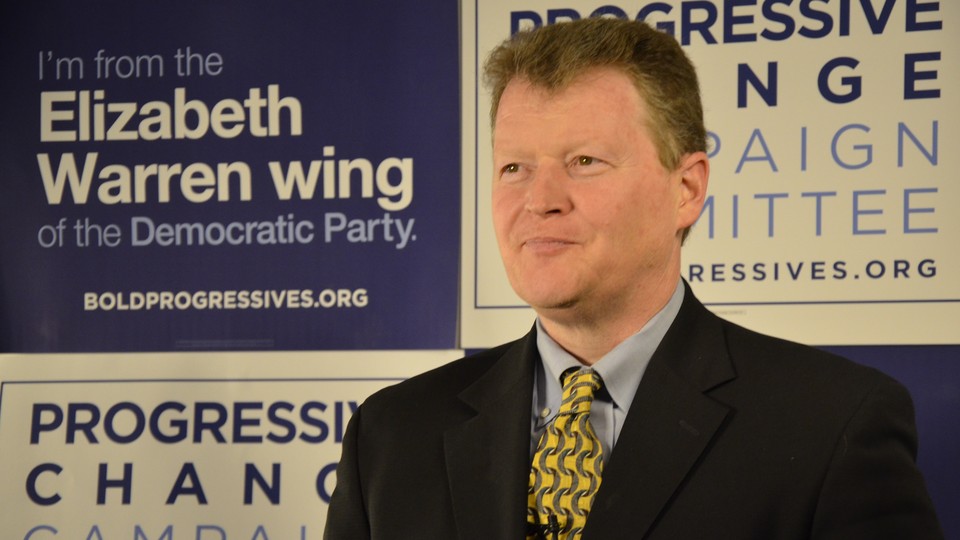 This year's Republican primaries have been closely watched by pundits sifting for clues about the relative primacy of the GOP's warring factions. But Democrats have primaries too—and this year, the left is winning many of them.
National liberals point to a handful of recent contested primaries where candidates from the party's "Elizabeth Warren wing" beat moderate "corporate Democrats" to argue that the left wing is on the rise. It's a similar dynamic to the Tea Party-vs.-establishment divide on the right, though far less divisive, and a trend that has the potential to quietly reshape the Democratic Party if it continues.
In New Jersey, Bonnie Watson Coleman, a former assemblywoman who campaigned on raising taxes on millionaires to spend more on education, had been thought to be in a close race with a moderate state senator, Linda Greenstein. Instead, Coleman won the primary by a double-digit margin.
In Iowa, Pat Murphy, a former state representative, aired TV ads that dubbed him a "bold progressive." He beat out four opponents, taking 37 percent to his nearest competitor's 24 percent.
Victories like these have led the Progressive Change Campaign Committee to declare vindication for its view that Democrats win when they campaign on a platform of muscular liberalism. "A message of economic populism is what actually excites voters and drives them to the polls," Adam Green, PCCC's co-founder, told me. "Democrats are shooting themselves in the foot if they don't embrace it."
PCCC supported the winning candidates in these races and funneled donations to them. The group also supported an incumbent California congressman, Mike Honda, who faced a challenge from a former Obama administration appointee, Ro Khanna; Honda finished 22 points ahead of Khanna, but the two will face off again in November thanks to California's nonpartisan primary system. And in a fourth primary, the free-for-all battle for the California seat vacated by retiring Representative Henry Waxman, the group didn't endorse a candidate but urged its members to vote against former Los Angeles Controller Wendy Greuel, a former Republican whom they painted as supported by corporate interests. Greuel lost to Ted Lieu, whose message of raising wages and easing student debt progressives applauded.
Coleman, who is poised to become the first African-American woman to represent New Jersey in Congress, said primary voters appreciated her clear stands on issues. "Some of the equivocation of Democrats has created confusion for people," she told reporters on a recent conference call. "People need to know what their choices are and why. And that's what progressives do. We stand up for what we believe is right, irrespective of the risk associated with any political outcome to us."
Murphy noted that he campaigned on a higher minimum wage, equal pay for women, and his role in creating universal preschool in Iowa. "If that's being a liberal's liberal, then I guess I am," he said, adding that he considered it simply "things that are good for the state, good for Iowa, and quite frankly good for the country."
It may not seem surprising that liberals would win Democratic primaries, but the PCCC's endorsed candidates have not had a great track record in the past, possibly because liberals do not dominate the Democratic Party the way conservatives do the GOP. Progressives hope victories like these, along with the ascendance of Warren and New York Mayor Bill de Blasio, are a sign that's beginning to shift and a more muscular liberalism is reasserting itself in the Democratic ranks.
Fortunately for Democrats, these internal fights don't seem poised to hurt the party the way Republicans' primary battles have nationally. The primaries in question were all for safe Democratic seats, so national Democrats aren't concerned that far-left nominees will then lose general elections. Tough Democratic primaries are still much rarer than the GOP's brutal internecine contests. But progressives believe notching such small victories is slowly, surely pushing the party to the left.