In Colorado, Republicans Avoid Talking About Immigration
Even immigration hard-liner Tom Tancredo isn't convinced it's the issue that led to Eric Cantor's primary defeat.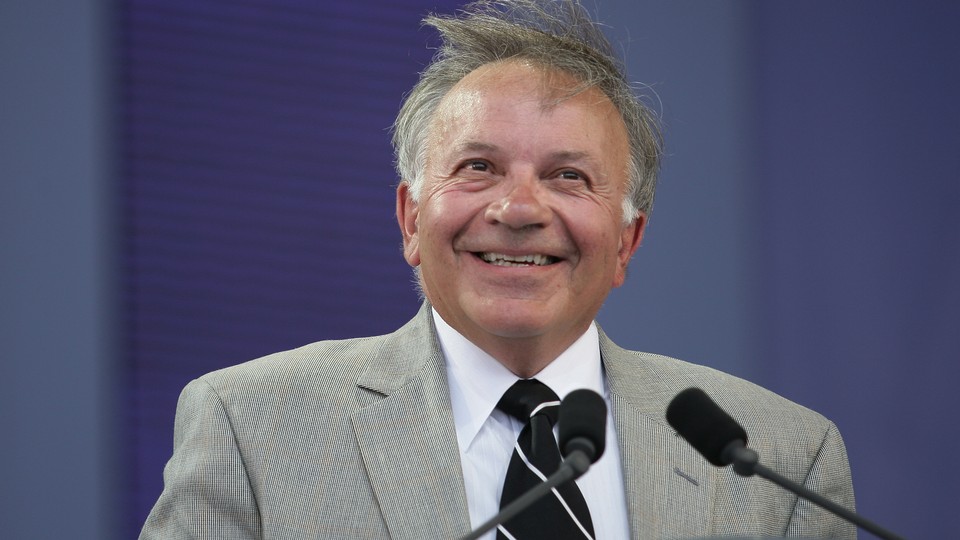 COLORADO SPRINGS, Colo. — After Dave Brat stunned the political world by ousting House Majority Leader Eric Cantor in Virginia, anti-illegal-immigration activists turned their attention to Colorado, where one of their favorites, Tom Tancredo, is running for governor and has a credible shot at winning the GOP nomination.
Unlike Brat, Tancredo is a familiar figure in state politics over his outspoken opposition to immigration. He ran for president on the issue in 2008 and heads political action committees supporting like-minded candidates. In columnist Michelle Malkin, he even had his own conservative opinion leader backing his campaign, who tweeted after Brat's victory: "Anti-amnesty revolt has just begun. Colorado is next!"
But in a sign that immigration isn't quite as potent a force as advertised within the Republican Party, Tancredo rarely brings up the issue on the campaign trail. He's been losing ground to his leading primary opponent, former Rep. Bob Beauprez, who has expressed support for policies allowing illegal immigrants to receive temporary work permits. In a press release celebrating Brat's victory, Tancredo's campaign didn't mention immigration once; it instead called Cantor's defeat a lesson that "establishment candidates ignore their most ardent voters at their peril." And even Tancredo himself isn't convinced that Cantor lost his seat because of voter dissatisfaction over his position on the issue.
"I'm still not sure the extent immigration played a role in that race. I do not know how it played in the Virginia primary. I don't want to allege something that's not factual," Tancredo said. "My impression is that it was more than one issue; immigration may have played a role in it. But the fact that he spent more on steak dinners than Brat did on the whole campaign, that's the kind of thing that doesn't resonate with a lot of people."
In the Colorado gubernatorial primary, immigration is the issue that never emerged, despite the presence of Tancredo in the race and the growing humanitarian crisis on the U.S.-Mexico border. Republican strategists say, despite Cantor's loss, it's not the driving force for the conservative base that President Obama's health care law, new energy regulations, or even the Common Core educational guidelines are. A stagnant economy has slowed the level of immigration into the Denver suburbs, alleviating the strains on public services. And in rural Colorado's Western Slope and Eastern Plains, farmers and ranchers are dependent on the labor that immigrants provide, doing jobs they argue native-born Americans won't do.
At the Protein Producer Summit in Colorado Springs on Tuesday, where the GOP gubernatorial candidates participated in a forum, the cowboy hat-wearing attendees generally expressed support for guest-worker programs to provide necessary labor for farming and ranching, irritation for the federal government's inability to curtail illegal immigration, and a vague anxiety over the changing demographic and political makeup of the state, attributed to illegal immigration.
"Most of us are opposed to amnesty. Amnesty isn't acceptable. But we need workers for agriculture to do jobs that we can't get Americans to do," said former state Rep. J. Paul Brown, campaigning for the rural southwestern Colorado seat he lost in 2012 at the conference.
A new NBC/Wall Street Journal poll shows a 47 percent plurality of Americans agreeing with the statement: "Immigration helps this country more than it hurts it" — tied for its highest level in a decade, with 42 percent disagreeing. By contrast, from 2005 to 2010, the poll registered a majority of voters expressing anti-immigration sentiment several times. Among Republicans, however, 59 percent currently believe immigration hurts the country more, while just 28 percent believe it helps.
In Colorado, where Hispanics make up one-fifth of the population, Republican candidates are caught between catering to their base while maintaining broad appeal in the general election. In 2013, Democratic Gov. John Hickenlooper signed legislation allowing illegal immigrants to receive in-state tuition at Colorado colleges, but his Republican opponents haven't brought that up in the campaign. Sen. Mark Udall, locked in a tight reelection campaign, has been criticizing Rep. Cory Gardner for not supporting a pathway to citizenship for illegal immigrants. Gardner, for his part, has supported citizenship for illegal immigrants who served in the military but opposed the comprehensive immigration reform effort in Congress last year. Rep. Mike Coffman, whose suburban Denver district was redrawn in 2011 to be more diverse and politically competitive, has become a born-again champion for immigration reform.
"The party has gotten into its head, including Tancredo, that they have got to have a strategy on Hispanics and at the moment, it's do nothing wrong. Don't inflame it," said Denver-based independent pollster Floyd Ciruli. "The do-no-harm philosophy has shaped this race, and it's hurt Tancredo."
Beauprez, who has taken the lead over Tancredo in his campaign's polling, said he supports granting legal status to illegal immigrants who go through a background check and are looking for work, but he opposes a path to citizenship for those here illegally. In a speech in Denver on Tuesday outlining his policy agenda, he didn't mention immigration at all but brought up national issues such as Obamacare, the VA scandal, federal energy regulations, Common Core, and federal lands policy.
"It's an issue, but the economy and trampling of constitutional rights way, way outdistances everything else," Beauprez told National Journal. "It's an issue within some segment of the population, but I don't think it's a big issue for more than a handful of people in the state,"
But even if immigration policy hasn't been discussed much in the gubernatorial primary, Tancredo's long history of overzealous rhetoric on the subject is dominating the political strategy in the race. For Democrats, the issue is so toxic for Tancredo that an outside group funded by the Democratic Governors Association spent $363,000 on an ad promoting him as the most conservative candidate to subtly boost his campaign. "We wouldn't have to spend a penny in Colorado if Tancredo's the nominee," said one senior Democratic strategist involved in the race. (The ad may have backfired: Tancredo said he thought the ads benefited Beauprez, with GOP voters recognizing that Democrats viewed Beauprez as the more electable candidate and were trying to meddle in the primary.)
Republicans openly fear that Tancredo could cost the party more than just his own race. With Hickenlooper's approval rating improving, Republican strategists are more optimistic about winning the Senate race between Udall and Gardner, and are hoping to retake control of the state Senate, where Democrats hold a one-seat edge.
Despite the worries, Tancredo isn't acting like he's a serious contender. At the Protein Producers Summit, he didn't look like a gubernatorial candidate, wearing an unbuttoned shirt and khakis, wandering the halls unrecognized until approached by this reporter. Despite holding an early lead, he hasn't banked enough money to air any television advertisements, relying instead on his name identification and connection with his loyal supporters instead. His support for last year's referendum legalizing marijuana alienated many social conservatives and prompted a scathing radio ad from challenger Mike Kopp accusing Tancredo of supporting legalization of all drugs. Indeed, he's acted more like a grassroots activist in the mold of Dave Brat than a brand-name congressman and former presidential candidate. Tancredo said he hardly identifies with the Republican Party anymore, calling himself "more conservative than Republican, and more committed to the Constitution than any political party."
"He wanted to coast through the race and he did up until the end," said Circuli. "After Cantor lost, he went to every tea-party event he could find giving a speech about how this was a chance to take on the establishment. But he never mentioned immigration."
By contrast, Beauprez is emerging as the favorite to win the nomination, in what would be another victory for the GOP establishment's effort to push favored candidates through crowded primaries. Party leaders encouraged Beauprez to enter the race out of concern the other candidates — Tancredo, Secretary of State Scott Gessler, and former state Sen. Mike Kopp — wouldn't be able to run professional campaigns capable of defeating Hickenlooper. He entered the race just weeks before the filing deadline, making the announcement from Washington, where he was pitching Republican National Committee officials to hold their 2016 convention in Denver. The 65-year-old Beauprez is well liked by party officials from his time as a congressman, chairman of the Colorado Republican Party, and donor to Romney's presidential campaign, but he  faces skepticism from his last run for governor, when he lost by 17 points in a rough political year for Republicans (2006).
Beauprez is viewed favorably for his ability to self-finance a campaign, an important asset in a state with restrictive campaign finance laws. But he's struggled to generate much excitement for his campaign — only pulling ahead of Tancredo in the last week, according to his internals — and struggling to fundraise on his own. At a Tuesday morning press conference to announce policy proposals, only his family, staff, and several members of the press were in attendance.
Beauprez said he followed the Virginia primary results closely and suggested that Cantor's position in leadership made it difficult for him to represent his constituents back home. He recalled how difficult it was to run for governor in his last gubernatorial campaign, when he still was serving in Congress. But he sounded a bemused note that he was viewed as the establishment candidate, given that his challengers have held elective office longer than him.
"I'm fascinated by this whole establishment thing. Scott Gessler's been in office, Mike Kopp was a state legislative leader. I've been in office a grand total of four years. Tancredo's been in office forever. And somehow, I'm this establishment guy?" Beauprez said. "Some people on Capitol Hill drink the Kool-Aid and it corrupts them. Other people serve there, come home and represent their constituents. I think I'm one of those."