In 2016, Republicans Will Have Fracking on Their Side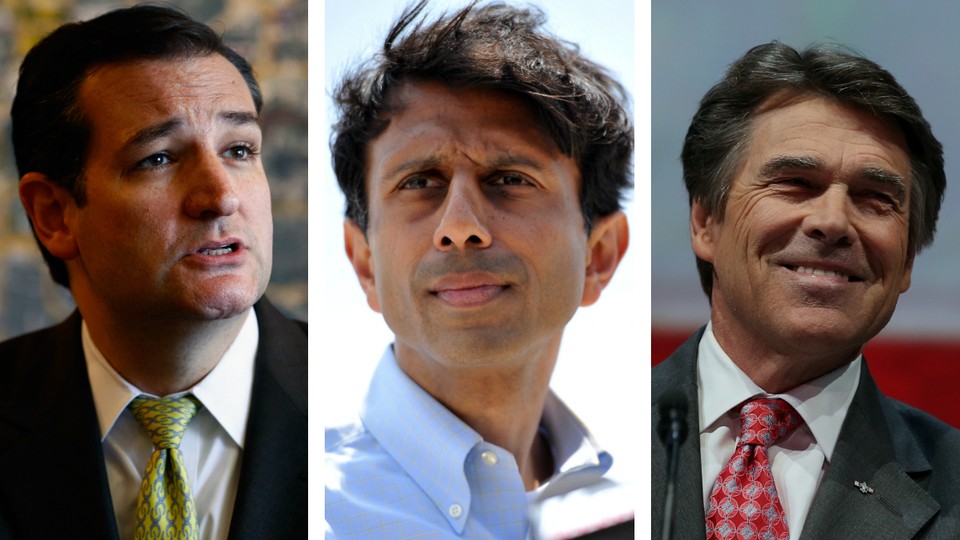 The road to the White House could be paved with oil and gas for a trio of Republican presidential hopefuls.
Texas Gov. Rick Perry, Sen. Ted Cruz, and Louisiana Gov. Bobby Jindal all come from states where fracking has created new jobs in the oil and gas industry. And if any of the Gulf State lawmakers launch a presidential bid, fracking will bolster their economic track record.
Indeed, all three have gone to great lengths to highlight the energy success story unfolding in their state. The fact that the boom is taking place in their backyard gives the cadre of conservatives a leg up when it comes time to talk up the benefits of fracking. It also opens the door for them to say they've steered their state in the direction of an oil-and-gas gold rush.
"They have credibility on this issue that challengers from states where there is no fracking can't lay claim to," said Matt Mackowiak, a Texas-based Republican consultant. "There's a difference between a talking point and something that's part of your record."
How much credit any of the potential candidates deserve for the energy boom, however, is a matter of contention, as is the size of fracking's economic contribution. Texas and Louisiana have benefited from their growing energy industries, but the sector's impact on the overall economy is often oversold.
Data released by the federal Bureau of Economic Analysis on Wednesday show that Texas had the eighth-highest gross domestic product growth rate in the nation from 2012 to 2013. Louisiana's overall economic growth was not as stark. It ranked 34th by the same metrics.
According to the bureau's analysis, the energy sector was not a major driver of total economic growth in either state. In Louisiana, the mining industry actually contracted by 2.42 percent. And in the end, the success of fracking in Texas and Louisiana has more to do with the vast reserves of shale rock underlying each state than the implementation of any policy.
But such nuance has a tendency to get lost on the campaign trail, where economic records are more often taken at face value then parsed for causality or the counterfactual. And so, Jindal, Perry, and Cruz would come to the campaign with a powerful argument.
Fossil-fuel production could also help Republicans in the general election. They have a straightforward message on fossil-fuel development: "Yes, and more."
But across the aisle, there's neither unity nor simplicity. Some Democrats have embraced fracking and natural gas as a job creator and a "bridge fuel" to power the country during a transition from coal to carbon-free sources. But others on the left are wary of the drilling method, both out of skepticism of its climate benefits and fears over its local environmental footprint.
Hillary Clinton, the favorite for the Democratic presidential nominee should she decide to run, says that increased natural-gas production has "created major economic and strategic opportunities," in her recently released book Hard Choices. But if she wins the Democratic nomination, fracking could still create a political headache for Clinton.
The controversial drilling technique polls well with conservative voters. Democrats, on the other hand, are much more likely to be skeptical. (A Pew survey conducted in September 2013 found that 59 percent of liberal voters opposed an increase in fracking, while 58 percent of conservatives supported an increase.)
Obama has walked a fine line between promoting natural gas and heralding the rise of the clean-energy economy. And the next Democratic presidential candidate, Hillary Clinton or otherwise, is all but guaranteed to do the same.
Republicans, meanwhile, could use this to their advantage. "Fracking is an issue that could drive a wedge in the Democratic Party," said Chris Turner, president and CEO of Texas-based Republican consulting firm Stampede Consulting. "If you can split Democrats over the issue that makes their candidate potentially much more vulnerable."
Perry, Cruz, and Jindal are already levying those attacks. Each has criticized the administration for failing to live up to its fossil-fuel potential, and they've all put forward policy proposals to ramp up fossil-fuel production.
In February, Cruz outlined a sweeping plan to boost oil and gas drilling, in front of an audience of influential conservatives at the Heritage Foundation in Washington.
In December, Jindal delivered an address in Philadelphia defending fracking against claims questioning its environmental safety. The Louisiana governor also took to the pages of The Wall Street Journal to express support for "a clear strategy of increasing energy production in all sectors — including the hydrocarbon sources abhorred by the left."
And during his last presidential run, Perry previewed a plan that he said would create more than a million jobs nationwide through increased energy production.